Violet 2, Bht, Ci 19140 / Yellow 5, Ci 14700 / Red 4, Ci 42090 / Blue 1. These are the original ingredients that make up the captivating fragrance known as Spicebomb. Crafted with precision and passion, each ingredient plays a unique role in creating a scent that's both alluring and unforgettable. Parfum/Fragrance forms the heart of Spicebomb, encompassing a blend of aromatic elements that tantalize the senses. Aqua/Water provides the base for the fragrance, ensuring it's longevity and stability throughout the day. Limonene, Coumarin, and Linalool add a citrusy and sweet twist, while Ethylhexyl Methoxycinnamate, Butyl Methoxydibenzoylmethane, and Ethylhexyl Salicylate protect the fragrance from the harmful effects of the sun. Eugenol, Citronellol, and Pentaerythrityl Tetra-Di-T-Butyl Hydroxyhydrocinnamate contribute to the overall scent profile, adding depth and complexity. Methyl Anthranilate, Citral, and Geraniol add a hint of floral notes to the blend, creating a harmonious balance. Finally, CI 60730/Ext. Violet 2, BHT, CI 19140/Yellow 5, CI14700/Red 4, and CI 42090/Blue 1 enhance the visual appeal of Spicebomb, adding vibrancy and color to the fragrance.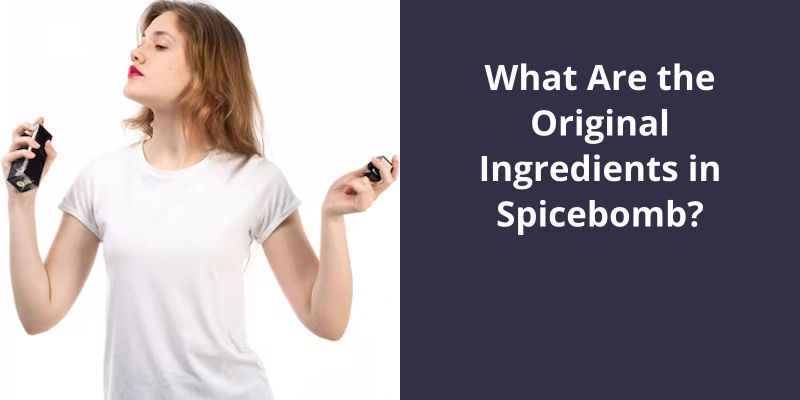 What Does the Original Spicebomb Smell Like?
What does the original Spicebomb smell like? Spicebomb is an explosion of Spices, a sensory detonation of masculinity. The fragrance opens with a blaze of fiery spicy notes that immediately grab your attention. The prominent scent of dutch cinnamon provides a warm and inviting aroma, while saffron adds a luxurious touch with it's exotic and earthy undertones.
Accompanying these spices are pimento berries and pink pepper, which contribute to the overall complexity of the fragrance. Pimento berries offer a slightly sweet and fruity note, creating a harmonious balance with the spiciness. On the other hand, pink pepper brings a subtle peppery kick, adding a touch of vibrancy and liveliness to the scent.
When combined, these original ingredients in Spicebomb create a captivating olfactory experience. The fragrance exudes strength and confidence, embodying the essence of masculinity. It's a bold and daring fragrance that makes a statement. The original Spicebomb is designed to ignite the senses, leaving a lasting impression on anyone who encounters it.
The Development and History of Spicebomb as a Fragrance.
Spicebomb is a fragrance created by the fashion house Viktor & Rolf.
The fragrance was first released in 2012.
Spicebomb is a masculine scent that combines spicy and aromatic notes.
It's classified as an oriental woody fragrance.
The fragrance was created by perfumers Olivier Polge and Domitille Berthier.
Spicebomb is known for it's distinctive grenade-shaped bottle design.
The scent opens with notes of bergamot, grapefruit, and pink pepper.
It then develops into a spicy heart with cinnamon and saffron notes.
The base notes include tobacco, leather, and vetiver.
Spicebomb has become a popular fragrance for men around the world.
It's received positive reviews for it's unique and captivating scent.
The success of Spicebomb has led to the release of variations and flankers, including Spicebomb Extreme and Spicebomb Night Vision.
The fragrance has also inspired a range of ancillary products, such as body lotions and shower gels.
Spicebomb is considered a modern classic in the world of men's fragrances.
It continues to be a bestseller and a staple in many men's fragrance collections.
It's no secret that choosing the right fragrance can be a daunting task, especially with so many options available. However, when it comes to Spicebomb, one version stands out among the rest – Spicebomb Infrared Eau de Toilette. This captivating scent masterfully combines red berries, tobacco, cinnamon, and chili pepper, creating a mesmerizing and alluring aroma that's bound to leave a lasting impression.
Which Version of Spicebomb Is Best?
The combination creates a warm, spicy and slightly sweet aroma that's irresistibly captivating. The red berries add a fruity twist to the overall composition, making it more vibrant and lively. The tobacco note adds a hint of smokiness, adding depth and complexity to the fragrance. The cinnamon gives it a cozy and comforting feel, reminiscent of a warm and cozy winters night. Lastly, the chilli pepper adds a touch of spiciness, giving it an intriguing and unique twist.
Spicebomb Infrared stands out among the other versions of Spicebomb due to it's unique and mesmerizing scent. It's the perfect balance between sweet and spicy, making it suitable for both casual and formal occasions. The longevity and sillage of this fragrance are also exceptional, making it a favorite among scent enthusiasts. The quality of the ingredients used in this version is unparalleled, resulting in a rich and luxurious fragrance that's sure to turn heads and leave a lasting impression.
Spicebomb Extreme Eau de Parfum is another popular choice, known for it's intense and long-lasting scent. It features notes of black pepper, lavender, tobacco, and vanilla, creating a bold and sensual fragrance. Spicebomb Fresh Eau de Toilette, on the other hand, is a lighter and more refreshing option, perfect for warmer days. It features notes of grapefruit, pink pepper, and vetiver, creating a vibrant and invigorating scent.
Source: What's your favorite Spicebomb?
Conclusion
VCViolet 2, Ci 42090 / Blue 1, Ci 15985 / Yellow 6, Alpha-Isomethyl Ionone, Cinnamal, Farnesol, Isoeugenol, Cinnamyl Alcohol, Geraniol, Limonene, Linalool, Coumarin. As we can see, the blend includes a combination of natural and synthetic components to create a unique scent profile. The presence of ingredients like Limonene, Coumarin, and Linalool adds freshness and citrusy notes, while substances like Eugenol and Citronellol contribute to a spicy and warm aroma. Other components, like Pentaerythrityl Tetra-Di-T-Butyl Hydroxyhydrocinnamate, help enhance the fragrance's longevity.