Since the mid-1980s, a Spanish fashion and fragrance company called Puig has been at the helm of some of the industry's most recognizable labels. The Puig group, still managed by the founding family, has a portfolio of brands that includes Nina Ricci, Carolina Herrera, Prada, and Comme des Garçons perfumes. One notable addition to this collection is Paco Rabanne, the eponymous fashion house founded by Francisco Rabaneda Cuervo in the early 1960s. Though Rabanne has passed away, his legacy continues under the ownership of Puig, which has overseen the brand's evolution into a cultural icon known for it's futuristic vision and innovative designs.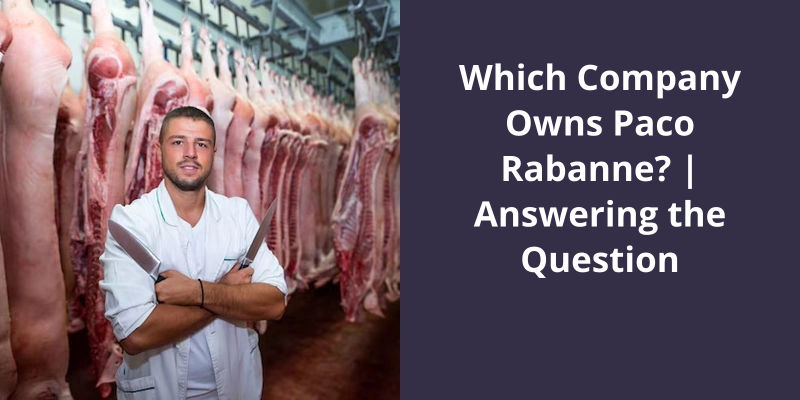 Is Paco Rabanne a Luxury Brand?
Paco Rabanne is a name that's synonymous with luxury for many people around the world. Founded by Francisco Rabaneda Cuervo, who later changed his name to Paco Rabanne, the brand has become a household name in the world of fashion. However, despite it's reputation, the brand has had it's fair share of controversies in recent years.
One of the main issues that the brand has faced is the fact that it's buyer didn't respect the original DNA created by it's founder. Paco Rabanne was known for his innovative designs and use of unconventional materials such as metal and plastic. However, in recent years the brand has moved away from this and started to produce more conventional clothing and accessories.
This has led to criticism from some fans of the brand who feel that it's lost it's edge and become too mainstream. However, others feel that this is just a natural evolution of the brand and that it's still a luxury brand in it's own right.
Another issue that Paco Rabanne has faced is the rise of counterfeit products. This has led to a proliferation of fake products that are often sold at a fraction of the price of the real thing.
While it may not be as innovative as it once was, it's still a brand that's respected and admired by many people around the world.
Paco Rabanne's designs aren't only limited to his unique use of materials. The brand is known for it's daring and unconventional approach to fashion. From his early days in the 1960s to the present, Paco Rabanne has maintained a reputation for producing pieces that challenge the norm. In this article, we will explore what continues to make Paco Rabanne an iconic and daring fashion brand.
What Makes Paco Rabanne Unique?
Paco Rabanne was born in Spain in 1934 and spent his early years studying architecture before turning his attention to fashion. His unique approach to design arose from his training as an architect, as well as his exposure to the emerging art scene of the 1960s. Rabannes designs were heavily influenced by the groundbreaking work of artists such as Jean Dubuffet, Yves Klein, and Alexander Calder.
One of Rabannes signature techniques was the use of unconventional materials in his designs. He was particularly known for his use of metal, which he incorporated into dresses, coats, and other fashionable garments. Rabannes metal dresses were especially innovative, with their intricate patterns and intricate construction. Rabannes metal dresses were particularly popular in the 1960s, and were worn by a number of high-profile celebrities, including Audrey Hepburn and Françoise Hardy.
Rabannes influence on fashion continued into the 1970s and beyond, as he continued to experiment with new materials and designs. His work during this period reflected the changing attitudes of society, as he moved away from the futuristic and towards a more natural aesthetic. He incorporated elements of earth and water into his designs, creating clothing that was organic and sensual.
Today, Paco Rabanne is remembered for his pioneering designs, which continue to inspire and influence fashion designers around the world. His use of unconventional materials, his futuristic vision, and his commitment to innovation have made him an enduring icon of the fashion world. Whether youre looking for a classic metal dress or a bold, modern look, Paco Rabannes legacy continues to offer something unique and innovative.
The Evolution of Paco Rabanne's Design Style Over the Years
Paco Rabanne's design style has undergone significant changes over the years. From his early experimentation with unconventional materials like metal and plastic to his more recent focus on futuristic silhouettes and metallic finishes, Rabanne's evolving style reflects his commitment to innovation and pushing the boundaries of fashion.
Now that we know the scent profile of Paco Rabanne cologne for men, it's time to dive into the history of the brand and it's iconic fragrances. From the unique bottle designs to the unforgettable scents, Paco Rabanne has established itself as a leader in the world of high-end fragrances. So, let's take a closer look at what makes this brand so special and why it's scents continue to be popular decades after their initial release.
What Does Paco Rabanne Smell Like?
One of the most popular fragrances in the designer perfume industry, Paco Rabanne is a scent that's loved by many. This iconic fragrance has become a signature scent for many men all around the world, and is known for it's unique mix of citrus, floral and powdery notes. The scent isn't only timeless, but also offers a versatility that makes it perfect for both formal and casual occasions.
The top notes consist of rosemary, lavender and bergamot, which are then followed by heart notes of sage, carnation and cedar. The base notes are made up of tonka bean, amber and musk, which give the fragrance it's signature scent that lingers on the skin long after it's been applied.
The bottle is made from clear glass, with a metallic rectangular cap that adds a touch of elegance and sophistication. The shape of the bottle is also unique, with sharp angles that give it a futuristic appearance.
The fragrance is perfect for any man who wants to add a touch of sophistication and elegance to his personal style.
The History of Paco Rabanne Fragrance: When Was It First Launched and What Inspired It's Creation?
Paco Rabanne fragrance was first launched in 1969.
The creation of the fragrance was inspired by the designer's fascination with metallic materials and futuristic designs.
The iconic scent features a blend of spicy and floral notes, including rose, jasmine, and amber.
Over the years, Paco Rabanne has expanded it's fragrance collection to include popular scents like 1 Million and Lady Million.
The brand continues to be a leader in the world of fragrance and fashion.
Source: Paco Rabanne Cologne | Scent Box Subscription
Paco Rabanne was not only a prominent fashion designer, but he was also known for his unique approach to the industry. From his beginnings as an architect to becoming a perfumer, he'd a creative vision that set him apart from others. His success in the fashion industry was no accident, and his life experiences played a significant role in shaping his perspective on design.
What Does Paco Rabanne Stand For?
With a background in architecture, Paco Rabanne brought a unique perspective to the fashion industry. His designs were often futuristic and unconventional, pushing boundaries and challenging traditional notions of fashion. One of his most iconic creations was the "12 Unwearable Dresses in Contemporary Materials" collection, which featured dresses made from materials like metal, plastic and paper.
In addition to his innovative fashion designs, Paco Rabanne also established himself as a successful perfumer. He created fragrances that reflected his artistic vision, often using unusual ingredients and unconventional combinations. Some of his most popular fragrances include the masculine scent "Paco Rabanne Pour Homme" and the feminine "Lady Million."
Throughout his career, Paco Rabanne was known for his commitment to innovation and creativity. He constantly pushed himself to explore new techniques and materials, and his influence on the fashion industry can't be overstated. Even after his death in 2023, his legacy continues to inspire designers and artists around the world.
With a rich history and an iconic founder, Paco Rabanne is a Spanish fashion brand that's captured the attention of fashion enthusiasts all over the world. Founded by Francisco Rabaneda y Cuervo, the brand is known for it's unique designs and exquisite fragrances. Now under the umbrella of PUIG, Paco Rabanne continues to be a major player in the fashion world.
Where Is Paco Rabanne Brand From?
Paco Rabanne, the eponymous brand named after the iconic Spanish fashion designer Francisco Rabaneda Cuervo, has become synonymous with bold and daring styles. The brand has become known for it's edgy designs and futuristic aesthetic, pushing the boundaries of fashion to create unique and innovative pieces.
Born in 1934 in the Basque region of Spain, Francisco Rabaneda Cuervo was always fascinated with fashion and design. After studying architecture, Rabaneda Cuervo began working for various fashion houses in Paris, including Balenciaga and Dior, before ultimately starting his own brand in 1966.
With a strong commitment to quality and innovation, the brand continues to inspire and challenge the fashion world, proving that the legacy of Francisco Rabaneda Cuervo lives on in every collection.
A History of Paco Rabanne Brand and It's Evolution Over Time.
1966: Paco Rabanne launches his fashion brand in Paris
1969: The iconic metal dress is introduced and revolutionizes fashion
1973: Paco Rabanne is the first designer to use a computer in the fashion industry
1987: The fragrances Calandre and Paco Rabanne for Men are released
1995: Paco Rabanne retires from the fashion industry
2011: The brand relaunches with a new creative director, Manish Arora
2013: Julien Dossena becomes creative director and brings a modern, youthful vibe to the brand
2019: Paco Rabanne celebrates it's 50th anniversary with a special collection and runway show
When it comes to choosing the perfect fragrance, it can be difficult to sift through the endless options available. For men looking for a scent that's both refined and youthful, Paco Rabanne may be the perfect choice. Specifically, their 1 Million Lucky fragrance is a popular option that's sure to become a staple in any man's collection. But what's it about this fragrance that makes it so special? Let's dive in and explore.
Is Paco Rabanne Good for Men?
Paco Rabanne is a brand that's become synonymous with innovative design and forward-thinking fragrances, making it a popular choice among men who're drawn to unique and distinctive scents.
With top notes of grapefruit, plum, and ozonic accord, this fragrance has a bright, refreshing energy that's perfect for daytime wear. Meanwhile, base notes of amberwood and hazelnut create a warm, inviting finish that's ideal for evening wear.
Another Paco Rabanne fragrance that's well-suited for men is Invictus, which is a bold and energetic scent that combines fresh marine notes with spicy and woody accents. This fragrance features top notes of grapefruit and marine accord, which are complemented by base notes of guaiac wood and oakmoss. With it's fresh, invigorating scent and sophisticated finish, Invictus is a versatile fragrance that's perfect for men who're always on the go.
One popular option is Pure XS, which features a subtle yet alluring blend of fresh spices, warm wood, and sweet vanilla. With it's understated yet memorable scent, Pure XS is a fragrance that's sure to become a staple in any mans grooming routine.
Comparison of Paco Rabanne Fragrances for Men
1 Million
1 Million Lucky
1 Million Intense
1 Million Prive
Black XS
Black XS L'Exces
Invictus
Invictus Aqua
Invictus Legend
Invictus Intense
Paco Rabanne Homme
Paco Rabanne Pour Homme Eau de Toilette
XS
XS Black
Conclusion
In conclusion, it's clear that Puig, a Spanish fashion and fragrance company, has been the proud owner of Paco Rabanne since 1986. With the acquisition of the Paco Rabanne house, Puig has continued to expand it's range of offerings, ensuring that it remains a prominent figure in the fashion industry.