DKNY Be Delicious Eau de Parfum is a fragrance that encapsulates alluring vivacity and whimsical allure. With it's invigorating blend of juicy apple, refreshing cucumber, and zesty grapefruit, this scent awakens the senses with a delightful burst of energy. As the aroma unfolds, the delicate essence of magnolia intertwines with the enchanting essence of violet and rose, creating a harmonious dance of floral elegance. Finally, a velvety embrace of creamy sandalwood and white amber emerges, providing a seductive and lingering finish. Like taking a bite into a crisp and succulent apple, the fragrance of DKNY Be Delicious is irresistibly tantalizing, leaving an unforgettable impression.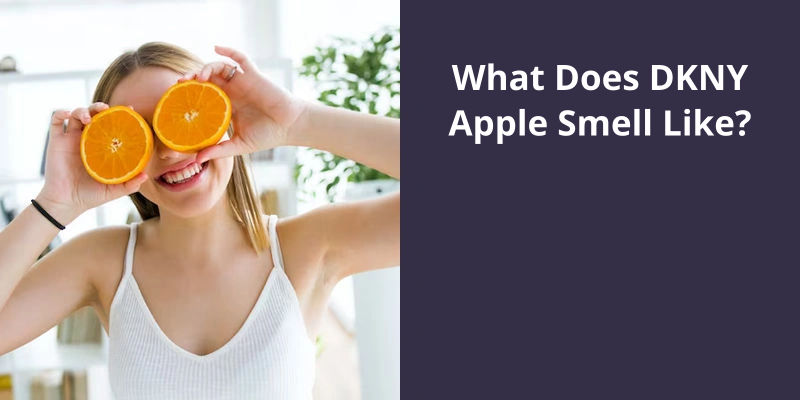 What Is the Smell of DKNY?
DKNY fragrances are known for their ability to transport you to a different place and time, and their signature scent, DKNY Women, is no exception. Close your eyes and imagine strolling through a sun-drenched floral garden on a warm summer afternoon, surrounded by the intoxicating fragrances of blooming flowers.
At the heart of DKNY Women is a luxurious bouquet of jasmine, narcissus, orchid, and rose, which wafts through the air and captivates your senses. These exquisite blooms blend harmoniously with the honeyed aromas of mandarin and apricot, adding a touch of sweetness and depth to the fragrance. The combination of these floral and fruity notes creates a multi-dimensional scent that's both alluring and feminine.
The History of DKNY Fragrances and How They Have Evolved Over Time
DKNY fragrances have a rich history that's evolved over time. Founded by fashion designer Donna Karan in 1989, DKNY quickly became known for it's urban-inspired, modern aesthetic. In 1992, the brand launched it's first fragrance, DKNY Women, which captured the spirit of New York City with a blend of floral and fruity notes.
Over the years, DKNY released a variety of fragrances for both men and women, each reflecting different aspects of the brand's identity. These scents ranged from fresh and sporty to sophisticated and sensual, catering to a diverse range of preferences.
One of the most notable fragrances in the DKNY collection is DKNY Be Delicious, launched in 2004. Inspired by the iconic image of the Big Apple, this fragrance features a crisp blend of apple, grapefruit, and floral notes, creating a refreshing and energizing scent.
In recent years, DKNY continues to innovate with it's fragrance offerings, exploring new olfactory territories and collaborating with renowned perfumers to create distinct and memorable scents.
Overall, the history of DKNY fragrances showcases the brand's commitment to creating unique and evocative scents that capture the essence of New York City and appeal to individuals searching for modern and dynamic fragrance experiences.
The fragrance evolves into a delicate bouquet of magnolia, muguet, and rose, creating a feminine and romantic allure. Finally, a warm base of amber and sandalwood envelops the skin, leaving a lasting impression. Get ready to indulge in the irresistible allure of DKNY Be Delicious Eau de Parfum – the best DKNY apple perfume on the market.
What Is the Best DKNY Apple Perfume?
When it comes to the best DKNY apple perfume, one fragrance that stands out is the DKNY Be Delicious Eau de Parfum. This fragrance is known for it's fresh floral scent that's both juicy and irresistible. The scent is bursting with playful charm and spontaneity, making it perfect for those who want to make a statement.
The main note in this perfume is fresh apple, which lends a juicy and crisp quality to the fragrance. It's like taking a bite out of a ripe and succulent apple, with it's sweet and tart qualities coming to the forefront. This apple note is complemented by other fresh and invigorating scents such as crisp cucumber and sparkling grapefruit. These notes add a refreshing and energizing touch to the perfume, making it perfect for everyday wear.
The combination of the different notes creates a multi-dimensional scent that's both sweet and crisp, making it a truly irresistible fragrance. It's the kind of perfume that turns heads and leaves a lasting impression.
In terms of longevity, this perfume is known for it's staying power. The fragrance lingers on the skin for hours on end, without fading away. This means that you can enjoy the fresh and juicy scent throughout the day, without having to constantly reapply.
Whether youre heading to the office or out for a night on the town, this perfume is sure to turn heads and leave a lasting impression.
Reviews and Customer Opinions: Including Testimonials and Opinions From Users Who Have Tried the DKNY Apple Perfumes, Providing a Broader Perspective on Their Popularity and Effectiveness.
The DKNY apple perfumes are incredible! I love the fresh and fruity scent. It's perfect for everyday wear.
I've been using DKNY apple perfumes for years and they never disappoint. The scent lasts all day and I always get compliments when I wear it.
After trying many different perfumes, I finally found my favorite with the DKNY apple collection. It's the only scent I trust to keep me smelling amazing all day long.
I was skeptical at first, but after trying the DKNY apple perfumes, I was pleasantly surprised. The scent is unique and long-lasting.
I bought the DKNY apple perfumes as a gift for my sister and she absolutely loves it. She says it's her new signature scent.
I've tried many high-end perfumes, but none compare to the DKNY apple collection. The scent is youthful and energizing.
Since using the DKNY apple perfumes, I've received so many compliments. It's become my go-to fragrance for any occasion.
The DKNY apple perfumes are worth every penny. The scent is fresh and invigorating, and it doesn't fade throughout the day.
I can't get enough of the DKNY apple perfumes. The scent is addicting and I always feel confident when I wear it.
I highly recommend the DKNY apple perfumes to anyone in search of a new signature scent. You won't be disappointed!
Source: DKNY Be Delicious Eau de Parfum Perfume Spray For …
Red Delicious For Women by DKNY is a captivating fragrance that encompasses a symphony of tantalizing scents. With a delightful combination of sweet, juicy fruit and subtle floral undertones, this fragrance is both alluring and mesmerizing. As the top notes of lychee and raspberry intertwine with the delicate hints of champagne and apple, a sense of freshness and vitality fills the air. And as the fragrance settles, the subtle allure of amber, vanilla, and violet emerges, creating a lingering and sensual drydown that's simply irresistible.
What Does DKNY Red Smell Like?
DKNY Red Delicious for Women is a fragrance that captures the essence of a tantalizing and exotic scent. The sweet and juicy aroma of the fragrance is reminiscent of biting into a ripe, red apple. The scent opens with a burst of freshness, as the notes of lychee and raspberry blend together to create a mouthwatering combination. This fruity accord is further enhanced by a touch of champagne, adding a touch of effervescence to the fragrance.
As the scent develops, the floral aspect begins to emerge. The fragrance gracefully combines the earthy and warm notes of patchouli with the delicate and romantic scent of rose. This combination adds depth and complexity to the fragrance, while also maintaining it's fruity character. The aroma of crisp apple is also present, complementing the other notes and adding a refreshing element to the overall composition.
The drydown of DKNY Red Delicious is truly indulgent. The sensual and velvety notes of amber and vanilla linger on the skin, leaving a trail that's both alluring and comforting. These warm and inviting notes mix with the soft and powdery scent of violet, creating a captivating olfactory experience. The drydown is worth waiting for, as it reveals a luxurious and sophisticated aroma that will leave a lasting impression.
It's a scent that's both intoxicating and playful, capturing the essence of youth and vibrancy. The combination of fruity, floral, and warm notes creates a well-rounded and balanced fragrance that's perfect for any occasion. Whether it's daytime or evening, this fragrance will surely leave a trail of deliciousness in it's wake.
Celebrity Endorsements or Brand Ambassadors for DKNY Red Delicious Fragrance
Blake Lively
Leighton Meester
Kristen Stewart
Olivia Palermo
Naomi Watts
Conclusion
The sweet magnolia and floral notes add a touch of femininity, while the creamy sandalwood and white amber create a warm and comforting finish. This fragrance is a perfect embodiment of spontaneity and charm, making it an ideal choice for those who seek a vibrant and uplifting scent experience. So, if you're wondering what DKNY Apple smells like, imagine a juicy apple orchard infused with the freshness of cucumber and grapefruit, adorned with the softness of magnolia and the warmth of sandalwood – it truly is a delectable and captivating fragrance.