Puig, a renowned Spanish company established by Antoni Puig i Castelló in 1914, is still managed by the family that founded it. It's portfolio boasts of an impressive collection of brands under the fashion and fragrance industry. These include internationally recognized names such as Carolina Herrera, Paco Rabanne, Jean Paul Gaultier, Dries Van Noten, Nina Ricci, Byredo, Penhaligon's, L'Artisan Parfumeur, Kama Ayurveda, Loto del Sur, Charlotte Tilbury, Uriage and Apivita.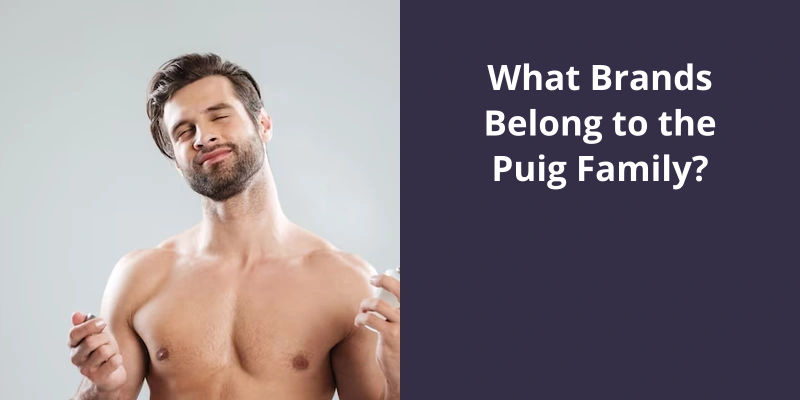 Who Is Puig Owned By?
The company started off by producing it's own fragrances and then began to acquire licenses to distribute fragrances from other well-known brands such as Nina Ricci, Paco Rabanne, and Carolina Herrera. Today, Puig is a global leader in the fragrance and fashion industry, with a portfolio of popular and iconic brands such as Jean Paul Gaultier, Prada, Valentino, and Christian Louboutin.
Puig operates in over 150 countries and has over 4,000 employees globally, with a strong presence in Europe, North and South America, the Middle East, and Asia. The company has also made it's mark in the digital space, with a strong online and social media presence across all of it's brands.
Apart from fragrances and fashion, Puig has also ventured into the beauty and skincare market with the acquisition of a number of high-end skincare brands such as Apivita, Uriage, and Isdin. The company has demonstrated a commitment towards sustainability by investing in eco-friendly production and packaging methods, as well as integrating sustainability practices throughout it's supply chain.
Despite being a family-owned business, Puig has adopted a modern and dynamic approach when it comes to innovation and creativity. The company has invested heavily in research and development, resulting in numerous patents and breakthrough technologies in the fragrance and fashion industry.
Before we delve into the details of Puig Group, let's take a moment to introduce the key figure behind this global Spanish fashion and fragrance company: the CEO himself. The leader at the helm of the brand is an accomplished business executive who's taken Puig Group from strength to strength in recent years. So, who's the CEO of Puig Group? Let's find out.
Who Is the CEO of Puig Group?
The Puig Group is a global fashion and fragrance company that was founded in Barcelona in 19The company is currently led by CEO Marc Puig, who's the fourth generation of the Puig family to lead the company.
Prior to becoming CEO, Puig worked in various positions within the company, including leading the company's operations in North America and Asia. Since becoming CEO, Puig has focused on expanding the company's global presence, with a particular emphasis on Asia.
Under Puig's leadership, the Puig Group has continued to grow and evolve. In recent years, the company has made a number of acquisitions, including the purchase of Jean Paul Gaultier and Dries Van Noten's fragrance licenses. The company has also continued to invest in innovation and technology, with a focus on creating new and innovative products that appeal to a wide range of consumers.
In addition to his work with the Puig Group, Marc Puig is also involved in a number of other business and philanthropic endeavors. He's a member of the board of directors of Inditex, the parent company of fashion brand Zara, and he serves on the board of directors of the Barcelona Foundation for Progress.
Overall, Marc Puig is a highly regarded leader in the fashion and fragrance industry. He's widely respected for his business acumen, his commitment to innovation, and his dedication to making a positive impact in the world.
Puig Group's Current Portfolio of Brands and Products
Carolina Herrera
Paco Rabanne
Nina Ricci
Jean Paul Gaultier
Penhaligon's
L'Artisan Parfumeur
Comme des Garçons Parfums
Ultraviolet by Paco Rabanne
One Million by Paco Rabanne
Black XS by Paco Rabanne
Olympea by Paco Rabanne
Invictus by Paco Rabanne
Good Girl by Carolina Herrera
Bad Boy by Carolina Herrera
Nina by Nina Ricci
L'Extase by Nina Ricci
Scandal by Jean Paul Gaultier
La Male by Jean Paul Gaultier
However, Mr. Puig's success didn't stop there. He and his wife went on to build a luxury fashion empire, with María Guasch taking on a pivotal role in the company's expansion and success. In this article, we will take a closer look at María Guasch's life and contributions to the Puig family business.
Who Is the Wife of Marc Puig?
Mr. Puig is an accomplished businessman who's made a name for himself in the world of fashion and beauty. He's the CEO of Puig, a renowned Spanish fragrance and fashion house that's been in operation for over a century. The company has a long history of producing high-quality perfumes and other luxury items that are well-loved by consumers around the world.
One of Mr. Puigs key accomplishments was acquiring the rights to distribute foreign brands in Spain at a time when the country was grappling under military dictatorship. This was a bold move that required a lot of savvy and determination, but Mr. Puig was up to the task. With the help of his wife, María Guasch, he traveled to Los Angeles to sign a deal with Max Factor to distribute it's cosmetics in Spain. This was a landmark moment for the couple, and it set them on a path to become major players in the beauty industry.
Maria Guasch, Mr. Puigs wife, has been a key part of his success story. She's played an instrumental role in helping him build Puig into the global brand that it's today. As a partner in both life and business, she's brought a unique perspective and set of skills to the table. Her vision and creativity have helped shape the direction of the company, and she's been an unwavering source of support for her husband throughout their journey together.
The success that the couple has achieved is a testament to the power of collaboration, determination, and unwavering dedication to excellence.
Now that we've established what Puig means, let's take a closer look at how this word has made it's way into various aspects of popular culture. From fashion to sports, Puig has become a well-known brand name that's synonymous with quality and prestige. So, how exactly did this humble Catalan word make it's mark on the global stage? Let's find out.
What Does Puig Mean?
The word "Puig" is a term that's it's roots in the Catalan language. Specifically, "Puig" is used to describe a hill or a mountain, and it's often used in place names throughout the region as a means of describing the local topography.
In recent years, "Puig" has become a popular surname across the Catalan-speaking world and beyond, with many individuals adopting the name as a way of acknowledging and celebrating their cultural roots.
Puig, a leading company in the fragrance and fashion industry, has been dominating the market for years. But like any other business, it's competitors that are equally trying to maintain their share in the market. Puig's top 5 competitors include some well-known names that have been around for a while. Let's take a closer look at what they offer and how they compare to Puig.
What Companies Are Similar to Puig?
Puig is a well-known Spanish company that specializes in perfumes, cosmetics, and fashion. The company has established a strong reputation for producing high-quality fragrances and has become a popular choice for customers worldwide. However, Puig has a number of competitors that are similarly renowned for their fragrance collections, including companies such as Parlux, Rimmel London, Fragrances of the World, and Frances Denney.
Parlux.com is one of Puigs top competitors, with Similarweb data indicating that it's the highest monthly visits of all competitors in May 202Parlux.com is a popular online fragrance retailer that prides itself on offering a wide selection of fragrances from the worlds best manufacturers.
Rimmel London is another popular brand that's similar to Puig. Rimmel London is known for it's high-quality makeup and cosmetic products, which have been used by countless women around the world. The company has a wide range of products, including lipsticks, eyeshadows, eyeliners, and more.
Fragrances of the World is a company that specializes in providing information about fragrances from around the world. The company has a vast database of perfumes, colognes, and fragrances that can be searched by brand, designer, or category.
Frances Denney is a brand that specialises in producing fragrances that reflect a timeless American elegance.
Puig has no shortage of competitors in the fragrance and beauty market.
Other Spanish Companies That Compete With Puig in the Fragrance, Cosmetics, and Fashion Industry, Such as Mango, Zara, and Loewe.
Source: puig.com Competitors – Top Sites Like puig.com – Similarweb
Conclusion
Their portfolio includes a range of renowned brands such as Carolina Herrera, Paco Rabanne, Jean Paul Gaultier, and many more. The company's commitment to innovation and creativity has resulted in the successful expansion of their brand portfolio and the establishment of international recognition. Puig's dedication to environmentally responsible practices further solidifies their position as a leader in the industry. The Puig family's consistent involvement in the management of the company reflects their commitment to maintaining the brand's heritage and values. In conclusion, Puig is a remarkable company with an extensive brand portfolio that surpasses expectations.