While it exudes a hint of sweetness, it's far from being overpoweringly sugary. Instead, it embraces a delightful floral bouquet that's intriguingly intricate, making it appealing even to those who tend to shy away from floral scents. Moreover, it embodies a certain sensuality without veering into heavy muskiness, creating a captivating allure that's both alluring and approachable. La Vie Est Belle truly encapsulates the essence of femininity, making it an ideal choice for all individuals and every occasion.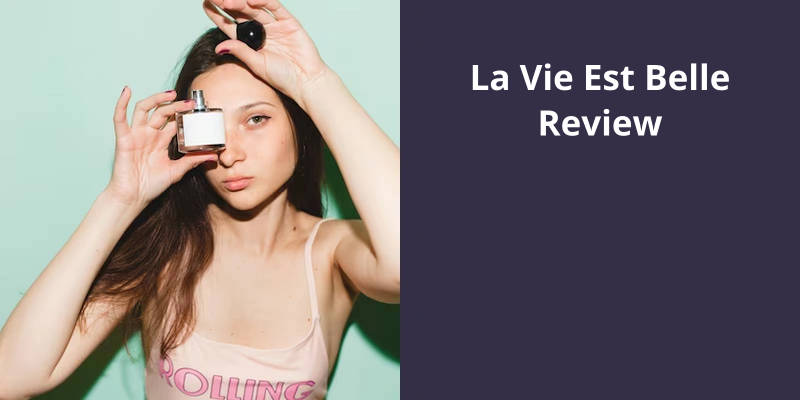 Who Is La Vie Est Belle For?
"La Vie Est Belle" is a truly enchanting perfume that's captivated the hearts and senses of women worldwide. This floral and sweet fragrance exudes a sense of joyous femininity, making it the perfect choice for those who want to embrace their inner beauty and radiate positivity.
This exquisite aroma is designed for women who appreciate the finer things in life and aren't afraid to indulge themselves in a little luxury.
The fragrance embodies the spirit of a confident and independent woman who chooses to pave her own path towards happiness. It serves as a reminder that life is indeed beautiful and that we've the power to shape our own destiny.
The longevity and sillage of this perfume are outstanding, ensuring that you'll be enveloped in it's captivating aroma all day long. It's lingering sweetness and warmth will leave you feeling confident and empowered, ready to take on the world with a smile.
It's a scent for women who dare to dream, who embrace their uniqueness, and who believe that life is truly beautiful. With it's floral and sweet composition, it serves as a delightful reminder to savor every moment and spread joy wherever you go.
La Vie est Belle, a fragrance beloved by many, boasts an impressive lineup of brand ambassadors who've lent their star power to it's enchanting appeal. From the timeless elegance of Julia Roberts and Penelope Cruz to the mesmerizing beauty of Zendaya and Isabella Rossellini. This iconic fragrance has also caught the attention of celebrated singer Rosalia, who'll be joining the esteemed list of La Vie est Belle ambassadors during her highly anticipated Motomami tour in the United States in 2022.
What Celebrities Use La Vie Est Belle?
La Vie est Belle, a fragrance beloved by many, has garnered the attention of numerous celebrities over the years. Notably, this enchanting scent has become a favorite among well-known figures such as Zendaya, Julia Roberts, Penelope Cruz, Isabella Rossellini, Amanda Seyfried, and the talented Rosalia. It's captured the hearts and noses of these esteemed individuals, making it a go-to fragrance for them on various occasions.
Penelope Cruz, the Spanish beauty, has also been captivated by the captivating allure of La Vie est Belle. It's bold and feminine aroma aligns perfectly with her vibrant and passionate spirit, embodying her distinct charm and allure. Additionally, Isabella Rossellini, a renowned actress and model, finds solace in the enchanting aroma of this fragrance. It's irresistible blend of sweet and floral notes adds a touch of elegance and sophistication to her enigmatic presence.
Furthermore, Amanda Seyfried, known for her ethereal beauty, has been seen embracing the delicate scent of La Vie est Belle. It's evocative composition perfectly complements her serene and gentle personality, creating an air of tranquility and grace around her. Lastly, Rosalia, the talented Spanish singer, has recently joined the ranks of La Vie est Belle enthusiasts. During her Motomami tour in the United States, she was spotted donning this fragrance, enhancing her on-stage presence with it's captivating aroma.
It's magical composition, carefully crafted note by note, has bewitched the likes of Zendaya, Julia Roberts, Penelope Cruz, Isabella Rossellini, Amanda Seyfried, and Rosalia. With it's ability to enhance their unique personalities and add a touch of allure to any occasion, it's no wonder that this enchanting fragrance has become a favorite among these esteemed individuals.
The History and Creation of La Vie Est Belle Fragrance
The creation of La Vie est Belle fragrance dates back to 2012.
La Vie est Belle was developed by a team of perfumers and experts in the fragrance industry.
The inspiration for the fragrance came from the idea of finding beauty and happiness in the simple pleasures of life.
The name "La Vie est Belle" translates to "Life is Beautiful" in English.
The fragrance is known for it's unique blend of floral and gourmand notes.
Top notes of La Vie est Belle include iris, blackcurrant, and pear.
Heart notes feature orange blossom, jasmine, and iris.
The base notes of the fragrance include tonka bean, vanilla, praline, and patchouli.
La Vie est Belle became an instant success and gained popularity worldwide.
Over the years, Lancôme, the brand behind La Vie est Belle, has released several variations and limited editions of the fragrance.
Conclusion
The intricate note profile adds depth and complexity, making each whiff an enchanting experience. Furthermore, it exudes a sultriness that isn't overpowering, making it versatile and suitable for any occasion.