Eros Flame, a captivating fragrance that encapsulates the essence of intensity and passion, poses an intriguing question: is it sweet or fresh? This enticing scent takes a unique approach by combining the familiar warmth of sweet citrus top notes with a refreshing twist, blurring the boundaries between the two olfactory profiles. Unlike traditional winter warmers, Eros Flame exudes a vibrant energy that's undeniably invigorating. While the original Eros fragrance leans towards the fruity sweetness of gourmand Vanilla, Eros Flame takes a different path, intriguingly infusing the scent with aromatic warmth emanating from cinnamon and cloves. This, in turn, amplifies the fragrance's distinct character, aiming for a more mature and sophisticated dry down. The answer lies within the harmonious marriage of these contrasting elements, forming a fragrance that's both alluringly sweet and refreshingly aromatic.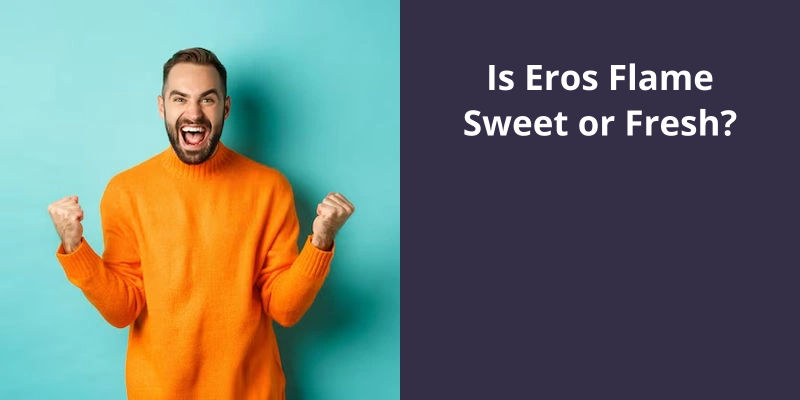 Is Eros Flame Masculine?
Eros Flame by Versace is a fragrance that exemplifies masculinity with it's intense and fiery composition. Encased in a stunning red bottle, this perfume represents the essence of love and passion. It exudes a powerful, sensual aura that's undeniably masculine.
The scent of Eros Flame is a unique blend of aromatic notes that create a captivating olfactory experience. It opens with zesty top notes of lemon, mandarin, and black pepper, which provide a burst of freshness with a hint of spice. These notes quickly give way to the heart of the fragrance, where rosemary, geranium, and pepperwood ignite a fiery and intense sensation.
It's bold and fiery character leaves a lasting impression, making it the perfect choice for the modern gentleman who wants to express his passion and confidence.
Is Eros Flame summer or winter? This question has sparked much debate among fragrance enthusiasts. While some argue that Eros Flame is best suited for the colder months of autumn and winter, others believe that it can be worn year-round. In my opinion, the seasonality of Eros Flame doesn't differ much from the original Eros fragrance. It's warm and spicy notes make it perfect for cozying up during the chilly months, but it can also add a touch of allure to your springtime ensembles. So, whether you choose to wear Eros Flame in the summer or winter, one thing is for sure – this captivating scent will leave a lasting impression.
Is Eros Flame Summer or Winter?
When it comes to Eros Flame, the question of whether it's summer or winter fragrance is a topic of much discussion among fragrance enthusiasts. In my opinion, it's seasonality doesn't differ much from the original Eros fragrance. However, it's most commonly associated with the colder months of autumn and winter due to it's warming and inviting scent profile.
Eros Flame truly shines in the colder seasons, where it's rich and robust composition can be fully appreciated. The blend of fresh citrus notes, spicy accords, and warm woods creates a captivating olfactory experience that's perfect for chilly days and cozy evenings. It's smoky undertones and the hint of vanilla give it a certain depth and complexity that's well-suited for the colder months.
The combination of these elements creates a fragrance that's both sweet and fresh, making Versace Eros a versatile scent that can be enjoyed in various settings and seasons. With it's vibrant and seductive aroma, it captures the essence of youthful energy and passion.
Is Versace Eros Sweet or Fresh?
The sweetness of Eros comes from the combination of vanilla and tonka bean, creating a smooth and creamy base that lingers in the background. It adds a touch of warmth and depth to the fragrance, making it appealing and inviting. The freshness, on the other hand, is evident in the crisp green apple note that adds a zesty and uplifting quality to the fragrance.
What sets Eros apart is it's ability to balance the sweetness and freshness, creating a harmonious blend that's both vibrant and comforting. It's neither overwhelmingly sweet nor overly fresh, striking the perfect balance that appeals to a wide range of preferences.
The freshness of Eros Flame isn't as pronounced as the original Eros, as it focuses more on the warm and seductive aspects. The notes of black pepper and rosemary add a spicy and aromatic touch, creating a sensual and masquerade-like atmosphere. The overall composition is deep, intense, and captivating, with a subtle sweetness that adds to it's allure.
It opens with a burst of crisp green apple and mint, leading to a creamy and comforting sweetness from the vanilla and tonka bean. The fragrance evolves into a complex and alluring composition, with hints of greenish and woody notes.
Source: Versace Eros EDT – Still King Of Clubs? [ 2023 Review ]
Conclusion
In conclusion, the fragrance Eros Flame strikes a delicate balance between the sweetness of fruity citrus notes and the warmth of aromatic spices. It manages to exude both a refreshing energy and a mature sophistication, making it a unique and intriguing option for those seeking a twist on the traditional winter fragrance.