Calvin Klein One has made it's mark as one of the most iconic fragrances of our time. With it's signature citrus and green accords, the scent is the perfect fusion of freshness and modernity. It's a fragrance that caters to both men and women, making it a unisex fragrance that's perfect for everyday use. The unique blend of fresh citrus top notes, delicate florals in the middle, and clean, musky base notes make Calvin Klein One a versatile perfume that suits any occasion. But what makes it stand out is how well it adapts to it's wearer's individual chemistry, creating a unique and personalized scent. Whether you're looking for a daily scent or something special for a night out, Calvin Klein One is a good perfume that's worth exploring.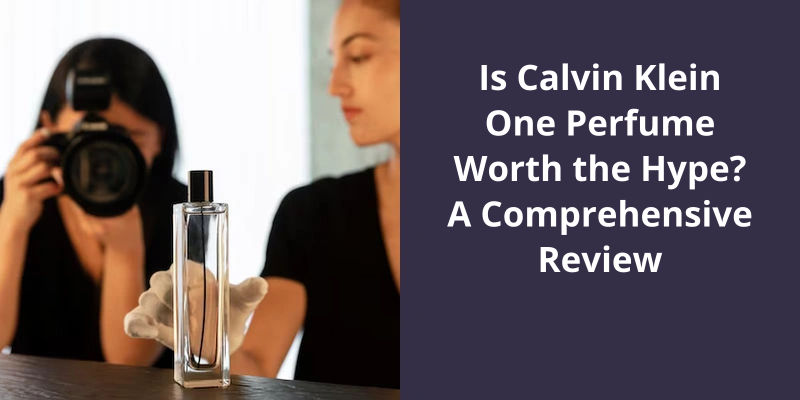 Is Calvin Klein Perfume Nice?
The brand has been around for decades and has always been associated with quality and sophistication. From the iconic CK One to the edgy, floral Euphoria, the range of scents is quite diverse. Youll also find some unisex fragrances as well as options catered specifically toward men or women, making it easy to find a scent that suits you perfectly.
It's also important to mention that the longevity of the fragrances is quite impressive. Most CK perfumes will last the entire day without needing to be reapplied. This is especially helpful for those who've busy schedules and don't want to worry about constantly reapplying their fragrance throughout the day. The scent also tends to develop nicely on the skin, creating a unique, personalized scent thats all your own.
In terms of price, Calvin Klein perfumes are generally mid-range, making them a very accessible luxury item. Theyre definitely not as expensive as some high-end perfumes, but theyre also not cheap and will give you a more premium scent experience than some lower-end perfumes.
Reviews and Ratings of Popular Calvin Klein Fragrances From Experts and Customers
Euphoria by Calvin Klein
Obsession by Calvin Klein
CK One by Calvin Klein
Escape by Calvin Klein
Contradiction by Calvin Klein
Truth by Calvin Klein
CK Be by Calvin Klein
Ck IN2U by Calvin Klein
Now that we've discussed the history and success of Calvin Klein's fragrance line, let's take a closer look at some of it's best-selling perfumes and colognes. Among these, the Eternity perfume and cologne, Obsession perfume and cologne, and the CK One unisex cologne are some of the most sought-after fragrances in the market. Let's explore each one of these popular scents in more detail.
What Is CK Most Selling Perfume?
Calvin Klein is one of the most revered names in the fashion and fragrance industry. The brand has been synonymous with luxury and high-quality products for decades. One of the brands most successful ventures has been it's line of perfumes that have garnered a massive fan following over the years. Among all the perfumes offered by the brand, the one that takes the lead is CKs signature fragrance – CK One.
Although many perfumes from the brand have achieved iconic status, none have reached the level of CK One. It's been a best-seller since it's launch in 1994 and continues to be a favourite till this day. CK One is a unisex fragrance that offers a perfect blend of fruity and floral fragrances mingling with spicy and woody undertones. The fragrance comes in different variations for both men and women, as well as a limited edition line, which sees a release every few years.
Another popular fragrance from the brand is Eternity. Eternity is an epitome of timeless elegance, boasting a captivating floral fragrance that leaves a lasting impression. Over the years, the fragrance has had numerous spinoffs, including Eternity for Men, which has garnered equal attention among men.
Apart from Eternity, Calvin Kleins Obsession is another perfume that's garnered a considerable amount of attention from critics and consumers. It was released in 1985, and since then, it's been one of the brands most successful ventures. Obsession features a blend of amber and spices, giving it a sensual and alluring fragrance. The perfume has been seen as a favourite among celebrities over the years, only solidifying the reputation of the brands signature fragrance.
Finally, Obsession for Men is another fragrance that's garnered the attention of fragrance enthusiasts around the world. It's a blend of musk, amber, and lavender that creates a woody yet sensual aroma. The perfume has been hailed as a classic fragrance to be worn at upscale events and has been seen as a must-have for fashion-forward men.
Calvin Klein has created a legacy with it's line of fragrances that's spanned decades. The brand has achieved a level of success that very few have, with fragrances that have become iconic and popular among fans around the world.
What Other Fragrances From Calvin Klein Have Achieved Significant Success and Popularity?
Calvin Klein Euphoria
Calvin Klein CK One
Calvin Klein Obsession
Calvin Klein Escape
Calvin Klein Truth
Calvin Klein Contradiction
Calvin Klein Be
With a name like Eternity, it's no wonder this Calvin Klein fragrance has remained popular since it's introduction in 1988. Created by renowned perfumer Sophia Grojsman, it's become a classic floral scent that's withstood the test of time. But while Eternity may have been around for over three decades, it still has the power to captivate and inspire with it's clean, romantic aroma.
Which Calvin Klein Fragrance Was Introduced in 1988?
Sophia Grojsman was a revolutionary perfume maker in the industry. Born in Belarus, she emigrated to the US in 1947 after World War II. She began her career in the fragrance industry in New York City working for International Flavors and Fragrances. With a brilliant sense of scent, she began creating iconic fragrances throughout the 1980s and 1990s.
One of her most famous fragrances is Eternity by Calvin Klein, which was launched in 198This floral fragrance for women is a timeless classic that's remained popular to this day. It's success can be attributed to the masterful combination of notes such as freesia, mandarin, lily of the valley, and sandalwood.
Eternity has since evolved into a brand that includes other fragrances such as Eternity for Men, Eternity Aqua, and Eternity Flame. Each perfume has it's unique blend of scents, but they all share the same DNA of the original Eternity fragrance.
It's blend of notes creates a timeless scent that's remained popular for over three decades. Eternity is an embodiment of love and commitment, making it a perfect gift for that special someone.
Other Iconic Fragrances Created by Sophia Grojsman
Sophia Grojsman is known for creating many iconic fragrances besides the famous Paris by Yves Saint Laurent. Some of her other notable creations include Lancôme Tresor, Calvin Klein Eternity, and Estée Lauder White Linen.
Calvin Klein is a brand globally recognized for it's iconic fragrances, and one of their most famous scents is the Calvin Klein One. It's fresh and invigorating aroma is designed for both men and women, making it a versatile choice for any occasion. Featuring a blend of fruity and floral scents, the top notes include pineapple, green notes, mandarin orange, papaya, bergamot, cardamom, and lemon. It's heart notes consist of nutmeg, violet, orris root, jasmine, lily-of-the-valley, and rose, while sandalwood, amber, musk, cedar, and oakmoss make up the base. Let's dive deeper into what makes this fragrance so special!
What Does Calvin Klein One Smell Like?
Calvin Klein One is an iconic fragrance that's been a favorite of both men and women for decades. It's a unique fragrance that evokes a sense of freshness and vitality that few others can match. The top notes of this fragrance are a blend of tropical fruits like pineapple, mandarin orange, and papaya, which create a crisp, zesty aroma that's both invigorating and energizing.
As the fragrance progresses, it deepens and becomes more complex with the addition of heart notes like nutmeg, violet, and jasmine. These middle notes create a rich, floral aroma that balances out the sweetness of the top notes, adding depth and complexity to the fragrance. The floral notes are well balanced and never overpowering, contributing to the overall fresh and invigorating quality of the fragrance.
At the base of the fragrance, there are alluring and sensual notes of sandalwood, amber, musk, cedar, and oakmoss. These scents create a warm and inviting aroma that lingers on the skin for hours after application. The base notes give the fragrance a depth and complexity that's rarely found in other scents, establishing it's status as a classic fragrance that's loved by generations.
It's versatile and can be worn by both sexes, which is why it's become a classic fragrance that's stood the test of time. It's blend of fresh citrus, sensual florals, and warm musk creates a fragrance that can be worn day or night, making it a perfect choice for any occasion. So, if you're looking for a scent that will energize and uplift your senses, give Calvin Klein One a try and discover why it remains one of the worlds most iconic fragrances.
The History of Calvin Klein One and How It Became a Classic Fragrance.
Calvin Klein One was launched in 1994.
It was the first fragrance launched by Calvin Klein under the unisex category.
It was created by Alberto Morillas and Harry Fremont.
The fragrance is described as a "citrus aromatic fragrance" with notes of pineapple, lemon, bergamot, papaya, jasmine, violet, rose, nutmeg and musk.
Calvin Klein One was an instant hit and became a classic fragrance.
The success of Calvin Klein One led to the release of many other unisex fragrances by various designers.
Calvin Klein One was discontinued in 2018.
Today, Calvin Klein One remains a cult classic and is considered a milestone in the history of fragrance.
Conclusion
In conclusion, determining whether or not Calvin Klein One is a good perfume ultimately comes down to personal preference. It's versatility also makes it a great option for everyday wear, casual outings, and even professional settings. It's popularity and continued success further solidifies it's place as a reliable and widely enjoyed perfume.