But who exactly is behind this remarkable creation? Look no further than the renowned nose of Francis Kurkdjian, the mastermind responsible for giving Burberry Her it's distinctive and alluring character. With his exceptional talent and remarkable expertise, Kurkdjian has artfully crafted a fragrance that embodies the essence of femininity, capturing the spirit and individuality of the modern Burberry woman. Join us as we delve into the unique creation process and explore the captivating allure of Burberry Her, brought to life by the remarkable talent of Francis Kurkdjian.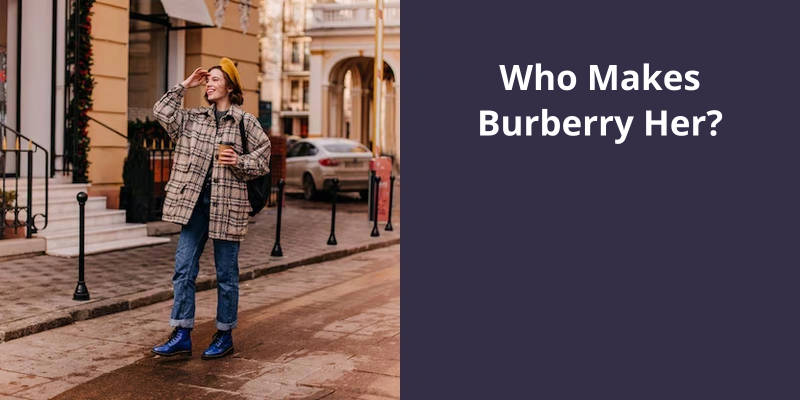 What Does Burberry for Her Smell Like?
Burberry Her Eau de Parfum for Women is a captivating fragrance that embodies a sense of freedom and elegance. The scent opens with an irresistible blend of juicy berries. The sweet and tangy notes of blackberry and raspberry create a vibrant and refreshing burst of energy. As the fragrance develops, delicate floral hints of jasmine and violet emerge, adding a touch of femininity and sophistication.
The heart of the perfume is balanced and harmonious, with the floral notes intertwining seamlessly with the fruity accords. This exquisite combination creates a multi-faceted composition that's both alluring and modern. As the fragrance settles on the skin, warm and sensual base notes of amber and musk can be detected. These elements provide depth and a touch of sensuality to the fragrance, leaving a lingering and intoxicating trail.
The perfume is a reflection of the Burberry brands commitment to craftsmanship and quality. Each ingredient has been carefully selected and blended to create a scent that's sophisticated and timeless.
Other Fragrances in the Burberry Collection and How They Compare to Burberry Her Eau De Parfum for Women
Burberry Brit Eau de Parfum
Burberry London Eau de Parfum
Burberry Brit Sheer Eau de Toilette
Burberry Body Eau de Parfum
Burberry Blush Eau de Parfum
Burberry My Burberry Eau de Parfum
Burberry Touch Eau de Parfum
Burberry Weekend Eau de Parfum
Burberry Her Elixir de Parfum is a creation by the talented perfumers, Jerome di Marino and Maia Lernout. With a captivating blend of notes including Strawberry, Blackberry, Jasmine, Amber, Vanilla, and Sandalwood, this fragrance is an exquisite combination that promises to enchant the senses.
Who Created Burberry Her Elixir?
Burberry Her Elixir de Parfum, a captivating fragrance that's enchanted many with it's intoxicating blend of notes, was masterfully created by the skilled hands and creative minds of Jerome di Marino and Maia Lernout. This luxurious elixir showcases their impeccable artistry and olfactory expertise.
At the heart of Burberry Her Elixir de Parfum lies the luscious aroma of succulent strawberries and juicy blackberries, which intertwine to create a tantalizing fruity accord. These vibrant notes instantly evoke a sense of youthful energy and playfulness, adding a touch of effervescence to the fragrance.
As the scent develops, a mesmerizing bouquet of jasmine blossoms emerges, infusing the composition with an elegant floral melody. The delicate and graceful presence of jasmine lends a feminine sensibility to Burberry Her Elixir de Parfum, encircling the wearer in an aura of refined sophistication.
Deep within the fragrance, a rich interplay of warm, enveloping notes takes center stage. Amber, with it's alluring and resinous aroma, imparts a touch of mystery and allure. Vanilla, known for it's sweet and comforting scent, adds a creamy and indulgent facet to the elixir. Finally, sandalwood emerges, lending a woody and creamy foundation that lends a touch of sensuality and depth to the composition.
The Evolution of Burberry Fragrances: Take a Look at the History of Burberry Fragrances and How They Have Evolved Over Time, Highlighting Key Scents and Their Creators.
The first Burberry fragrance was launched in 1981, called Burberry for Men.
In 1995, Burberry introduced Burberry London, a fragrance that embodied the heritage and style of the brand.
Burberry Brit, a youthful and modern fragrance, was released in 2003.
In 2006, Burberry introduced The Beat, a fragrance inspired by music and street culture.
Burberry Body, a sensual and feminine fragrance, made it's debut in 2011.
Burberry My Burberry, a tribute to the brand's iconic trench coat, was launched in 2014.
In 2016, Burberry unveiled Mr. Burberry, a sophisticated and masculine fragrance inspired by London.
Burberry Her, a vibrant and fruity fragrance targeting a younger audience, was released in 2018.
Burberry released the fragrance collection "Burberry Bespoke" in 2020, allowing customers to personalize their scents.
Burberry London, an exquisite perfume crafted by Burberry, is known for it's floral, elegant, and sophisticated notes. What adds to it's allure is the fact that it's proudly made in France, a country renowned for it's rich fragrance heritage and impeccable craftsmanship.
Where Is Burberry London Perfume Made?
Burberry London perfume, known for it's floral, elegant, and sophisticated scent, is proudly made in France. France, renowned for it's rich history in the art of perfumery, is home to some of the worlds finest fragrance manufacturers.
The meticulous process involved in creating each bottle of Burberry London involves expert perfumers and skilled artisans. They carefully blend the finest ingredients, creating a harmonious composition that captures the essence of London.
The French fragrance industry has a long-standing reputation for excellence, making it the perfect place for Burberry to bring their vision to life.
Sustainability Practices in Burberry London Perfume Production: Discuss Burberry's Efforts and Initiatives to Ensure Sustainable and Ethical Practices in the Production of Burberry London Perfume.
Burberry's commitment to sustainability in perfume production
Efforts to reduce carbon emissions
Use of renewable energy sources
Water conservation initiatives
Responsible sourcing of ingredients
Supporting local communities
Eliminating waste and promoting recycling
Ensuring ethical treatment of workers
Source: Burberry London – LUXSB
Burberry Her perfume is a creation of the renowned French master perfumer, Francis Kurkdjian. With his exceptional expertise and talent, Kurkdjian meticulously crafted this fragrance, ensuring it embodies the essence of the Burberry brand. The result is a captivating scent that celebrates the modern, confident, and vibrant qualities of the Burberry woman.
Did Francis Kurkdjian Make Burberry Her?
Burberry Her Perfume, known for it's distinctive blend of modernity and British heritage, was skillfully created by the talented French master perfumer, Francis Kurkdjian. With his unparalleled expertise and artistic sensibilities, Kurkdjian has made an indelible mark on the fragrance industry. His involvement in designing Burberry Her ensured a scent that resonates with sophistication and elegance.
Renowned for his meticulous attention to detail, Kurkdjian carefully combined a variety of notes to produce the remarkable composition of Burberry Her. His ability to harmonize fruity top notes, such as blackberry and raspberry, with floral heart notes, including jasmine and violet, demonstrates his exceptional talent. The result is a unique fragrance that perfectly captures the essence of modern femininity.
From the precise balance of each ingredient to the exquisite layering of the scent, his expertise shines through. His ability to translate complex emotions into fragrances is unparalleled, and it's this extraordinary skill that made him the ideal choice to bring Burberry Her to life.
His elegant and innovative creations, which often blend traditional French perfumery techniques with contemporary trends, have earned him an esteemed reputation within the industry.
The Process of Creating a Perfume, From Concept to Production
Researching and identifying the target market
Gathering inspiration and developing a concept
Creating a fragrance brief
Collaborating with perfumers to develop scent formulas
Testing and refining the scent formulas
Choosing and sourcing high-quality raw materials
Formulating the perfume by blending the raw materials
Conducting stability and quality tests
Designing the packaging and branding
Manufacturing the perfume in large quantities
Packaging and labeling the final products
Distributing and marketing the perfume
Monitoring customer feedback and making adjustments if necessary
Burberry Her may be designed with young women from Gen Z to Millennials in mind, but it's alluring qualities and exceptional brand identity can captivate individuals of any age.
What Age Group Is Burberry Her For?
Burberry Her has a universal appeal that transcends age boundaries. While it may be primarily marketed towards young women from Gen Z to Millennials, the fragrance and brand possess qualities that can captivate individuals of any age. The allure of Burberry Her lies in it's ability to evoke a sense of sophistication, confidence, and individuality.
The Target Market of Burberry Her: Exploring the Demographics and Psychographics of the Primary Audience (Young Women From Gen Z to Millennials).
Age: Young women from Gen Z to Millennials.
Gender: Female.
Social Media Users: Active users of popular social media platforms.
Style and Fashion Conscious: Interested in staying up-to-date with the latest fashion trends.
Income Level: Varied, ranging from low to high-income households.
Urban and Suburban Dwellers: Primarily residing in urban and suburban areas.
Educational Background: Varied educational backgrounds.
Tech-Savvy: Proficient in using technology and digital devices.
Interest in Luxury Brands: Prefer luxury brands and appreciate quality products.
Lifestyle: Engaged in an active and cosmopolitan lifestyle.
Global Mindset: Embrace a global perspective and are open to diverse experiences.
Despite changing hands over the years, Burberry's perfume manufacturing remains a significant part of their brand. With a transition from licensing to in-house development, the renowned fragrance business has evolved to cater to the demands of it's loyal customers. Since it's initial launch in 1981, Burberry has continually crafted captivating scents that have captivated both men and women alike.
Who Manufactures Burberry Perfume?
Burberry, a renowned luxury fashion brand, has been captivating the senses with their exquisite fragrances for several decades. However, the question of who manufactures Burberry perfume is one that's piqued the curiosity of many fragrance enthusiasts. The journey of Burberrys fragrance business has seen various partnerships and licensing agreements over the years.
In 2017, a new chapter began for Burberrys fragrance business as they entered into a licensing agreement with Coty, a global beauty company. This collaboration opened up new opportunities for the brand to reach wider audiences and expand their fragrance offerings. With Cotys expertise and extensive distribution network, Burberry could continue to create captivating perfumes that perfectly embody their unique brand identity.
Burberrys foray into the world of fragrance started back in 1981 with the launch of their first mens fragrance, simply named Burberry for men. This inaugural scent immediately showcased the brands signature blend of timeless elegance and contemporary appeal.
While Inter Parfums initially held the license, Burberrys decision to take control of their fragrance development signaled a new era of creative freedom and artistic expression.
Conclusion
From the initial concept to the final product, the dedication and expertise of these individuals have culminated in a perfume that embodies the spirit of modern femininity.