Giorgio Armani Perfume isn't just a brand or a fragrance, but a symbol of elegance, luxury, and sophistication. With over four decades of expertise in the fashion and beauty industry, Giorgio Armani has become synonymous with timeless style and impeccable taste. The renowned Italian designer has created a mesmerizing range of perfumes that embody his unique vision and bring to life his signature aesthetic. From the iconic Armani Code to the sensual Acqua di Gio, each fragrance tells a story, evokes emotions, and captures the essence of modern femininity and masculinity. With every spritz, it transports you to a world of sophistication and allure, leaving a lasting impression wherever you go.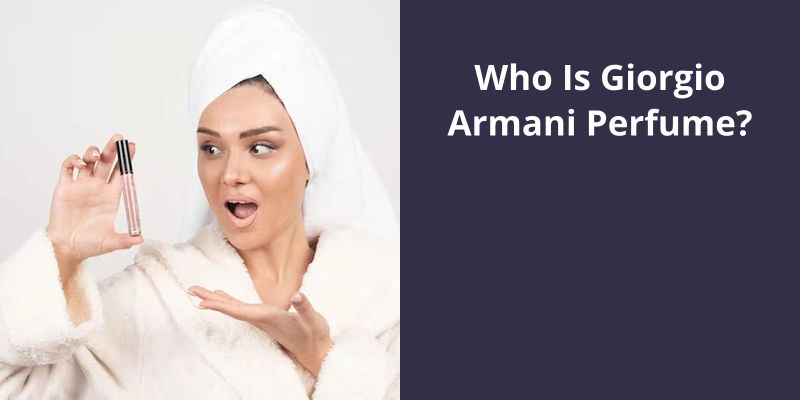 Is Giorgio Armani for Male or Female?
Who Is Giorgio Armani Perfume? Giorgio Armani is a luxury fashion brand that's also become a popular choice for fragrances.
When it comes to the question of whether Giorgio Armani perfumes are for males or females, the answer is both. The brand offers a wide selection of fragrances that cater to the preferences and tastes of both genders.
One of the most iconic and beloved fragrance lines by Giorgio Armani is the Acqua di Gio collection. This collection features scents that are inspired by the freshness and tranquility of the deep blue sea. Acqua di Gio for men is a classic and timeless fragrance that's been a favorite among men for decades. On the other hand, Acqua di Gioia for women is a feminine and elegant scent that captures the essence of the ocean and nature.
Another popular fragrance range by Giorgio Armani is the Si collection. Si for women is a captivating and sensual fragrance that exudes confidence and sophistication. It features notes of blackcurrant, vanilla, and musk, creating a warm and alluring scent. On the other hand, Si Passione for women is a more intense and passionate fragrance, with notes of rose, pear, and blackcurrant.
In addition to these collections, Giorgio Armani also offers a range of other fragrances for both men and women. From the modern and luxurious Armani Code collection to the fresh and invigorating Armani Mania for men, there's a scent for every occasion and preference.
With their impeccable craftsmanship and attention to detail, these fragrances have become synonymous with luxury and style.
Giorgio Armani, an iconic Italian fashion designer, ventured into the world of luxury fragrances with the help of a collaboration with L'Oréal. The first perfume created under this partnership became an instant sensation, captivating the hearts of many. Embracing his own name, Giorgio Armani created a range of exquisite scents that would go on to become timeless classics. Among them, standouts like "Emporio Armani He," "Emporio Armani She," and the delicate fragrance known as "Sensi" became coveted gems within the perfume industry.
Who Made Armani Perfume?
Giorgio Armani, a renowned Italian fashion designer, is the creative genius behind the highly popular Armani perfume line. Collaborating with LOréal, Armani introduced his first creation in the world of perfumery, which was an instant sensation. With his name attached to the fragrance, Giorgio Armani displayed his confidence in the products quality and allure.
Among the various standout fragrances in the Armani perfume collection, some true gems stand out. For instance, theres "Emporio Armani He" and "Emporio Armani She," two scents that capture the essence of modern sophistication. These perfumes reflect Armanis ability to create gender-specific fragrances while maintaining elegance and style for both men and women.
Another iconic fragrance from the Armani perfume range is "Sensi.". This exquisite scent showcases Armanis mastery in blending different notes to craft a fragrance that's both sensuous and delicate. The name itself suggests a heightened sensitivity, perfectly capturing the essence of this enchanting perfume.
The perfume line bears the unmistakable stamp of Giorgio Armanis vision and style, making it a timeless brand that continues to captivate fragrance enthusiasts and fashion connoisseurs alike.
Armani for men exudes a captivating blend of freshness, spice, and warmth that makes it a standout among masculine scents. The best of Armani colognes, Armani Code, starts with lively bursts of bergamot and lemon, creating a refreshing and invigorating introduction. As it settles, the fragrance takes on an intriguing twist with the inclusion of olive blossom and star anise, infusing a spicy and alluring character. And finally, as the scent lingers, the notes of leather, tobacco, and tonka bean emerge, enveloping the wearer with a comforting and seductive woody aroma.
What Does Armani for Men Smell Like?
When it comes to Armani cologne for men, one scent that stands out is Armani Code. This fragrance offers a unique olfactory experience that's fresh, spicy, and seductive all at once. With it's top notes of bergamot and lemon, it greets you with a burst of citrusy freshness that's invigorating and uplifting. The heart notes of olive blossom and star anise add a hint of spiciness, giving the fragrance a bold and captivating edge.
But what truly sets Armani Code apart is it's base notes, which create a warm and woody scent that's both comforting and seductive. The notes of leather, tobacco, and tonka bean come together to create a harmonious blend that lingers on the skin, leaving a lasting impression. This combination of ingredients makes Armani Code a truly masculine scent that exudes confidence and sophistication.
Source: 8 Best Armani Colognes For Men – What To Try in 2023
Actress Sydney Sweeney has been announced as the latest ambassador for Giorgio Armani fragrance. The talented star, known for her roles in hit TV shows like "Euphoria," is set to bring her natural beauty and captivating presence to represent the iconic brand. With her rising star status and undeniable charm, Sydney Sweeney is the perfect choice to embody the essence of Armani Beauty.
Who Is the Model in the New Giorgio Armani Commercial?
The prestigious Italian fashion house, Giorgio Armani, has recently unveiled their latest face for their fragrance line. Sydney Sweeney, a rising star in Hollywood, has been chosen as the brands ambassador for their iconic perfumes. This announcement has caused quite a buzz in the industry, as both Armani and Sweeney are known for their elegance and sophistication.
In an interview, Sweeney expressed her excitement and gratitude for this opportunity, calling it "one of the most beautiful experiences" of her life. She spoke about the brands dedication to quality and craftsmanship, highlighting their attention to detail and their ability to evoke emotion through scent. Sweeney also mentioned her admiration for Giorgio Armanis vision, stating that she feels honored to be a part of his artistic world.
This collaboration between Sydney Sweeney and Giorgio Armani Perfume is a testament to the brands commitment to aligning themselves with talented and influential individuals.
With this new partnership, Armani continues to solidify their position as one of the most prestigious and sought-after brands in the world.
A Background on Sydney Sweeney's Rise to Fame in Hollywood
Sydney Sweeney is an American actress who rose to fame in Hollywood with her compelling performances and undeniable talent.
She began her career at a young age, appearing in commercials and landing small roles in television shows. As she honed her craft and showcased her versatility, Sweeney caught the attention of industry professionals and started receiving more significant opportunities.
Her breakthrough came with the hit HBO series "Euphoria," where she portrayed the complex and troubled character Cassie Howard. Sweeney's portrayal was widely praised, and it catapulted her into the spotlight, gaining her recognition and critical acclaim.
Since then, Sweeney has continued to build an impressive body of work, taking on diverse roles in both film and television. Her performances in projects like "Sharp Objects" and "The Handmaid's Tale" further solidified her reputation as a talented and versatile actress.
Despite her rising fame, Sweeney remains humble and dedicated to her craft. With her natural charisma, undeniable talent, and growing fanbase, she's undoubtedly a rising star in Hollywood.
Sydney Sweeney, the talented actress known for her roles in popular TV shows such as "Euphoria" and "The Handmaid's Tale," has recently acquired a new title – the face of Armani Beauty. With her captivating on-screen presence and undeniable allure, Sweeney is set to make a splash in the world of beauty. In a recent interview, she opened up about her excitement and the power of manifesting her latest role. Let's delve into her journey and what this partnership means for both Sweeney and Armani Beauty.
Who Is the New Face of Armani Beauty?
When it comes to luxury fashion and beauty brands, Armani is one that needs no introduction. Known for it's sophisticated and timeless style, Armani has been a favorite among fashion enthusiasts for decades. And now, the brand has announced it's newest face for Armani Beauty – Sydney Sweeney.
Sydney Sweeney is no stranger to the world of glamour and fame. The talented actress has been making waves in Hollywood with her remarkable performances in hit TV shows like "Euphoria" and "The Handmaids Tale". With her striking looks and undeniable talent, it's no wonder that Armani saw her as the perfect choice to represent their iconic brand.
In an interview, Sydney revealed that she's always been a fan of Armani and admired the brands commitment to elegance and sophistication. She also mentioned that she's always been a fan of Armanis makeup and skincare products, so being chosen as the face of Armani Beauty was a dream come true for her.
Sydney also shared her excitement about collaborating with Armani and the opportunity to bring her own personal touch to their brand.
Fans can expect to see her stunning images and hear her thoughts on the brands products and beauty trends.
Overall, Sydney Sweeney is a perfect fit for Armani Beauty. As the world eagerly anticipates whats to come, one thing is for sure – Sydney Sweeney is ready to take the beauty world by storm as the new face of Armani Beauty.
Conclusion
In conclusion, the world of Giorgio Armani Perfume extends far beyond the bottles on store shelves. It represents a legacy of creativity, innovation, and passion that's captivated the fragrance industry for decades. It's a testament to the power of scent, as it's the ability to evoke emotions, tell stories, and enhance one's personal style. So, who's Giorgio Armani Perfume? It's an embodiment of elegance, sophistication, and luxury, a true testament to the art of fragrance.