The allure of Creed Aventus Perfume lies not only in it's captivating fragrance but also in it's prestigious origins. For those who appreciate the artistry and craftsmanship behind perfumery, the House of Creed stands as a beacon of tradition and excellence. In a world where most modern perfume houses have abandoned the laborious infusion technique due to it's costly processes, Creed remains dedicated to preserving this age-old method, ensuring that each bottle of Aventus Perfume is of unrivalled "Millesime" quality.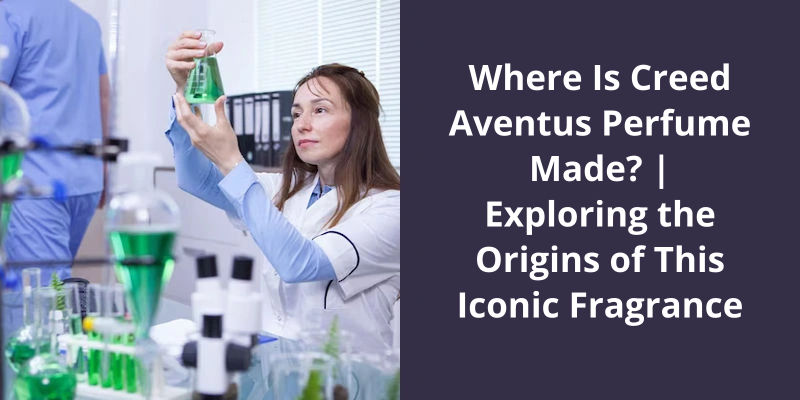 Is Creed a French Brand?
Creed is an iconic fragrance brand that's become synonymous with luxury and sophistication. But where exactly is Creed Aventus perfume made?
Contrary to popular belief, Creed isn't exclusively a French brand. Although based in Paris, the origins of Creed trace back to London, England. The company was originally founded in 1760 by James Henry Creed, who started it as a tailoring house.
The brands Parisian headquarters serve as a hub for creating and crafting their renowned fragrances. The blending of traditional British craftsmanship with French perfumery techniques has resulted in the unique and luxurious scents that Creed is celebrated for.
Creeds story is intertwined with many prominent figures in history. From the Count of Orsay to Queen Victoria and Empress Eugenie, the brand has a rich heritage that spans across aristocracy and royalty. These esteemed patrons helped cement Creeds reputation as a purveyor of refined fragrances.
As the years went by, Creeds perfumes continued to garner attention and acclaim. Today, Creed Aventus perfume remains one of the brands most beloved creations. It's irresistible blend of fruity notes, spices, and woods has made it a true icon in the fragrance world.
The History and Evolution of Creed as a Fragrance Brand.
Creed is a renowned fragrance brand known for it's luxurious and iconic scents. The brand was established in 1760 by James Henry Creed in London and has been operating as a family-owned business for over 260 years.
Throughout it's long history, Creed has maintained a reputation for producing exceptional perfumes using traditional methods and high-quality ingredients. The brand has catered to numerous distinguished clients including royalty and celebrities.
Creed's fragrances are crafted with precision and care, using a combination of both natural and synthetic ingredients. The brand takes pride in sourcing the finest materials from around the world, ensuring a unique and captivating olfactory experience.
While initially based in London, Creed relocated to Paris in the mid-19th century, where it continued to expand it's collection of exquisite scents. Today, the brand still operates from it's headquarters in Paris, overseeing the production of it's perfumes.
With it's rich heritage and commitment to quality, Creed has become a symbol of sophistication and elegance in the fragrance industry. It's timeless creations, including the beloved Creed Aventus perfume, continue to captivate fragrance enthusiasts worldwide.
Creed, the renowned perfume maker, has been acquired by Kering SA, a luxury and fashion goods group based in Paris. The all-cash deal was made as part of Kering's expansion in the high-end fragrance market. Kering's beauty unit will now own 100% of Creed, after purchasing it from funds controlled by BlackRock Inc.
What Company Makes Creed Perfume?
It was announced that Kering SA, a Paris-based international group specializing in luxury and fashion goods, has agreed to acquire Creed, a renowned perfume maker. Kering is known for it's portfolio of luxury brands that are experts in creating and selling fine products in various sectors such as leather goods, shoes, ready-to-wear, watches, and jewelry. With it's acquisition of Creed, Kering aims to further expand it's presence in the high-end fragrance market.
Creed, a brand with a rich history, is widely recognized for it's iconic fragrances. The company was founded in 1760 and has been creating exquisite perfumes for centuries.
The deal between Kering and Creed involves Kerings beauty unit purchasing 100% of Creed. The all-cash deal is significant as it highlights Kerings confidence and investment in the future success of the brand.
As the owner of renowned luxury brands like Gucci, Kering has established itself as a leader in the industry.
The History and Heritage of Creed Perfume
The history and heritage of Creed perfume can be traced back to 1760.
Creed is a prestigious fragrance house that's been creating luxurious perfumes for over 250 years.
Originally founded in London, the brand later moved it's headquarters to Paris in the 1800s.
The Creed family has been personally handcrafting their perfumes for seven generations.
They're known for using traditional methods and high-quality ingredients to create their unique scents.
Creed perfumes have been worn by many historical figures, including Queen Victoria and Napoleon III.
Some of their most iconic fragrances include Green Irish Tweed, Aventus, and Silver Mountain Water.
Creed is also known for it's commitment to sustainability, using eco-friendly practices in their production.
Today, Creed perfumes are highly sought after and cherished by fragrance enthusiasts around the world.
Conclusion
The House of Creed, with it's unwavering commitment to upholding traditional perfumer methods, continues to produce it's iconic Aventus perfume in their family-run factory located in Fontainebleau, near Paris. Renowned for their dedication to quality and craftsmanship, Creed maintains their authenticity by utilizing the age-old infusion technique—a process that many modern perfume houses have abandoned due to it's expensive nature.