For those who've a love for perfumes, it's quite common to hear names such as Lovely and Lovely Sheer, both popular fragrances from the fashion industry's style icon, Sarah Jessica Parker. While the names may sound similar, there lies a fine line of difference between the two scents. It can be quite puzzling to comprehend what sets these fragrances apart and which one would be the perfect fit for you. However, with the right understanding of their distinct characteristics, one can easily choose between the two. So, let's delve deeper and explore the world of Lovely and Lovely Sheer, their composition, and what makes them different.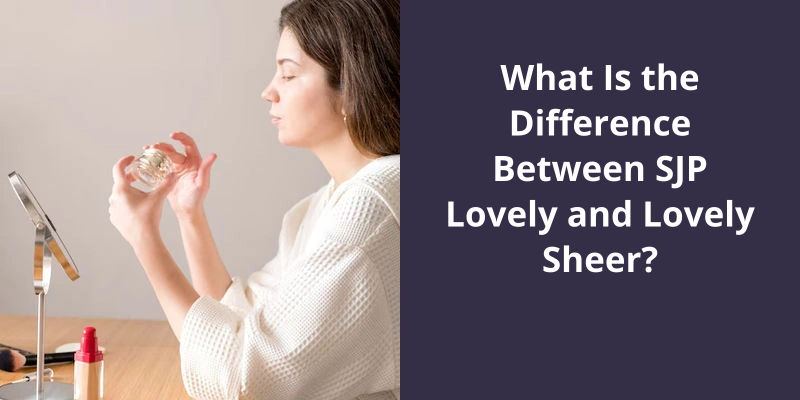 What Does Lovely Sheer Smell Like?
The opening notes of Lovely Sheer are bright and citrusy, with the burst of orange blossom and mandarin giving an energizing lift to the fragrance. This invigorating start is counterbalanced by the warmth of bergamot, which adds complexity and depth to the scent. As the fragrance develops, the floral heart of Lovely Sheer emerges. The gardenia note is particularly prominent, lending a creamy and luxurious touch to the composition. Pink pepper adds a subtle spiciness that enhances the floral notes and gives the fragrance an intriguing edge.
The dry-down of Lovely Sheer is where the musk and wood notes really shine. The white woods accord brings a soft and cozy feel, while vetiver adds a hint of earthiness and depth. The amber and musk notes work together to create a sensual and alluring base, making Lovely Sheer a versatile fragrance that can be worn both day and night. The overall impression of Lovely Sheer is one of effortless elegance and grace, capturing the essence of femininity in a bottle.
What makes Lovely Sheer so appealing is the perfect balance of it's different elements. It isn't too sweet or too floral, nor too woody or musky. Instead, it manages to strike a harmonious chord between all the different notes, creating a fragrance that's both sophisticated and approachable. It's a scent that can uplift and inspire, without ever overpowering or overwhelming. With Lovely Sheer, Sarah Jessica Parker has created a fragrance that embodies the natural beauty and effortless chic of modern femininity.
Development Process of Lovely Sheer Fragrance
Lovely Sheer fragrance is developed through a thorough process by expert perfumers and chemists. The fragrance is created by blending essential oils, aroma chemicals, and other ingredients to achieve the desired scent profile. This process involves multiple rounds of testing and adjustments to ensure the fragrance meets quality standards and customer expectations. The final product is then packaged and marketed to consumers.
Now that we know a bit more about Lovely by Sarah Jessica Parker, let's delve into what makes this perfume so special and why it's been so popular since it's launch over 15 years ago.
What Type of Perfume Is Lovely?
The Lovely perfume by Sarah Jessica Parker is highly regarded by women all across the world as one of the most pleasant scents in the market. This perfume boasts a genuinely unique fragrance that sets it apart from the other options available in the market. As soon as you get a whiff of this perfume, youll be enchanted by it's beauty, and youll recognize that it's not just the packaging thats lovely, but the perfume itself.
The Lovely perfume is a floral woody musk fragrance that exudes an aura of sophistication, elegance, and subtlety. This perfume is ideal for individuals who want to strike a balance between exuberance and subtlety, and it's ideal for both day and night wear. The woody musk notes combine beautifully with the floral scents to create a composition that's both captivating and sophisticated.
One of the most significant advantages of this perfume is it's staying power, which is unrivaled by other scents on the market. The fragrance lasts all day and provides a lasting impression that's guaranteed to make heads turn. Youll have people asking you what perfume youre wearing, and the Lovely perfume is sure to turn heads and garner compliments wherever you go.
Finally, the fragrance is easy to apply and comes in a beautifully designed bottle that's both convenient and elegant. The scent is timeless, and the versatility of the perfume makes it an excellent addition to anyones fragrance collection.
Now let's take a closer look at Born Lovely and it's unique design. Fans of Sarah Jessica Parker's Lovely perfume may recognize some similarities, but this new fragrance offers a fresh twist on the original bottle. Despite sharing some design codes with Lovely, Born Lovely features a reversed version of the iconic bottle, making it stand out as it's own distinct scent.
Is Born Lovely the Same as Lovely Perfume?
Born Lovely is a new perfume by the renowned fashion designer Sarah Jessica Parker. It's inspired by the actresss own experiences of building relationships and creating strong bonds with the people around her. The perfume is designed to make a lasting impression with it's fresh, floral scent that's perfect for any occasion.
It's designed to stand out on any vanity with it's unique and sleek packaging. The bottle is visually stunning and is perfect for any woman who wants to make a statement and add some flair to her fragrance collection.
It's a light and airy fragrance that's perfect for any season or occasion. The perfume is long-lasting and will stay with you throughout the day, making you feel confident and radiant.
The perfume is unique in it's own way, with a bottle that's the same design codes as Lovely but with a reverse twist.
Now let's take a closer look at the two fragrances, Lovely and Born Lovely. While both have similarities in their top and base notes, there are nuances in their scent profiles that set them apart. Keep reading to discover the key differences between these two fragrances and which one might be the perfect fit for you.
What Is the Difference Between Lovely and Born Lovely?
When it comes to the difference between Lovely and Born Lovely, there are many factors at play. While both fragrances share some common notes, such as mandarin orange and cedar, there are distinct differences between the two that set them apart. One of the major differences is in the additional notes used in Born Lovely, including peony, honeysuckle, and patchouli. These scents add depth and complexity to the fragrance, giving it a unique character that sets it apart from Lovely.
Another factor that sets Born Lovely apart from it's predecessor is it's name. The name suggests that the wearer of this fragrance was born with a natural charm and beauty, rather than having to work to achieve it. This idea is reinforced by the use of hints and DNA in the fragrance, which connect it to it's mother and suggest a natural, genetic basis for beauty.
Both fragrances are designed to evoke a sense of sophistication and elegance, with notes that are carefully selected to create a harmonious blend. They're both intended to be worn by women who're confident, stylish, and comfortable in their own skin, and who want a fragrance that reflects their unique personality and taste.
Some women may prefer the simplicity and elegance of Lovely, while others may be drawn to the complexity and depth of Born Lovely. Whatever your preference, both fragrances are sure to leave a lasting impression and enhance your natural beauty in a way that's uniquely your own. So whether you were born lovely or need a little extra help to achieve it, there's a fragrance out there that's perfect for you.
Comparison of Lovely and Born Lovely With Other Fragrances From the Same Brand
Lovely
Born Lovely
SJP NYC
Covet
Covet Pure Bloom
Source: Sarah Jessica Parker Talks Her New Perfume Born Lovely
Conclusion
In conclusion, while both fragrances share the same base notes and overall essence, Lovely Sheer offers a distinct twist on the original SJP Lovely by incorporating different, more summery floral scents instead of the original's herbal notes.