Victoria's Secret is a brand that's synonymous with sensuality, luxury, and femininity. Their fragrances have always been popular among women as they exude an aura of seductive charm that's hard to resist. However, with the popularity of the brand, there's also been an increased market for counterfeit Victoria's Secret products. These fake products can be deceivingly similar to the original, but lack the quality and authenticity that comes with the genuine article. One way to distinguish between the two is to closely examine the bottle- the original Victoria's Secret fragrance bottle features an engraved "Victoria's Secret" at the bottom while the fake counterpart is often clear with no such engrave.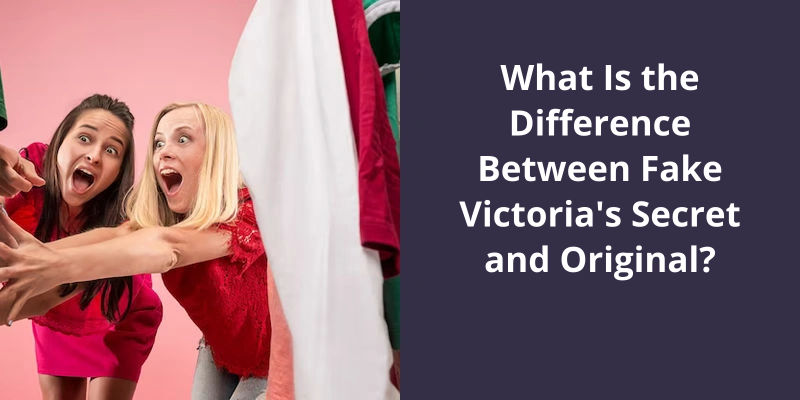 How Can You Tell the Difference Between Original and Fake Victoria Secret Perfume?
the box – the box of the original has a unique design, with the iconic Victorias Secret pink stripes and the brands logo clearly printed on it. While the fake may try to replicate it, the quality and design will never be the same as the original.
the scent – the scent of the original is consistent and long-lasting, while the fake may have a weaker and shorter-lasting scent due to the use of cheaper materials.
the label – the label on the original fragrance bottle has embossed letters and is of high quality, while the fake may have a printed label that appears to be low quality.
the price – the price is also a good indicator of whether a Victorias Secret perfume is real or fake.
It's important to purchase fragrances from reputable sellers and authorized retailers to ensure that youre getting the real deal. If youre unsure about the authenticity of a Victorias Secret perfume, look for the key indicators such as the cap, sprayer, box, scent, label, and price. Dont risk buying a fake fragrance that could potentially harm your skin or cause irritation.
Victoria's Secret is known for offering a wide range of fragrances that cater to every taste. From fruity and sweet notes to fresh, sophisticated, and gourmand scents, there's an option for everyone. The brand's best-selling fragrance, Bombshell, is a go-to choice for those who prefer a fruity and sweet aroma, while other scents offer a more mild or intense fragrance profile. But how does Victoria Secret perfume actually smell like? Let's dig in and find out.
How Does Victoria Secret Perfume Smell Like?
Victorias Secret perfume offers a range of olfactory experiences that cater to every womans unique preferences. The brands fragrances are designed to enhance your mood, boost your confidence and leave a lasting impression.
One of the most popular fragrances in the Victorias Secret collection is Bombshell. This fruity and sweet scent is perfect for women who want a perfume that's bold and confident. Top notes include grapefruit, passion fruit and tangerine, which give the fragrance it's juicy and refreshing scent. Middle notes consist of peony, vanilla orchid, and Shangri-la peony, which add a subtle floral touch to the scent. Finally, base notes of musk, oakmoss and patchouli give Bombshell it's warm and sensual undertones.
Another popular scent from Victorias Secret is Love Spell. This scent is a mix of fresh and fruity notes that evoke a sense of playful romance. The top notes of cherry blossom, peach and apple give this fragrance it's bright and refreshing scent, while middle notes of jasmine, lily of the valley and tamarind add a subtle floral touch. Finally, base notes of musk and white woods give Love Spell it's warm and sensual ambiance.
So, the next time you're searching for the perfect scent, consider exploring the world of Victorias Secret perfumes.
What Are Some Other Popular Fragrances From Victoria's Secret?
Victoria's Secret offers a variety of popular fragrances including Bombshell, Tease, Love Spell, and Aqua Kiss. These fragrances are loved by customers for their unique scents and long-lasting freshness.
Now that we understand the differences between the PINK and Victoria's Secret bras, let's take a closer look at what makes PINK such a popular choice among lingerie shoppers.
What's the Difference Between PINK and Victoria's Secret?
When it comes to womens lingerie, PINK and Victorias Secret are two of the most popular names in the market. While both brands are owned by the same parent company, L Brands, there are some distinct differences between the two. PINK is targeted towards younger women and offers a more playful and fun vibe, whereas Victorias Secret caters to a wider age range and typically offers a more sophisticated style.
The PINK brand also offers a range of household items like bedding and décor, coffee mugs, and accessories like phone cases and backpacks.
While Victorias Secret models are typically seen in more seductive and sultry poses, PINKs models are often photographed in more playful and casual poses. PINK also uses college-aged ambassadors to promote their brand on social media, providing a more relatable image for their target audience.
However, both brands use the same sizing and band measurements, so the fit of the band should be the same for both brands.
This may be because PINK is targeting college-aged women who're typically on a tighter budget. However, both brands do offer frequent sales and discounts, making their lingerie more accessible to a wider range of consumers.
The fit and quality of both brands are similar, with the main difference being the cut of the cup in PINKs bras.
Comparison of Materials Used in PINK and Victoria's Secret Lingerie
This article aims to compare and contrast the materials used in PINK and Victoria's Secret lingerie. It's important to understand the type and quality of the materials used to make the products before making a purchasing decision. This will enable customers to understand the value and durability of the lingerie.
Source: Do PINK Bras fit differently than Victoria's Secret Bras?
Conclusion
While it may seem like a small detail to overlook, it's imperative to pay attention to the engraved name at the bottom of the bottle when purchasing any beauty product. The lack of attention to detail in a fake product not only compromises it's quality, but also takes away from the originality and authenticity of the brand. As consumers, it's important to exercise caution and be mindful when purchasing products, especially those from well-known brands such as Victoria's Secret. It's the responsibility of both the brand and the consumers to ensure that the integrity of the product is maintained, and that counterfeit products don't infiltrate the market.