Minajesty, the enchanting fragrance created by the world-renowned artist Nicki Minaj, offers a captivating olfactory experience that indulges the senses in a symphony of floral and fruity accords. Launched in 2013, this new addition to the perfume market has swiftly become a sought-after scent for women seeking a blend that's both alluring and intricate. With it's intricate composition, Minajesty showcases a delicate balance between vibrant top notes of red berries, lemon, and peach, which effortlessly give way to a heart of magnolia, frangipani, and orchid, ensuring a multidimensional aromatic journey. Lastly, the fragrance is anchored by a captivating base of Tonka bean, vanilla, and musk, lending a sensual and comforting aura to this exquisite aroma. As you embark on an olfactory adventure with Minajesty, allow yourself to be transported to a world of elegance and femininity, where every spritz captures the essence of Nicki Minaj's bold and sultry persona.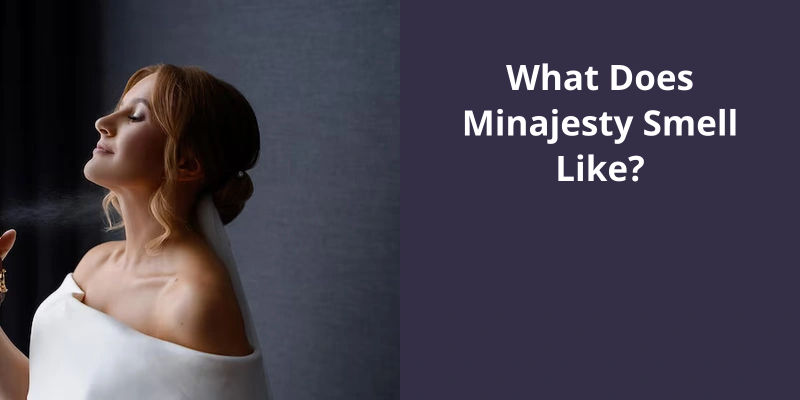 What Does Majesty by Nicki Minaj Smell Like?
Nicki Minajs fragrance, Minajesty, embodies the essence of confidence and power, allowing you to assert your dominance and rule your queendom. This captivating scent unveils a perfect blend of sultry floral and indulgent gourmand notes, creating a truly majestic experience for the wearer.
Creamy vanilla notes add a layer of richness and warmth, infusing the fragrance with a touch of indulgence. This irresistible sweetness is balanced by pure musks, making Minajesty a well-rounded and intoxicating scent that lingers tantalizingly on the skin. The combination of these ingredients creates a truly unique olfactory experience that's both captivating and empowering.
It enchants with an exquisite blend of luscious fruits and fresh florals, while the creamy vanilla and pure musk notes add an indulgent touch.
The Process of Creating a Celebrity Fragrance
Creating a celebrity fragrance involves a detailed process that combines the expertise of both the celebrity and a team of perfumers or fragrance experts.
First, the celebrity collaborates with the fragrance creators to define the concept and vision behind the scent. They discuss their preferences, inspirations, and desired fragrance notes. This helps determine the overall character and personality of the fragrance.
Next, the perfumers use their expertise to blend a variety of aromatic ingredients, including essential oils, absolutes, and synthetic compounds. These ingredients are carefully selected to align with the desired scent profile.
The fragrances are often categorized into different notes, such as top, middle, and base notes. This classification helps create a balanced and harmonious fragrance that evolves over time.
During the creation process, several prototypes are developed and tested. The celebrity and their team provide feedback and make adjustments until the desired scent is achieved.
Once the final fragrance is selected, it goes through production, which involves manufacturing, bottling, and packaging. The celebrity's name and branding are incorporated into the product design to reflect their identity and attract their fan base.
The finished celebrity fragrance is then distributed and marketed to the public, often accompanied by promotional campaigns and endorsements featuring the celebrity themselves.
In conclusion, the process of creating a celebrity fragrance is a collaborative effort, combining the creative input of the celebrity with the expertise of perfumers to develop a unique and appealing scent that represents their image and captures the attention of consumers.
While Nicki Minaj is known for her bold fashion choices and charismatic personality, her signature scent isn't something that can be easily pinpointed. The rapper and entrepreneur has revealed that she prefers to wear her own perfume, which suggests that she may have a unique fragrance created exclusively for her. In addition, she enjoys mixing different beauty products to concoct her own skincare routine, highlighting her individuality and creativity in the realm of scents.
What Scent Does Nicki Minaj Wear?
Fans of Nicki Minaj have often wondered what scent the rapper wears as her signature fragrance. Known for her bold and vibrant personality, it's only fitting that Minaj would have a scent that matches her larger-than-life image. While Minaj hasn't explicitly revealed what perfume she wears, it's widely speculated that she may have created her own signature scent.
One possible contender for her signature fragrance is the "Pinkprint.". The Pinkprint is the title of Minajs third studio album, released in 20It features a variety of songs that showcase her different sides, from vulnerable ballads to fierce rap tracks. It isn't uncommon for celebrities to release fragrances tied to their brand, and the Pinkprint could be the inspiration behind Minajs own scent.
In addition to a potential signature fragrance, Minaj has also mentioned that she creates her own skincare concoction. Mixing different beauty products together, she crafts a personalized skincare routine that works for her. This DIY approach adds an element of uniqueness and individuality to her beauty routine, reflecting her unconventional and creative style.
She's committed to embracing her own identity and doesn't shy away from showcasing her distinct style and personality. By producing her own fragrance and skincare concoctions, she's the freedom to incorporate her unique preferences and create a scent that truly embodies her essence.
The Process of Creating a Signature Fragrance
The process of creating a signature fragrance, such as Minajesty, involves a meticulous combination of art and science. Perfume experts, also known as perfumers, work closely with celebrities or brands to understand their vision, personality, and desired olfactory experience.
Perfumers begin by selecting a range of aromatic ingredients, including essential oils, aroma chemicals, and isolates, which are then blended in various proportions to create the desired scent. They consider the top, middle, and base notes to ensure a harmonious composition that evolves over time.
During the formulation process, perfumers conduct numerous trials, adjusting the proportions and evaluating the fragrance's stability, longevity, and overall character. They aim to create a unique balance of floral, fruity, spicy, woody, or sweet notes that reflect the intended mood and image.
Once the final formulation is approved, it undergoes production and quality control, ensuring consistent scent and high-quality ingredients. The fragrance is then packaged and marketed, taking into account the celebrity or brand's image, target audience, and overall brand strategy.
Creating a signature fragrance like Minajesty requires a deep understanding of fragrance chemistry, an artistic sensibility, and close collaboration between perfumers and the celebrity or brand. The result is a personalized scent that encapsulates the essence and style of the individual or brand it represents.
Conclusion
With it's delicate red berry and citrus top notes, followed by a captivating combination of blooming magnolia and exotic orchid, this fragrance truly embodies femininity and charm. The warm and alluring base notes of Tonka bean, vanilla, and musk further enhance it's distinctive allure, leaving a lasting impression.