There's a certain allure to the wealthy that's captivated individuals for centuries. From their lavish lifestyles to their luxurious possessions, people often find themselves drawn to the lifestyles of the rich and famous. One such element of wealth is the world of high-end fragrances, where even a person's scent can exude wealth and luxury. When it comes to millionaire perfume, there's a certain je ne sais quoi that defines such a fragrance. With hints of amber, leather, and tangerine, One Million Eau de Toilette is a prime example of what it means to smell like a millionaire. This fragrance defies convention, breaks all the rules, and exudes irresistible seduction – making it the perfect choice for anyone looking to add a touch of luxury to their everyday life.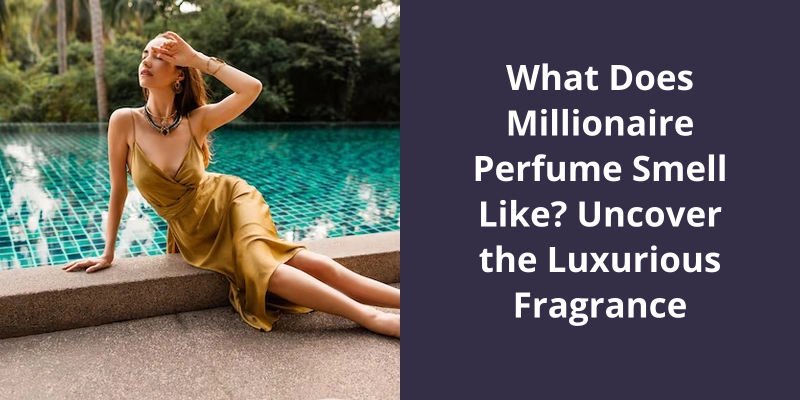 What Does Lucky 1 Million Smell Like?
Lucky 1 Million embodies the essence of a luxurious and successful lifestyle. A life filled with grandeur, opulence, and achievement is what this fragrance is all about. The scent is a celebration of life, of opportunities seized, and of ambitions met. With it's captivating notes, this scent exudes confidence, power, and a certain joie de vivre that's hard to resist.
The first wave of the scent hits you with a sharp and invigorating burst of ozonic notes, mingled with the refreshing tang of grapefruit and bergamot. These top notes are complemented by the fruity sweetness of plum that adds a touch of exuberance to the fragrance. The combination of these notes is a testament to the vibrancy and energy of a lucky life.
As the fragrance settles on your skin, it transforms into a rich and woody blend of hazelnut, honey, cedar, and cashmere wood. The middle notes give the fragrance it's depth and complexity, creating an aroma that's sensual, warm, and inviting. The smooth and nutty scent of hazelnut, coupled with the sweetness of honey, is a delightful surprise that mellows out the fragrance, creating a harmonious balance.
The base notes of Lucky 1 Million completes the experience, unveiling earthy hints of hazelnut and patchouli. The fragrance ends on a strong and intoxicating note, leaving behind a trail of irresistible sensuality that lingers on long after youve left the room.
It's a fragrance that exudes an aura of confidence, ambition, and power. When you wear it, you feel like you can conquer the world and take on anything that comes your way.
It's unique blend of notes makes it a truly delightful experience, one that's sure to captivate and enchant those around you.
When it comes to choosing the right perfume, there are several factors to consider such as the occasion, the season, and personal preferences. One popular fragrance that often comes up in discussions is Lady Million by Paco Rabanne. Many people are curious about whether this perfume is best worn in summer or winter, and whether it's more suited to daytime or evening wear. The answer, however, isn't as straightforward as you might think.
Is Lady Million Perfume for Summer or Winter?
Lady Million perfume is a luxurious scent that smells of opulence and elegant femininity. It's a powerful intensity that makes it ideal for wearing in the evenings, but can also be worn during the daytime if a lighter application is used. Many perfume enthusiasts praise Lady Million for it's versatility and multi-season usability.
Top notes of bergamot and neroli combine with bitter orange to create a fresh and zesty aroma that's perfect for boosting mood and energy in the hotter months of the year. Meanwhile, the heart of the fragrance is composed of jasmine, african orange flower, and gardenia, all of which add a floral sweetness to the fragrance that's perfect for the colder months of the year.
The base notes of the fragrance are where the perfume really shines. Honey, patchouli, and amber combine to create a musky and intoxicating scent that lingers on the skin for hours on end. These rich and complex base notes are what make Lady Million truly stand out as a fragrance for all seasons. They add a depth and complexity that make the perfume ideal for transitioning between seasons and occasions.
The intensity and complexity of the scent make it perfect for special occasions and evening events, but it can also be worn in the daytime if a lighter application is used.
When it comes to selecting a perfume, everyone wants one that lasts all day long. But some perfumes, such as Millionaire and 1 Million Parfum, have a shorter lifespan on the skin. Despite this, both of these fragrances are popular among perfume lovers for their unique and captivating aroma. Let's take a closer look at how long these coveted perfumes can last on the skin.
How Long Does Millionaire Perfume Last?
One of the most common questions that perfume enthusiasts have is often centered around the longevity of a particular scent. Theres nothing quite as frustrating as splurging on a high-end fragrance only to have it fade away within a matter of minutes. This is why many consumers have turned to Millionaire perfume as a reliable option.
So, how long does Millionaire perfume last? Well, according to experts, the parfum concentration means that this fragrance will last around 4-6 hours on the skin. This might not be as long as some other perfumes on the market, but it's still a fairly impressive amount of time for a scent to stick around.
For example, the temperature and humidity in your environment can play a significant role in how long a fragrance lasts on your skin. Similarly, the type of skin you've can also impact how well a scent sticks around.
If youre looking to maximize the longevity of your Millionaire perfume, there are a few things you can do. For starters, consider layering the scent with a moisturizer or body oil to help lock it in. Additionally, try to apply the perfume to areas of your skin that tend to be warmer, such as the neck or wrists.
However, it's important to consider that not everyone may enjoy such a strong fragrance, and it may not be appropriate for all occasions. So, while 1 Million may be a great choice for those who love bold scents, it's important to use it judiciously and consider the setting before spraying on too much.
Is 1 Million Perfume Strong?
1 Million perfume is one of the most popular fragrances marketed towards young adults and teenagers. It's distinct and unique scent is designed to exude confidence and sophistication while evoking a sense of playfulness and vitality. The fragrance is known for it's powerful sillage, which can be detected from miles away, making it an excellent choice for those who want their scent to leave a lasting impression.
The notes in 1 Million perfume include top notes of peppermint and blood mandarin, heart notes of cinnamon, rose absolute, and spicy notes, and base notes of leather, amber, and patchouli. The combination of these scents creates a dynamic and unique fragrance that's both memorable and impactful.
When it comes to applying 1 Million perfume, less is often more. It's intense sillage means that you only need a small amount to make an impact. Applying too much perfume can be overwhelming and may interfere with the natural scent of your skin. It's best to spray the fragrance onto pulse points, such as the neck and wrists, and allow the scent to settle before applying more.
While it may not be for everyone, those who appreciate a bold and impactful scent are sure to enjoy the enduring longevity and distinct aroma of 1 Million perfume.
What Are Some Similar Fragrances to 1 Million?
Armaf Club de Nuit Intense
Paco Rabanne Invictus
Versace Eros
Montblanc Legend Spirit
Carolina Herrera CH Men Prive
Azzaro Wanted
Yves Saint Laurent L'Homme
Dolce & Gabbana The One
Guerlain Homme
Bvlgari Man in Black
Conclusion
In conclusion, the Millionaire perfume offers a unique and intriguing scent that's fresh, spicy, and seductive. It's blend of tangerine, leather, and amber notes creates a fragrance that defies expectations and adds a touch of rebellion to your daily routine. This perfume is more than just a scent; it's a representation of the daring spirit of those who aren't afraid to break the rules and live life on their own terms. So if you're looking for a fragrance that will make you stand out from the crowd, Millionaire perfume is definitely worth a try.