It's captivating scent takes you on an olfactory journey, starting with a burst of refreshing citrus accords that invigorate the senses. The composition reaches it's pinnacle with a velvety base, where notes of vanilla, tonka bean, creamy sandalwood, tobacco, vetiver, patchouli, and honey intertwine harmoniously, leaving a lasting and alluring trail. The complexity and richness of Joop for Men transports you to a world of sophistication and allure, making it the perfect choice for men who want to make a memorable statement.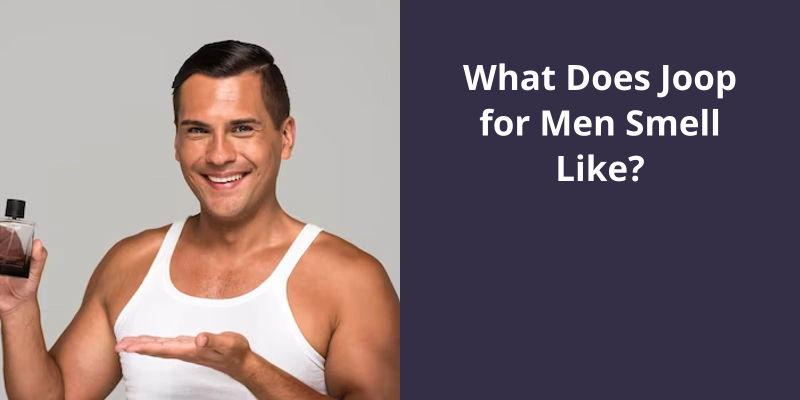 Is Joop a Man's Cologne?
Joop! Homme by Joop! is unquestionably a mans cologne. The fragrance, classified as an Oriental Fougere, is explicitly formulated to cater to the male demographic. It exudes masculinity and strength, creating a distinct aura that's captivating and irresistible. With it's bold and confident scent profile, Joop! Homme embodies the essence of a true gentleman.
The fragrance opens with a burst of zesty orange blossom, bergamot, and lemon, creating an invigorating and refreshing ambiance. As the scent settles, it reveals it's heart notes of jasmine, heliotrope, and cinnamon that add a touch of seductiveness and allure. These notes are beautifully balanced by the base notes of warm vanilla, tonka bean, and sandalwood, which impart a sense of timeless elegance.
Homme is powerful, long-lasting, and highly distinctive. It's a fragrance that evokes confidence, sophistication, and charm. It's appeal lies in it's ability to leave a lasting impression, making it an ideal choice for special occasions, romantic evenings, or simply for those who want to make a statement.
The History and Background of Joop! As a Brand
Joop! is a renowned German fashion and fragrance brand established by Wolfgang Joop in 1986. It began as a clothing label, featuring daring and unconventional designs that captured the attention of the fashion world.
As Joop! gained popularity in the fashion industry, the brand expanded it's product range to include fragrances. Joop! for Men, one of it's iconic scents, was introduced in 1989.
Joop! for Men is known for it's distinct and bold fragrance. It combines fresh and spicy notes, including orange blossom, bergamot, cinnamon, jasmine, honey, tobacco, and vetiver. This unique blend creates a compelling and masculine aroma that's garnered a loyal following over the years.
With it's striking fragrances and avant-garde fashion creations, Joop! has become synonymous with innovation and style. The brand continues to captivate people around the world while maintaining it's bold and distinctive identity.
During the mid-1990s, the popularity of Joop! cologne reached it's peak as the brand entered the American market. Alongside it's iconic fragrances, Joop! also made waves in the fashion industry, showcasing it's designs at prestigious events like New York Fashion Week. American retailers like Saks Fifth Avenue were quick to embrace Joop!'s unique style, further contributing to it's widespread popularity.
When Was Joop Cologne Popular?
In the mid-1990s, Joop cologne experienced a surge in popularity in the American market. During this period, the brand made notable strides by introducing Joop! fragrances to consumers across the United States. In addition to it's fragrances, Joop also showcased their fashion line at New York Fashion Week, further increasing their visibility and appeal.
They were able to reach a broader demographic of consumers seeking unique and captivating scents. This expansion also led to increased availability of Joop fragrances, as they were now being sold by prominent American retailers like Saks Fifth Avenue.
Source: JOOP! – Wikipedia
Joop Homme is a fragrance that exudes confidence and allure. With it's captivating blend of citrus, spices, and patchouli, this cologne leaves a lasting impression wherever you go. It's the perfect choice for those who want to make a statement and leave a lasting impression. So, if you're looking for a scent that's both bold and sophisticated, Joop Homme is definitely worth a try.
Does Joop Homme Smell Nice?
Joop Homme is a fragrance that's often praised for it's enticing scent. It starts off with a burst of bright and delectable citrus top notes, which instantly grab your attention and leave a refreshing impression. These citrusy notes provide a vibrant and invigorating start to the fragrance, setting the stage for whats to come.
Finally, the base of Joop Homme is anchored by sumptuous patchouli, which adds an earthy and woody dimension to the scent. Patchouli has a distinct and long-lasting fragrance that helps to enhance the overall longevity of the fragrance. It provides a solid foundation for the other notes to shine and ensures that the scent lingers on your skin for an extended period.
It's combination of citrus top notes, smoldering middle spices, and sumptuous patchouli base creates a captivating and alluring scent.
What Are Some Alternative Fragrances That Are Similar to Joop Homme?
Azzaro Pour Homme
Paco Rabanne 1 Million
Armani Code
Dolce & Gabbana The One
Versace Eros
Burberry London for Men
Gucci Guilty
Yves Saint Laurent La Nuit de L'Homme
Hugo Boss Bottled
Calvin Klein Euphoria Men
Conclusion
It's alluring blend of fresh citrus, warm spices, and delicate florals creates a captivating opening that immediately grabs attention.