"What Does Coach New York Smell Like? | Discover the Signature Fragrance of Coach". Step into the vibrant streets of New York City and immerse yourself in the captivating essence of Coach. The Coach New York Eau de Toilette is a homage to the spontaneous energy and urban style that define the heart and soul of the city that never sleeps. This fragrance encapsulates the dynamic spirit and effortlessly chic aesthetic that Coach has become renowned for. As you embark on this olfactory journey, be prepared to be dazzled by the contrasting notes that intertwine to create an unforgettable olfactory experience. The journey begins with a burst of bright and sparkling raspberry, instantly uplifting your senses and capturing the vivacity of the city streets. As the fragrance develops, creamy Turkish roses emerge, adding a touch of femininity and elegance to the composition. Finally, the scent settles into a captivating base of sensual suede musk, enveloping you in a warm and comforting embrace reminiscent of the luxurious materials used in Coach's iconic designs. With each spritz of Coach New York, you'll be transported to the heart of one of the world's most dynamic cities, experiencing a fragrance that's as vibrant and stylish as the Coach brand itself.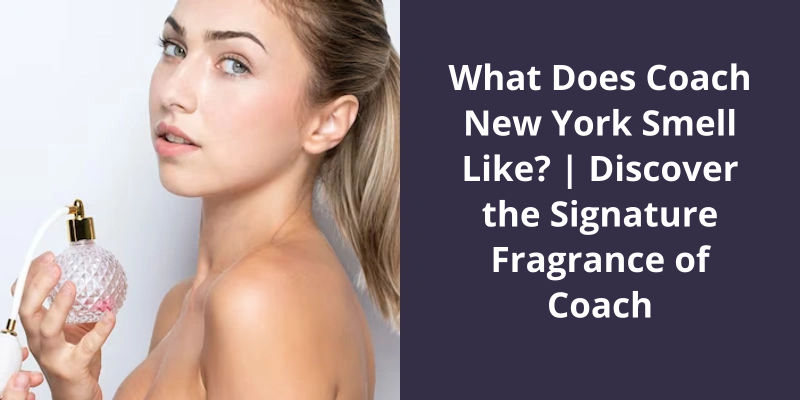 What Does Coach New York Legacy Smell Like?
Coach New York Legacy is a captivating fragrance that exudes a sense of casual sophistication. Introduced in 2008, this perfume embodies the essence of effortless style and is perfect for any occasion. It's alluring blend of floral notes with hints of honeysuckle and orange creates a refreshing and invigorating aroma.
The fragrance also incorporates warm and comforting notes of amber, vanilla, and wood, adding depth and richness to the overall composition. These enticing elements come together harmoniously, creating a scent that's both captivating and enchanting.
The bottle is sleek and sophisticated, showcasing the brands attention to detail and commitment to quality. With it's understated design, this perfume is a true reflection of Coachs timeless style and luxury.
It's versatile scent makes it suitable for both casual and formal occasions, allowing you to make a strong and lasting impression wherever you go.
It combines floral and warm notes to create a captivating and enchanting scent. Whether youre headed to the office or a night out on the town, this perfume is the perfect companion to elevate your style and leave a lasting impression.
Information on the Longevity and Sillage (Projection) of the Fragrance
When it comes to the Coach New York fragrance, it offers a moderate level of longevity, meaning it can last for a decent amount of time on your skin. Additionally, it's sillage or projection is also moderate, ensuring that the scent is noticeable without being overpowering. This makes it a versatile fragrance that can be worn for various occasions. Overall, Coach New York strikes a balance between longevity and sillage, allowing you to enjoy it's scent throughout the day.
Conclusion
In conclusion, Coach New York Eau de Toilette encapsulates the vibrant essence of New York City in a bottle. Inspired by the city's boundless energy and downtown style, this fragrance is a captivating blend of contrasting notes. The opening burst of bright sparkling raspberry sets the stage for a journey through creamy Turkish roses, evoking a sense of both delicacy and strength.