"What Does Ariana Grande Thank You Next Purple Perfume Smell Like?". This fragrance, bursting with a symphony of captivating scents, transports you to a world filled with empowerment, sweetness, and sass. With the first spritz, you're enveloped in a tantalizing blend of sparkling white pear and wild raspberry, awakening your senses with their juicy and vibrant notes. As the fragrance settles, a heart of creamy coconut and delicate pink rose petals emerges, creating a luxurious and feminine ambiance that's simply irresistible. But it doesn't stop there; the perfume's layers develop further, infused with the divine velvety musk that Ariana is famous for, adding a touch of confidence and allure to the mix. And as a final touch of playful femininity, macaroon sugar is sprinkled throughout, hinting at an indulgent treat. "Thank U, Next Purple Perfume" is an embodiment of Ariana's attitude, captivating both those who encounter it and the wearer herself. It's a fragrance that invites you to embrace your true self, reminding you to be bold, unapologetic, and sweet at heart. So if you're ready to unleash your inner Ariana Grande and indulge in a scent that exudes attitude and sweetness, then Thank U, Next Purple Perfume is your perfect match. Get ready to experience the magic firsthand, as this fragrance takes you on a journey that's truly unforgettable.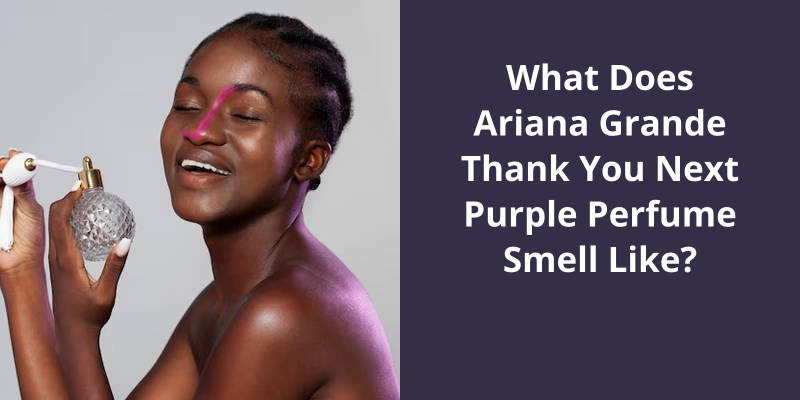 What Is Ariana Grande's Favorite Perfume?
Ariana Grandes favorite perfume, Viktor & Rolfs Flowerbomb, is a fragrance that perfectly captures her elegant and enchanting persona. This scent is a rich blend of delicate florals and warm, powdery notes that create an intoxicating aroma. When she wears it, Ariana exudes confidence and grace, making it her go-to fragrance for all occasions.
The top notes of Flowerbomb are dominated by the exquisite scents of Sambac jasmine, Centifolia rose, freesia, and orchid. These floral notes bring a sense of femininity and beauty to the fragrance, creating a captivating first impression. The combination of these blossoms creates a bouquet that's both delicate and vibrant, perfectly complementing Arianas charismatic personality.
As Flowerbomb settles on the skin, the base notes of milky and powdery accords start to emerge. These notes add depth and a velvety texture to the perfume, enhancing it's longevity and creating a sense of comfort. The powdery scent adds a touch of elegance, while the milky accord adds a hint of sweetness, perfectly balancing the composition.
The Art of Perfume Layering: Learn About Combining Different Fragrances to Create a Unique and Personalized Scent.
The art of perfume layering: Learn about combining different fragrances to create a unique and personalized scent.
Ariana Grande's R.E.M. Perfume is a captivating fragrance that combines the delicate essence of lavender with the floral beauty of pear blossom. With it's irresistible heart notes, this perfume brings a touch of femininity and elegance. The creamy foundation of tonka bean, musk, and sandalwood adds a sensual allure, making it the perfect scent for those seeking a sophisticated and alluring aroma.
Which Ariana Grande Perfume Smells Like Lavender?
Ariana Grande R.E.M. Perfume is the perfect choice for those who love the soothing and calming scent of lavender. This fragrance opens with a burst of juicy fig and salty salted caramel, creating a deliciously sweet and slightly gourmand aroma. As the perfume settles on the skin, the heart notes of lavender and pear blossom take center stage, adding a delicate and floral touch to the overall composition. These notes blend beautifully, creating a refreshing and tranquil scent that's both comforting and uplifting.
The base notes of tonka bean, musk, and sandalwood provide a sensual and creamy foundation for the fragrance. The tonka bean adds a warm and comforting sweetness, while the musk adds depth and sensuality. The sandalwood adds a hint of creaminess and woody richness, rounding out the scent and giving it a sophisticated elegance. Overall, this perfume is a beautiful and unique blend of sweet and floral notes, with the lavender giving it a calming and relaxing vibe.
It's versatile and can be worn all year round, making it a great addition to any perfume collection.
Source: 3 Of The Best Ariana Grande Perfumes To Keep You Smelling …
Ariana Grande never fails to surprise her fans with her captivating music and incredible fragrances. Following the success of her perfume "CLOUD," Grande now unveils her next olfactory creation, "Thank U Next." Infused with delightful notes of coconut and pear, this daytime scent is sure to enchant your senses. Loved for it's enticing coconut musk aroma, "Thank U Next" quickly became a go-to fragrance, especially during the scorching summer days. To learn more about this captivating perfume, check out our detailed review.
Does Thank You Next Smell Like Cloud?
Thank You Next, Ariana Grandes latest perfume release after CLOUD, exudes a delightful blend of coconut and pear. This captivating fragrance is reminiscent of a sunny daytime scent, evoking a playful and uplifting atmosphere. The aroma of coconut, fused with the sweetness of pear notes, creates a truly irresistible composition.
One of the main reasons Thank You Next has become so popular is it's enticing coconut musk fragrance. The delicate balance of coconut with musk adds a touch of sensuality, making it an excellent choice for those who enjoy alluring scents. This unique combination is perfect for anyone seeking a signature perfume that stands out from the crowd.
If youre intrigued by the idea of Thank You Next perfume, consider reading a thorough review to gain more insight into it's composition and performance. Exploring the thoughts of those who've experienced this enchanting fragrance firsthand can be enlightening and help you decide if it aligns with your personal preferences.
If youre curious to learn more about this perfume, diving into a comprehensive review will provide you with a deeper understanding of it's unique characteristics.
The Inspiration Behind Thank You Next Perfume
The inspiration behind Ariana Grande's Thank You Next perfume is her hit single of the same name, which was released in 2018. The fragrance aims to capture the essence of empowerment, self-love, and moving on from past relationships. With it's sweet yet sophisticated notes, Thank You Next perfume embodies the singer's journey of personal growth and the message of embracing one's own strength. It's scent is a combination of fruity top notes, floral heart notes, and warm base notes, resulting in a captivating and unique fragrance.
When it comes to smelling your best, Ariana Grande's line of perfumes has got you covered. From mild fragrances to long-lasting scents, there's something for everyone. The top 7 Ariana Grande perfumes of 2023 offer a variety of options to suit different preferences. Ari By Ariana Grande Eau De Parfum is perfect for those who prefer a mild fragrance, while Sweet Like Candy Eau De Parfum is known for it's long-lasting effect. For nighttime wear, Moonlight By Ariana Grande Eau De Parfum is a popular choice, while the R.E.M Ariana Grande Eau de Parfum embodies femininity.
Which Ariana Perfume Is the Nicest?
Ariana Grande is known not only for her incredible vocal range and catchy pop tunes but also for her signature fragrances. With several scents in her collection, it can be difficult to determine which one is the nicest. However, there are a few standouts that are beloved by fans and perfume enthusiasts alike.
One of the top choices is Ari By Ariana Grande Eau De Parfum, which is praised for it's mild and pleasant fragrance. It's a sweet and fruity scent that's perfect for everyday wear. With notes of pear, raspberry, and marshmallow, it creates a delightful aroma that lingers throughout the day.
For those looking for a long-lasting fragrance, Sweet Like Candy Eau De Parfum is a great option. This scent combines sweet and floral notes, including blackberry, marshmallow, and jasmine. It's a playful and youthful scent that lasts all day, making it perfect for those who want a fragrance that will endure.
If youre choosing a perfume specifically for nighttime wear, Moonlight By Ariana Grande Eau De Parfum is an excellent choice. This fragrance has a seductive and sensual aroma, with notes of rich black currant, peony, and marshmallow. It's a sophisticated and enchanting scent that will leave a lasting impression.
For a more feminine fragrance, R.E.M Ariana Grande Eau de Parfum is a top contender. This scent has a dreamy and ethereal quality, with notes of fig, lavender, and pear blossom. It's a delicate and romantic fragrance that will make you feel elegant and sophisticated.
Comparing Ariana Grande's Perfumes to Other Celebrity Fragrances
Ariana Grande is a popular celebrity known for her impressive music career, and she's also ventured into the world of fragrance with her line of perfumes. One of her popular scents is "Thank U, Next Purple Perfume."
When comparing Ariana Grande's perfumes to other celebrity fragrances, it's important to note that fragrances are subjective and personal preferences vary. That being said, Ariana's perfumes have garnered a dedicated fan base and received positive reviews.
"Thank U, Next Purple Perfume" is described as a sweet and fruity fragrance with notes of juicy raspberries, crisp pear, and warm coconut. It's a playful and youthful vibe, which resonates with Ariana's music and image.
While it's challenging to compare Ariana's perfumes to other celebrity fragrances directly, her line is known for it's unique and captivating scents. It's always a good idea to sample different perfumes to find the one that best suits your personal taste and style.
Introducing Thank U Next 2.0 by Ariana Grande, a delightful fragrance that captivates the senses with it's enchanting Floral Fruity accords. Launched in 2021, this perfume opens with a tempting blend of Wild Strawberry, Apple juice, and Pomegranate, creating a mouthwatering and refreshing top note. As it lingers, the fragrance gracefully transitions into a heart of White Orchid and Jasmine, adding a touch of elegance and romance. Finally, the base notes of Marshmallow, Musk, and Sandalwood provide a warm and comforting finish to this irresistible scent. Immerse yourself in the aromas of gratitude and empowerment with Thank U Next 2.0.
What Is the Smell of Thank You Next?
Thank U Next 2.0 by Ariana Grande is a fragrance that encapsulates the essence of femininity and sweetness. The scent opens with the delightful allure of wild strawberries, blending seamlessly with the refreshing notes of apple juice and pomegranate. These fruity top notes create a tantalizing and invigorating start to the fragrance.
As the perfume develops, it reveals a bouquet of white orchid and jasmine in it's heart notes. The floral accords add a touch of elegance and sophistication to the fragrance, perfectly balanced with the fruity top notes. The combination of these florals creates a mesmerizing and delicate aroma that captures the essence of a blooming garden.
In the base notes, you'll find the comforting embrace of marshmallow. This sweet note adds a creamy and indulgent aspect to the fragrance, evoking feelings of warmth and nostalgia. The soft musk and sandalwood notes provide a sensual and alluring depth, grounding the scent and leaving a lasting impression.
It combines the freshness of fruits with the elegance of flowers, enveloping the wearer in a sweet and captivating scent. The fragrance is perfect for those who enjoy a youthful and romantic aroma, making it an ideal choice for any occasion.
The Inspiration Behind Thank U Next 2.0 Fragrance
Ariana Grande's iconic song "Thank U, Next" served as the inspiration for the fragrance.
The fragrance captures the empowering and confident message of the song.
It's a celebration of self-love, growth, and moving on.
The scent is a blend of sweet and floral notes, creating a captivating and irresistible fragrance.
Notes of raspberry, rose petals, and creamy musk combine to create a unique and memorable scent.
The fragrance is housed in a sleek and stylish bottle adorned with Ariana's signature.
It's a perfect representation of Ariana's bold and fearless personality.
Thank U Next 2.0 fragrance is a must-have for any Ariana Grande fan or anyone seeking a scent that embodies strength and empowerment.
Donna Acqua by Valentino serves as a perfect alternative to the Thank U, Next fragrance, with it's complementary notes and similar style.
What Perfume Is Similar to Thank You Next?
Donna Acqua by Valentino is a fragrance that exudes a similar essence to Thank U, Next by Ariana Grande. This perfume captures the same vibrant and youthful energy that's found in Grandes iconic scent.
The top notes of Donna Acqua open with a burst of juicy mandarin and bright lemon, instantly grabbing your attention and leaving a citrusy freshness in the air. These zesty notes are reminiscent of the uplifting and energetic vibe of Thank U, Next.
As the fragrance settles, the heart notes reveal a beautiful bouquet of delicate flowers. Jasmine and rose petals intertwine with peony, creating a soft and feminine scent that embodies the romantic undertones found in Thank U, Next.
The base notes of Donna Acqua add a touch of warmth and sensuality to the fragrance. Soft musk and smooth sandalwood provide a grounding element, giving the perfume a seductive and captivating allure.
Similar Perfumes to Thank U, Next: In Addition to Donna Acqua by Valentino, There Are Other Perfumes That Have a Similar Essence to Thank U, Next. This Section Could Explore Different Fragrances That Capture the Same Energetic and Youthful Vibe.
In addition to Donna Acqua by Valentino, there are other perfumes that have a similar essence to Thank U, Next. This section could explore different fragrances that capture the same energetic and youthful vibe.
Conclusion
The fragrance enchants the senses with it's luscious blend of juicy white pear and wild raspberry, creating an exhilarating opening that will leave you captivated. The infusion of divine velvety musk brings forth Ari's signature sass, while the playful femininity of macaroon sugar adds an irresistible sweetness.