This luxurious collection transports you to sun-soaked beaches, vibrant landscapes, and exotic adventures, capturing the essence of a dreamy vacation. From the moment you open the lid, you're greeted with a sensory journey that evokes the sights, sounds, and scents of a tropical paradise. Indulge in the rich, nourishing formulations that will leave your skin feeling irresistibly soft, hydrated, and glowing. From the iconic, cult-favorite Brazilian Bum Bum Cream to the intoxicating fragrance of the Cheirosa '62 Eau de Parfum, each product in the Passport to Paradise collection is carefully crafted to provide a blissful escape from the everyday. So, sit back, close your eyes, and let the fragrant aromas and velvety textures transport you to a sun-drenched oasis where the worries of the world simply melt away.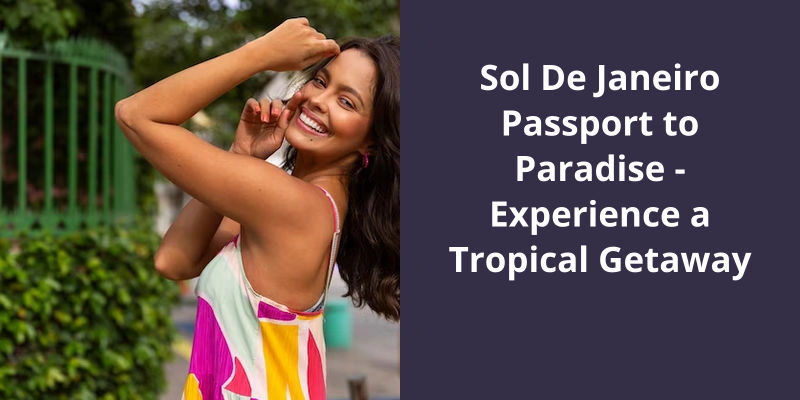 Where Is Sol De Janeiro Originally From?
Sol de Janeiro, founded in 2015 by a group of Brazilian beauty enthusiasts, is a prominent beauty business known for celebrating Brazils vibrant culture and natural beauty. The company draws inspiration from the beautiful beaches of Brazil and the lively spirit of it's people, creating products that capture the essence of this tropical paradise.
Originally from Brazil, Sol de Janeiro takes pride in using ingredients that are native to the country, such as cupuaçu butter, açaí oil, and coconut oil. These natural resources are known for their nourishing and moisturizing properties, making them perfect for creating luxurious skincare and body care products. By highlighting these ingredients, Sol de Janeiro aims to transport people to the sunny shores of Brazil, allowing them to experience the magic of a tropical getaway in the comfort of their own homes.
The brands commitment to celebrating Brazils culture and beauty goes beyond just the ingredients; it's deeply ingrained in everything they do. From the vibrant packaging inspired by Rio de Janeiros colorful cityscape to the playful scents that evoke the aura of a beachside party, every aspect of Sol de Janeiros products reflects the energy and joy that Brazil is known for.
Sol de Janeiro has gained a loyal following for it's iconic Brazilian Bum Bum Cream, a cult-favorite product that's become synonymous with the brand. The creams rich formula, infused with caffeine and guaraná extract, helps to tighten and smooth the skin, leaving it looking and feeling firmer and more toned. This luxurious cream, with it's unmistakable fragrance of pistachio and salted caramel, embodies the decadent indulgence of a tropical escape.
Other Notable Products: Showcase Other Popular Products From Sol De Janeiro's Product Line Besides the Brazilian Bum Bum Cream, and Their Unique Ingredients and Benefits.
Sol de Janeiro Coco Cabana Cream: Infused with coconut oil and cocoa butter, this luxurious cream deeply hydrates and nourishes the skin.
Sol de Janeiro Brazilian Crush Body Fragrance Mist: A refreshing body mist with the scent of pistachio and salted caramel, perfect for a quick pick-me-up.
Sol de Janeiro Açaí Body Power Cream: Powered by açaí oil, this cream helps to smooth and firm the skin, leaving it soft and supple.
Sol de Janeiro Brazilian 4 Play Moisturizing Shower Cream Gel: This creamy shower gel cleanses and hydrates the skin, leaving it velvety smooth.
Sol de Janeiro Bum Bum Sol Oil: Infused with shimmering gold particles and coconut oil, this body oil gives the skin a radiant glow.
Sol de Janeiro, the exciting fragrance brand, has captivated the hearts of scent enthusiasts with it's collection of 16 exquisite perfumes. Launched in 2019, this relatively new brand has quickly established itself as a must-have for fragrance connoisseurs. Collaborating with talented perfumers Gino Percontino and Jérôme Epinette, Sol de Janeiro has crafted a range of scents that are both captivating and unique. Each fragrance brings a distinct personality, allowing wearers to indulge in a sensory journey unlike any other. Let's explore some of the masterpieces from Sol de Janeiro's olfactory treasure trove.
How Many Sol De Janeiro's Are There?
Sol de Janeiro is a fast-growing fragrance brand that's quickly gained popularity in the world of perfumery. Although relatively new, the brand has already released an impressive collection of 16 perfumes. Each fragrance is crafted with meticulous attention to detail and a keen eye for creativity, resulting in a diverse range of scents that cater to a variety of preferences.
To bring their olfactory visions to life, Sol de Janeiro has collaborated with renowned perfumers Gino Percontino and Jérôme Epinette. These master perfumers bring their expertise and artistic flair to the brand, ensuring that each fragrance resonates with a distinct personality and charm.
Their dedication to crafting exceptional fragrances is evident in each bottle, inviting you to embark on a tropical getaway whenever you indulge in their scents.
The History and Origins of Sol De Janeiro as a Fragrance Brand
Sol de Janeiro is a popular fragrance brand that originated in Brazil. The brand draws inspiration from the vibrant and joyful spirit of the Brazilian culture, capturing the essence of the country's tropical paradise. Sol de Janeiro's products are formulated with high-quality ingredients, often incorporating natural Brazilian ingredients like Cupuaçu butter, Açaí oil, and coconut oil.
Source: Sol de Janeiro Perfumes And Colognes – Fragrantica
One of Sol de Janeiro's most beloved products is the Brazilian Bum Bum Cream, celebrated for it's distinctive fragrance. This tropical scent has captivated loyal customers, leading to the development of Sol de Janeiro's inaugural perfume, SOL Cheirosa '62.
What Was the First Sol De Janeiro Perfume?
Sol de Janeiros first perfume, SOL Cheirosa 62, is a testimony to the brands dedication to capturing the essence of summer in a bottle. The scent draws inspiration from the iconic Brazilian Bum Bum Cream, known for it's nutty top notes, jasmine petals, heliotrope, vanilla, salted caramel, and sandalwood. This unique combination creates a captivating aroma that instantly transports you to a tropical paradise, where the sun-kissed beaches meet the vibrant energy of Carnival.
Developed with the idea of evoking a sense of nostalgia, SOL Cheirosa 62 takes you on a sensory journey to 1962 Brazil, a time when glamour, beauty, and joie de vivre were at their peak. The fragrance encapsulates the spirit of that era, intertwining the sweet and sensual notes to create a truly enchanting experience that lingers on the skin.
The scent begins with a burst of nutty top notes, reminiscent of the tropical fruits found in the lush Brazilian rainforest. As the fragrance settles, the delicate jasmine petals and heliotrope come to life, offering a floral bouquet that exudes femininity and grace. The vanilla and salted caramel notes add a touch of sweetness, enhancing the overall composition with their warm and comforting presence. Finally, the sandalwood base note provides a grounding element, giving the perfume depth and allure.
The perfume captures the essence of the brands philosophy, celebrating the beauty, joy, and sensuality of Brazilian culture. With it's vibrant and enticing aroma, this perfume is a true passport to paradise, offering a tropical getaway in every spritz.
The Inspiration Behind Sol De Janeiro's Brazilian Bum Bum Cream
The vibrant and diverse culture of Brazil
The beauty of Brazil's beaches and sun-kissed lifestyle
The desire to create a product that celebrates and enhances the body
The use of ingredients native to Brazil, such as Guarana and Cupuaçu butter
The goal of promoting body positivity and self-confidence
The belief in the power of beauty rituals and self-care
The aim to capture the essence of Brazilian sensuality and joie de vivre
The passion for creating products that are both effective and indulgent
As years passed, Sol de Janeiro steadily gained popularity, with it's signature cream becoming one of the brand's earliest and most beloved products. However, it was in 2022 that Sol de Janeiro truly experienced a surge in popularity, as it began to dominate social media platforms, particularly TikTok. This newfound spotlight came in the form of numerous TikToks showcasing holiday wishlists and gift hauls featuring Sol de Janeiro products, solidifying it's status as a must-have brand within beauty and skincare communities.
When Did Sol De Janeiro Get Popular?
Sol de Janeiro, the Brazilian beauty brand, has become increasingly popular in recent years. One of the brands first products, a cream featuring it's signature scent, garnered attention and helped propel Sol de Janeiro to cult status. This unique scent, described as a combination of pistachio and salted caramel, quickly became a favorite among beauty enthusiasts.
In 2022, Sol de Janeiro experienced a surge in popularity due to it's inclusion in TikToks showcasing holiday wishlists. As users shared their desires for a tropical getaway, many turned to Sol de Janeiro products to bring a piece of that paradise into their daily routines. The brands iconic cream, aptly named "Bum Bum Cream," became a must-have item among TikTok users.
Sol de Janeiros tropical aesthetic and passion for celebrating Brazilian beauty resonated with TikTok users, who sought to incorporate a sense of escapism and wanderlust into their daily lives. The brands Passport to Paradise theme resonated with those yearning for a tropical getaway, allowing them to indulge in a sensory experience reminiscent of white sandy beaches and lush rainforests.
As Sol de Janeiros popularity grew on TikTok, the brands presence expanded across other social media platforms and gained recognition in the beauty community. It's unique scent, effective formulations, and playful branding caught the attention of beauty enthusiasts worldwide, solidifying it's status as a beloved and sought-after brand.
Branding and Authenticity: How Sol De Janeiro's Commitment to Celebrating Brazilian Culture and Beauty Has Contributed to It's Popularity and Success.
Sol de Janeiro's dedication to embracing and showcasing the vibrancy of Brazilian culture and beauty has captivated consumers.
By staying true to their authentic roots, Sol de Janeiro has successfully positioned themselves as a brand that truly understands and appreciates Brazilian traditions.
Through their product range, which includes luxurious creams, fragrances, and skincare essentials, Sol de Janeiro encapsulates the essence of Brazil's unique and vibrant lifestyle.
The brand's commitment to sourcing high-quality ingredients native to Brazil further enhances it's authenticity and allure.
Sol de Janeiro's inclusive marketing campaigns and collaborations with Brazilian artists and influencers have further solidified their reputation as a genuine supporter of Brazilian culture.
Consumers are drawn to Sol de Janeiro's products not only for their high-quality formulations but also for the sense of joy and celebration they inspire.
By embracing Brazilian beauty standards and promoting self-love and body positivity, Sol de Janeiro has fostered a strong and loyal customer base.
The brand's commitment to sustainability and ethical practices adds another layer of authenticity to it's image, resonating with conscious consumers.
Overall, Sol de Janeiro's unwavering dedication to celebrating Brazilian culture and beauty has played a significant role in it's popularity and success within the beauty industry.
Is Sol de Janeiro 71 unisex? Cheirosa '71 by Sol de Janeiro is a fragrance for women, but it's captivating and bold scent can also be enjoyed by anyone who appreciates it's unique blend of notes. It transcends traditional gender boundaries and offers a captivating olfactory experience for all fragrance enthusiasts.
Is Sol De Janeiro 71 Unisex?
Sol de Janeiro Passport to Paradise: Experience a Tropical Getaway
This exclusive line of products takes inspiration from the beauty and vibrancy of Brazil, bringing the ultimate getaway experience to your everyday life. From indulgent body moisturizers to intoxicating fragrances, each product is designed to transport you to sun-drenched beaches and lush rainforests.
One of the standout fragrances from the collection is Cheirosa 71 by Sol de Janeiro. This captivating scent captures the spirit of Brazilian beauty, combining notes of pistachio and salted caramel for a truly irresistible aroma. Known for it's sweet and sensual qualities, Cheirosa 71 is the perfect fragrance to make you feel confident and effortlessly alluring.
With it's high-quality formulas, captivating scents, and luxurious textures, each product is designed to transport you to Brazils vibrant shores, even if youre miles away. So, why not embark on an olfactory journey with Cheirosa 71 and experience the captivating allure of Sol de Janeiro? The perfect tropical getaway awaits.
How to Properly Apply and Use Sol De Janeiro Products
Start by cleansing your skin with a gentle cleanser.
Pat your skin dry with a clean towel.
Apply a small amount of Sol de Janeiro body scrub onto damp skin and massage in circular motions.
Rinse off the scrub thoroughly with warm water.
Follow it up by applying Sol de Janeiro body lotion.
Massage the lotion into your skin until fully absorbed.
For extra hydration, apply a thin layer of Sol de Janeiro body oil on top of the lotion.
Allow the oil to absorb into your skin before getting dressed.
Finish off by applying Sol de Janeiro lip balm for soft and nourished lips.
Enjoy the luxurious feel and fragrance of Sol de Janeiro products throughout the day.

There's been speculation among beauty enthusiasts regarding the availability of Sol de Janeiro's beloved Coco Cabana product. Although many have speculated about it's discontinuation, detailed information on the matter remains undisclosed. However, customers eagerly await updates from the brand to confirm whether the Coco Cabana line will be permanently discontinued or simply undergoing a temporary adjustment.

Did Sol De Janeiro Discontinue the Coco Cabana?

Sol de Janeiro recently made an announcement regarding their iconic Coco Cabana product. However, contrary to speculations, they haven't discontinued the beloved Coco Cabana line. Instead, they've come up with an exciting surprise for their customers. Sol de Janeiro introduces the Passport to Paradise: Experience a Tropical Getaway collection, featuring an enhanced version of their renowned Coco Cabana cream.

Embracing the same captivating coconut scent, the new Coco Cabana in the Passport to Paradise collection offers an elevated experience. Enriched with even more nourishing ingredients, this revamped formula promises to transport users to the ultimate tropical paradise, enveloping their skin in a blissful, vacation-like sensation.

From the silky smoothness of the body creams to the intoxicating scent that lingers throughout the day, this collection brings the allure of a tropical paradise nearer than ever before.

Conclusion

From the moment you open the box, you're transported to a world filled with the sights, sounds, and scents of a beachside paradise. The carefully curated selection of products allows you to indulge in a pampering self-care routine, while the vibrant and exotic fragrances transport you to the sandy shores of Brazil. Whether you're looking to create a luxurious spa-like experience in the comfort of your own home or dreaming of an actual vacation, the Sol de Janeiro Passport to Paradise is the ultimate escape. It's a passport to relaxation, rejuvenation, and pure bliss. So sit back, close your eyes, and let Sol de Janeiro whisk you away on a tropical adventure like no other.