Santal Blush: Taylor Swift's Signature Scent. When it comes to celebrities and their personal brands, the fragrance they choose to wear often becomes an essential part of their image. This intoxicating scent has become synonymous with Swift's iconic style, representing her multifaceted personality and resonating with fans around the world.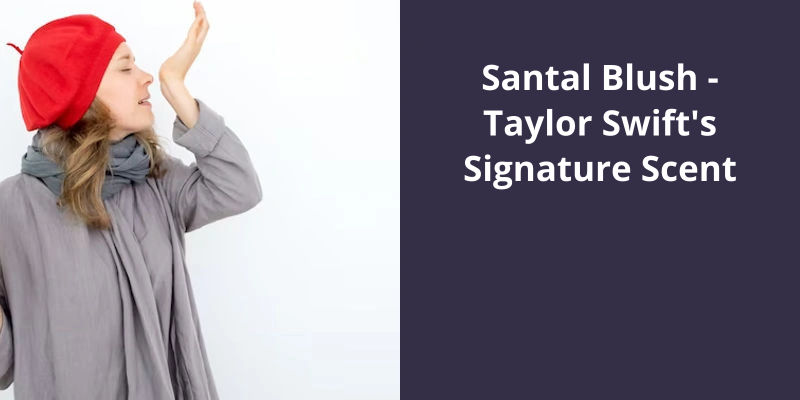 What Is Taylor Swift's Favorite Perfume?
Santal Blush by Tom Ford seems to be Taylor Swifts signature scent. Known for it's luxurious and sensual blend of sandalwood, spices, and florals, it perfectly captures Taylors elegant and sophisticated persona. With it's warm and feminine notes, it creates an aura of confidence and allure, making it the perfect fragrance for any glamorous occasion.
Another favourite of Taylors is Flowerbomb by Viktor & Rolf. This iconic perfume is famous for it's explosive and captivating blend of floral notes, which create a truly enchanting and romantic scent. It perfectly embodies Taylors romantic and poetic nature, making it a go-to choice for special moments or date nights.
Escadas Moon Sparkle is also on Taylors list of favourites. This youthful and playful fragrance is a mix of fruity and floral notes, creating a refreshing and vibrant scent. It perfectly captures Taylors vibrant and energetic personality, making it a fun and flirty choice for everyday wear.
And of course, Fantasy by Britney Spears is another fragrance that Taylor has expressed her love for. With it's sweet and alluring blend of red lychee, kiwi, and cupcake accord, it creates a youthful and playful scent that perfectly resonates with Taylors bubbly and fun-loving persona.
These perfumes truly showcase Taylor Swifts versatile taste in fragrances. From elegant and luxurious to playful and sweet, each scent reflects a different facet of her personality. Whether stepping onto the red carpet or simply going about her daily life, Taylor always manages to find the perfect scent to express herself and leave a lasting impression.
Other Celebrity Favorite Perfumes
Many celebrities have their own signature scents that they swear by. One such perfume is "Black Orchid" by Tom Ford, which is loved by celebrities like Angelina Jolie and Gwen Stefani. Another popular choice is "Chanel No. 5," a classic fragrance favored by stars such as Marilyn Monroe and Nicole Kidman. "Flowerbomb" by Viktor & Rolf is another celebrity favorite, with fans like Ariana Grande and Kourtney Kardashian. These perfumes, along with Taylor Swift's "Santal Blush," have become iconic scents associated with their respective celebrities.
As Santal Blush first makes contact with the skin, it exudes a powerful and fruity aroma that captivates the senses. However, this initial strength gradually subsides, giving way to a softer, almost translucent scent that leans towards a milky rather than creamy quality. This gentler iteration of Santal Blush reveals a dark undertone reminiscent of leather, yet maintaining a refreshing cleanliness.
Is Santal Blush Strong?
When it comes to the scent of Santal Blush, theres no denying it's initial strong and fruity presence. As soon as it touches the skin, a burst of aromatic intensity fills the air. However, this initial strength quickly dissipates, allowing the fragrance to settle into a more delicate and subtle composition.
It possesses a milky quality, reminiscent of creamy undertones. Despite it's softness, there's a distinct darkness that lurks beneath the fragrance, akin to a leathery essence. Yet, this darkness never overwhelms or weighs down the scent; it remains clean and pure throughout.
It's composition appeals to a wide range of individuals, embracing both traditional and modern preferences. The fragrance has the power to leave a lasting impression without overpowering the senses, creating an aura of allure and sophistication.
Source: Tom Ford Santal Blush ~ perfume review – Now Smell This
Taylor Swift perfume has become a beloved addition to many fragrance collections. Wonderstruck and Wonderstruck Enchanted stand out among fans for their enchanting fruity aromas. However, those with a passion for apricot may find themselves drawn to Taylor by Taylor Swift – Made of Starlight as their perfect scent.
Which Is the Best Taylor Swift Perfume?
Santal Blush is one of Taylor Swifts most well-known and beloved fragrances. With it's warm and intoxicating blend of sandalwood and spices, it's become her signature scent. This perfume is perfect for those who appreciate a fragrance that's both elegant and seductive. Santal Blush has a rich and deep aroma that lingers on the skin, making it ideal for evening wear or special occasions.
Another popular choice among Taylor Swift fans is Wonderstruck. This enchanting fragrance captures the whimsical and dreamy essence of the singer-songwriter. With it's fruity notes of raspberry, apple blossom, and vanilla, Wonderstruck is a refreshing and youthful scent. It's perfect for everyday wear and can easily transition from day to night. Many fans love it's playful and feminine vibe.
For those who prefer a more sophisticated and sensual scent, Wonderstruck Enchanted is the perfect choice. It combines floral and woody notes with sweet and creamy undertones, creating a captivating fragrance. With it's blend of wild berries, passion fruit, and white musk, Wonderstruck Enchanted is a modern and alluring perfume. It's perfect for romantic evenings or when you want to make a lasting impression.
If you're a fan of apricot, then Taylor by Taylor Swift – Made of Starlight is the ideal perfume for you. This fragrance is a sweet and fruity blend of apricot, pink pepper, and sandalwood. It's a youthful and playful vibe that's perfect for everyday wear.
Overall, the best Taylor Swift perfume will depend on your personal preferences and the type of scent you're looking for.
The Ingredients and Production Process Used in Taylor Swift's Perfumes
Fragrance oils
Alcohol
Water
Glycerin
Emulsifiers
Preservatives
Colorants
Essential oils
Carrier oils
Antioxidants
Humectants
Perfume bottles
Mixing and blending equipment
Quality control processes
Testing and evaluations
Conclusion
With it's unique combination of sandalwood, spices, and leather, this fragrance embodies the essence of Taylor's transformative journey as an artist and as a woman. Santal Blush has the ability to transport anyone who wears it to a world of elegance and sophistication, leaving a lasting impression wherever they go.