Perfume Main Accords – The Ultimate Guide is a comprehensive website dedicated to unraveling the mysteries behind the fascinating world of fragrance. This diverse platform serves as an invaluable resource for perfume enthusiasts, novices, and professionals alike, offering a wealth of information on the main accords that create the unforgettable olfactory experiences we associate with our favorite scents. From the delicate notes of floral bouquets to the captivating allure of oriental blends, this website delves into the intricate artistry of perfumery, shedding light on the key ingredients and combinations that bring fragrances to life.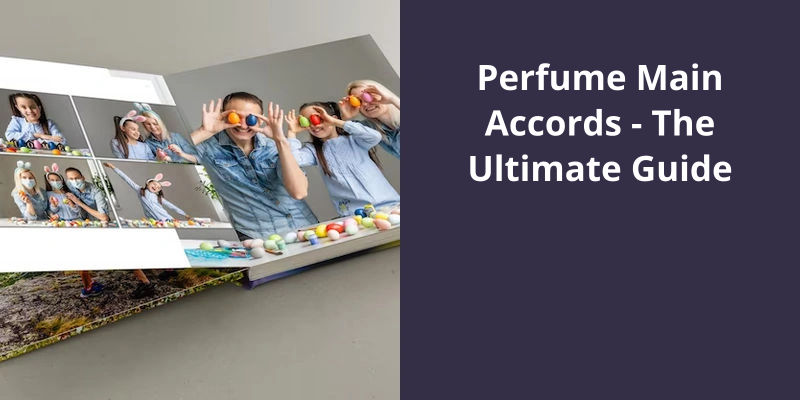 What Are the Main Accords in Perfume?
Perfume accords are the building blocks of fragrance composition, and they determine the overall scent profile and character of a perfume. Each accord is a blend of different fragrance notes that work together harmoniously to create a unique olfactory experience. In this guide, we will explore the four main perfume accords used in perfumery: Chypre, Cologne, Fougere, and Amber.
The Chypre accord is characterized by it's earthy, woody, and mossy aromas. It typically features notes such as oakmoss, patchouli, bergamot, and labdanum. Chypre fragrances are known for their sophisticated and elegant nature, often evoking a sense of mystery and allure. They're timeless classics that are perfect for those who appreciate a rich and complex scent.
Cologne accords are fresh, clean, and invigorating. They're often composed of notes such as citrus fruits, herbs, and aromatic spices. Cologne fragrances are light, airy, and refreshing, making them ideal for everyday wear and hot summer days. They've a revitalizing effect and exude a sense of vitality and energy.
Fougere accords are commonly used in mens fragrances and are characterized by their green, herbaceous, and aromatic qualities. They typically feature notes such as lavender, oakmoss, geranium, and coumarin. Fougere fragrances are often associated with masculinity and evoke a sense of strength and confidence. They're versatile and can be worn on various occasions, from formal events to casual outings.
Amber accords are warm, sensual, and enveloping. They often contain notes such as vanilla, benzoin, labdanum, and ambergris. Amber fragrances are known for their rich, resinous, and slightly sweet aroma. They create a sense of comfort and intimacy, making them perfect for cozy winter nights or romantic occasions. Amber accords lend a touch of sophistication and elegance to any perfume composition.
They're responsible for giving each perfume it's distinct identity and personality. Notes, on the other hand, are individual ingredients or scents that contribute to the overall composition of a perfume. They can be natural, such as floral or citrus extracts, or synthetic, crafted in a lab to mimic certain scents. Together, these accords and notes work harmoniously to create the unique fragrance experience that we associate with perfumes.
What Are Notes and Accords in Perfume?
They're the building blocks of perfumes and are responsible for the overall scent that we perceive. Each perfume has a combination of top, middle, and base notes, which are carefully selected and blended to create a harmonious fragrance.
Top notes are the first scents that you smell when you spray a perfume. They're usually light and fleeting, giving the initial impression of the fragrance. Common top notes include citrus fruits, herbs, and green notes. They provide a refreshing and uplifting start to the perfume.
Middle notes, also known as heart notes, are the scents that emerge after the top notes dissipate. They form the core of the fragrance and are usually floral or fruity in nature. Middle notes add depth and complexity to the perfume, creating a sense of balance and harmony.
Base notes are the foundation of the fragrance and are the scents that linger on the skin for hours. They're usually rich and long-lasting, providing the perfume with it's warmth and sensuality. Common base notes include musk, amber, vanilla, and woody accords. They give the perfume it's depth and intensity, anchoring the entire fragrance.
Accords, on the other hand, are created by blending different fragrance notes together to produce a specific scent. They represent a particular facet or characteristic of the perfume. For example, a floral accord can be created by blending various floral notes together to produce a bouquet-like scent. A woody accord can be achieved by combining different woody notes to create a warm and earthy aroma.
Master perfumers use their expertise and creativity to artfully blend notes and accords together, creating unique and captivating fragrances. They carefully consider the proportions and interactions between different notes to achieve the desired effect. The result is a complex and multi-faceted scent that can evoke different emotions and memories.
In summary, notes and accords are the building blocks of perfumes.
The Market Trends and Preferences for Different Types of Perfume Notes and Accords.
Floral notes
Citrus notes
Oriental notes
Woody notes
Fruity notes
Aromatic notes
Aquatic notes
Gourmand notes
Chypre notes
Spicy notes
Green notes
Musk notes
Amber notes
Vanilla notes
Perfume.com, a leading online retailer of fragrance products, is conveniently located in Hauppauge, New York. Customers can easily contact the company through various channels, including email, phone, mail, and even fax. The customer service team is available during regular business hours to assist with any inquiries or concerns.
Where Is Perfume Com Located?
Perfume.com is a popular online fragrance retailer that offers a wide selection of perfumes, colognes, and beauty products. The company is headquartered in Hauppauge, New York and operates through it's website, which provides customers with a convenient and efficient platform to purchase their favorite scents.
If you've any questions or need assistance, Perfume.com offers various contact options. You can reach their customer service team by email at [email protected]. They strive to provide prompt and helpful responses to inquiries.
For immediate assistance, you can also contact their customer service hotline. The customer service lines are open from 7am to 4pm Eastern Time, and the toll-free number is 1-800-645-925When calling, select option "2" to be directed to a representative who can assist you with your inquiries or concerns.
Customers outside of the USA can dial the international number 001-516-299-9109 to reach Perfume.coms customer service team. This ensures that international customers can receive the same level of support as those within the United States.
If you prefer traditional mail correspondence, you can send your inquiries or requests to Perfume.com at the following address: Perfume.com, 5 Plant Avenue, Hauppauge, NY 1178This option is ideal for customers who prefer written communication or need to send physical documentation.
Alternatively, if you need to send any relevant documents or information to Perfume.com, you can do so by fax. Their fax number is 718-482-696This method is helpful for customers who need to transmit information quickly and securely.
Overall, Perfume.com is dedicated to providing excellent customer service and is readily available to address any questions or concerns you may have. Whether you prefer to contact them by email, phone, mail, or fax, they strive to ensure a smooth and satisfactory experience for all their customers.
Information About Any Promotions or Sales Currently Being Offered by Perfume.com.
Save up to 50% on select perfumes!
Buy 1 perfume and get the 2nd one at 30% off!
Get a free gift with any purchase over $50!
Limited time offer: Extra 25% off clearance items!
Refer a friend and receive a $10 voucher!
Sign up for our newsletter and receive 10% off your first order!
Enjoy free shipping on all orders above $75!
Follow us on social media for exclusive promotions and giveaways!
Is perfume.com a legitimate company? Perfume.com is certainly a legitimate online retailer as it's been in business since 1995 and legally stocks perfumes and colognes of the world's leading brands, including Burberry, Calvin Klein, Dolce &, Gabbana, and more. With a long-standing presence in the industry, perfume.com has established a reputation for providing authentic products and reliable service to it's customers.
Is Perfume Com a Legitimate Company?
Their website is secure and they've a customer service team available to assist with any inquiries or concerns. They offer a wide range of perfumes and colognes at competitive prices, making it a convenient option for fragrance enthusiasts.
Perfume.com has received positive reviews from customers, highlighting their prompt delivery and authentic products. They also offer a variety of gift options, such as gift sets and personalized engraving, making it a convenient choice for special occasions.
Additionally, Perfume.com offers a 30-day return policy, allowing customers to return products if they aren't satisfied. They provide detailed product descriptions and customer reviews to help customers make informed decisions before purchasing.
Perfume.com also offers a reward program, where customers can earn points for every purchase and redeem them for discounts on future orders. This adds value to the customers shopping experience and encourages loyalty.
Overall, Perfume.com is a trustworthy and legitimate online retailer for perfumes and colognes.
Comparison With Other Online Perfume Retailers How Does Perfume.com Compare to Other Popular Online Perfume Retailers in Terms of Pricing, Selection, and Customer Service?
Perfume.com sets itself apart from other online perfume retailers through it's competitive pricing, expansive selection, and exceptional customer service.
When it comes to pricing, Perfume.com offers highly competitive rates, often beating it's competitors. This allows shoppers to find their favorite fragrances at more affordable prices.
In terms of selection, Perfume.com boasts an extensive range of perfumes, colognes, and beauty products. With thousands of options from renowned brands, customers can easily find their desired scents.
Customer service is a top priority at Perfume.com. The website provides responsive and helpful support, ensuring a smooth and satisfactory shopping experience for all customers. Additionally, they offer a generous return policy and easy exchange process, further enhancing customer satisfaction.
Overall, Perfume.com stands out as a reliable and customer-oriented online perfume retailer with competitive pricing, a diversified selection, and excellent customer service.
It provides a comprehensive list and categorization of thousands of perfumes from various brands and designers, making it an invaluable resource for fragrance enthusiasts, industry professionals, and consumers alike.
What Is the Biggest Perfume Database?
The biggest perfume database in the world is Fragrances of the World. Founded by fragrance expert and author Michael Edwards in 1983, this database is the ultimate guide to fragrance classification. With it's extensive collection of perfumes, it provides detailed information on various scents and their accords.
Fragrances of the World has been in existence since 1984 when it was first published by Michael Edwards in Sydney, Australia. Initially known as "The Fragrance Manual," it later became known as "Fragrances of the World" in 2000. This database has been continually updated over the years, making it the most comprehensive resource for perfumery enthusiasts and professionals alike.
The database categorizes perfumes based on their main accords, which are the dominant olfactory characteristics of a fragrance. These accords could include notes like floral, woody, citrus, fruity, oriental, and many more. By organizing perfumes into accord categories, Fragrances of the World makes it easier for users to find scents that match their preferences.
How Does Fragrances of the World Classify Perfumes Based on Accords?
Fragrances of the World classifies perfumes based on accords, which are combinations of scent notes that create a specific olfactory experience. These accords are categorized into different fragrance families, such as floral, oriental, citrus, woody, and fresh. Each perfume is assigned a primary accord and may have additional secondary accords. This classification system helps consumers and fragrance enthusiasts understand the overall scent profile and characteristics of a perfume, making it easier to find scents that align with their preferences.
Perfumist, the innovative mobile app, aims to revolutionize the way perfume lovers discover their ideal fragrance. Unlike other generic perfume apps, Perfumist stands out as a unique collaborative platform where users can rank and recommend their favorite scents. With a vast selection of fragrances to choose from, Perfumist's mission is to provide a quick and efficient solution, sparing users hours of browsing through endless options. Whether you're a seasoned fragrance connoisseur or someone new to the world of perfumes, Perfumist is here to guide you towards your perfect scent in just a few minutes.
Is There Any Perfume App?
Perfume enthusiasts are always on the lookout for new fragrances to add to their collection. With the vast number of options available in the market, finding the perfect scent can be quite overwhelming. This is where Perfumist, the first collaborative perfume advisor app, comes to the rescue. Designed specifically for perfume lovers, this mobile application allows users to rank and review a carefully curated selection of fragrances that are most likely to cater to their individual preferences.
The app streamlines the fragrance selection process, allowing users to find their ideal fragrance in just a few minutes. By utilizing the apps intuitive search function and personalized recommendations, users can quickly narrow down their choices and make an informed decision.
How Does Perfumist Curate It's Selection of Fragrances?
Perfumist carefully curates it's selection of fragrances by leveraging the expertise and knowledge of experienced perfumers. They evaluate and select perfumes based on various criteria such as quality, uniqueness, craftsmanship, and popularity. Perfumist takes into account the main accords of each fragrance, which are the dominant notes that define it's scent profile. By considering the main accords, Perfumist ensures a diverse and well-rounded selection of fragrances that cater to different preferences and styles. This meticulous curation process enables Perfumist to offer a collection of high-quality perfumes that appeal to fragrance enthusiasts and connoisseurs.
Conclusion
With it's extensive database of fragrances categorized by their main accords, users can easily discover new scents based on their preferred scent profiles. Additionally, the website offers detailed descriptions and reviews, allowing individuals to make informed decisions before purchasing a fragrance. The visually appealing layout and intuitive navigation make the website a pleasure to use, ensuring a seamless and enjoyable experience for perfume lovers.