Lattafa Rave Now Black, a fragrance that's gained popularity within the fragrance community, has become the subject of curiosity and intrigue among fragrance enthusiasts. With it's unique blend of notes, Rave Now Black presents a captivating olfactory experience that draws you in from the first spritz. This fragrance, skillfully crafted by Lattafa, a renowned perfumery house, showcases the artistry and creativity behind the brand. As we delve into the depths of this mysterious scent, we explore it's alluring accords, it's longevity, and how it resonates with individuals who've had the pleasure of wearing it.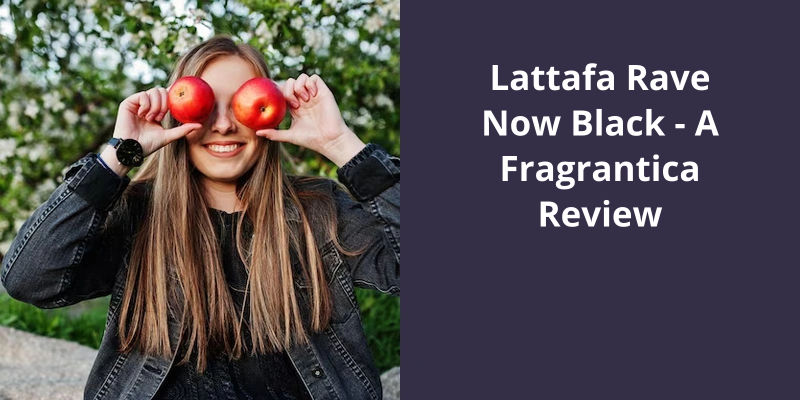 What Does Now Rave Smell Like?
Now Rave by Lattafa is a fragrance that takes the wearer on a sensory journey filled with aromatic woods and invigorating bursts of fruit. One can imagine themselves immersed in the excitement of a rave, where energy pulsates through the crowd and the air is electrified with anticipation. The top notes of pineapple, black currant, bergamot, and apple immediately grab your attention, providing a refreshing and fruity opening that sets the stage for the olfactory experience to come.
As the fragrance develops, the heart notes of birch, Moroccan jasmine, rose, and patchouli add depth and complexity to the composition. The combination of birch and rose create an intriguing contrast, with the smoky and leathery nuances of birch blending harmoniously with the floral sweetness of rose. This juxtaposition creates a sense of mystery and allure, enhancing the overall allure of the scent.
In the base, the fragrance settles into a warm and inviting blend of musk, vanilla, oakmoss, and ambergris. The musk adds sensuality and depth, while the vanilla brings a comforting sweetness to the composition. The earthy tones of oakmoss and the oceanic allure of ambergris provide a grounding element, ensuring that the fragrance maintains it's sophistication throughout the wear.
Lattafa perfumes, the leading premium luxury perfumery in Dubai, draw their inspiration from the rich heritage of the Arabic culture. Rooted in the Arabic words for kindness and pleasant, Lattafa captures the essence of luxury and elegance in each of their authentic Arabic fragrances.
What Are Lattafa Perfumes Inspired By?
Lattafa perfumes are inspired by the rich and captivating heritage of the Arabian culture. With a focus on authenticity and luxury, Lattafa is dedicated to creating scents that evoke a sense of pleasure and kindness.
The brands commitment to quality is evident in their careful attention to detail and the use of exquisite ingredients. From the moment you apply a Lattafa perfume, you're transported to a world of opulence and sophistication.
From the fragrant oud that represents the rich history of the Arabian Peninsula, to the spices that evoke the bustling markets of the region, each Lattafa fragrance tells a unique story.
The brand has perfected the balance between traditional Middle Eastern notes and contemporary elements, resulting in scents that are both timeless and modern.
Source: Lattafa Perfumes LLC | Indulge The Luxury Of Fragrances
Lattafa, a company based in the United Arab Emirates, is renowned for it's production of the coveted fragrance known as Lattafa. With a focus on perfumes and fragrances, this UAE-based company has gained prominence for it's exquisite creations. Let's delve into the world of Lattafa and discover the secret behind their enticing scents.
Which Country Made Lattafa?
Lattafa Rave Now Black is a fragrance produced by Lattafa, a company based in the United Arab Emirates that specializes in perfumes and fragrances. Known for it's exquisite scents and high-quality products, Lattafa has established itself as a leading brand in the fragrance industry.
The fragrance opens with a burst of rich and spicy notes, including black pepper and cardamom, which immediately capture the attention. As the fragrance develops, the heart notes of rose, lavender, and geranium blend harmoniously, adding a touch of floral elegance to the composition. The base notes of vetiver, patchouli, and amber provide a warm and sensual foundation, leaving a lasting impression.
The brands commitment to excellence and their dedication to creating innovative and captivating fragrances have earned them a strong reputation in the fragrance industry.
It's unique blend of spicy, floral, and woody notes creates a harmonious and alluring scent that's both captivating and unforgettable.
The History and Background of Lattafa as a Fragrance Company
Lattafa is a well-known fragrance company that's gained a solid reputation in the industry. Established in 2014, Lattafa quickly became popular among perfume enthusiasts for their high-quality and affordable fragrances.
Based in the United Arab Emirates, Lattafa aims to offer a wide range of scents that cater to different tastes and preferences. They specialize in creating unique and long-lasting perfumes that leave a lasting impression.
With a focus on creating both Western-inspired and Middle Eastern-style fragrances, Lattafa has managed to attract a diverse customer base. Their perfumes often incorporate traditional Arabian ingredients such as oud, musk, and amber, creating a distinct and captivating olfactory experience.
Over the years, Lattafa has released numerous popular fragrances, including their highly acclaimed Rave Now Black. This particular fragrance has received positive reviews on platforms like Fragrantica, where users praise it's alluring blend of aromatic notes.
Overall, Lattafa's commitment to quality and innovation has solidified it's position as a reputable fragrance company in the industry. Their focus on creating unique scents that captivate the senses is what sets them apart from others in the market.
As the fragrance settles, Lattafa Hayaati reveals a warm and captivating base of amber, musk, and vanilla, adding a touch of sensuality to the overall composition. The combination of fresh, fruity, and spicy notes blends seamlessly, giving Lattafa Hayaati a unique and alluring scent that's perfect for any occasion.
What Does Lattafa Hayaati Smell Like?
The base notes of Lattafa Hayaati are warm and comforting, with a blend of amber, musk, and vanilla that lingers on the skin for hours. This fragrance is perfect for those who enjoy a balanced and well-rounded scent, as it combines fresh and fruity notes with spicy and woody accords. The apple and bergamot in the top notes give the fragrance a lively and vibrant opening, while the cinnamon and woodsy notes in the middle add a touch of complexity and sophistication. The base notes of amber, musk, and vanilla provide a creamy and cozy finish that's both inviting and sensual. Overall, Lattafa Hayaati is a versatile fragrance that can be worn during any season and for any occasion. Whether youre heading out for a casual day at the office or a special evening out, this scent will effortlessly enhance your style and leave a lasting impression.
The Target Audience of Lattafa Hayaati: Who Is This Fragrance Primarily Marketed Towards, and What Demographics or Preferences Does It Cater To?
Men and women of all ages
Fragrance enthusiasts
People who prefer long-lasting scents
Those who appreciate oriental and woody notes
Individuals who enjoy unique and distinct fragrances
Customers looking for affordable yet high-quality perfumes
People who want a versatile fragrance suitable for both casual and formal occasions
Those who're attracted to Middle Eastern-inspired scents
Individuals who prioritize value for money
Customers seeking a fragrance that evokes a sense of elegance and sophistication
Conclusion
It's unique blend of warm spices, rich woods, and sensual musk creates a mesmerizing aura that's both alluring and mysterious. The longevity and projection of this scent are impressive, making it an ideal choice for those seeking a bold and distinct presence. With it's affordable price point, Rave Now Black offers a high-quality fragrance experience that rivals it's higher-end counterparts. Whether you're going out for a night on the town or simply want to feel confident and sophisticated, Lattafa Rave Now Black is sure to make a statement.