Zara Seoul Men Perfume has caused quite a stir in the fragrance community, with many questioning whether it's truly worth the hype. This fragrance boasts a captivating blend of spicy and woody notes, creating a unique and intoxicating scent that's sure to turn heads. It's longevity and sillage are also commendable, making it a reliable choice for day-to-night wear.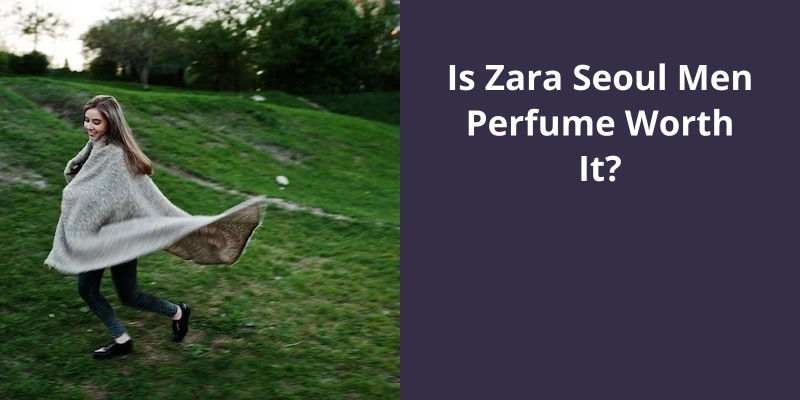 What Is Zara Seoul?
Zara Seoul is a fragrance for men that hails from the renowned fashion brand Zara. This fragrance falls under the category of Aromatic Spicy, offering a unique and captivating scent experience. Zara Seoul is designed to exude a sense of mysterious charm, as it combines various aromatic and spicy notes to create a truly intriguing composition.
The fragrance opens with a burst of freshness, thanks to the inclusion of citrusy notes that immediately awaken the senses. As the scent develops, it unfolds an exciting blend of spices that adds depth and complexity. Warm and woody notes become prominent, creating a strong base that lingers on the skin, leaving a memorable impression.
Description of the Specific Fragrance Notes in Zara Seoul, Including the Individual Spices and Woods Used.
Ambroxan
Amber
Nutmeg
Black Pepper
Ginger
Cinnamon
Cardamom
Patchouli
Vetiver
Cedarwood
Sandalwood
Tonka Bean
Oud
Zara, known for it's affordable and trendy clothing, has also made it's mark in the world of perfumes. With a wide range of scents to choose from, the brand has captured the attention of perfume enthusiasts everywhere. But does Zara make good perfumes? As a beauty writer who prides herself on her extensive perfume collection and honest opinions, I can confidently say that Zara has exceeded expectations with it's fragrance offerings. From fresh and light scents to long-lasting and captivating ones, Zara's perfumes have proven to be a delightful addition to anyone's fragrance collection.
Does Zara Make Good Perfumes?
Zara is known for it's affordable and trendy fashion, but it's perfume range is often overlooked. However, I can confidently say that Zara does make good perfumes. I've tried several of their scents, and I've been impressed with the quality and uniqueness of each fragrance.
Their range includes floral, fruity, woody, and oriental fragrances, so theres something for everyones tastes.
While they may not last as long as high-end designer fragrances, they certainly hold their own and can easily last throughout the day with a few spritzes. The fact that they're also affordable means that you can easily reapply without breaking the bank.
Suggestions for Zara Perfume Scents for Different Occasions or Seasons
Zara perfume scents for spring:

Blooming Floral
Fresh Citrus
Light and Airy

Zara perfume scents for summer:

Tropical Fruits
Crisp Aquatic
Beachy Coconut

Zara perfume scents for fall:

Warm Spices
Woodsy Notes
Earthy Patchouli

Zara perfume scents for winter:

Rich Vanilla
Amber and Musk
Cozy Gourmand

Zara perfume scents for special occasions:

Elegant Rose
Seductive Jasmine
Opulent Oud
Source: What's your opinion on Zara perfumes?
Zara has joined forces with renowned perfume brand Jo Malone to create a vibrant and exciting perfume collection inspired by three iconic cities. Fashionably London, representing the British capital, combines the refreshing scents of bergamot, rose, and musk. Energetically New York captures the essence of the bustling city with notes of cardamom, jasmine, and sandalwood. Lastly, Gracefully Madrid pays tribute to the Spanish capital with a blend of orange, geranium, and musk. Stay tuned for more captivating creations from this unique collaboration.
Which Perfumes Has Jo Malone Created for Zara?
One of the notable collaborations between Zara and Jo Malone is the Vibrant Cities Perfume Collection. This collection showcases fragrances inspired by different vibrant cities around the world. Fashionably London, for instance, features a blend of bergamot, rose, and musk notes, capturing the essence of the fashionable city. Energetically New York, on the other hand, combines cardamom, jasmine, and sandalwood to represent the energetic spirit and diversity of the city that never sleeps.
For those who appreciate the graceful beauty of Madrid, Gracefully Madrid perfume is an ideal choice. This fragrance incorporates notes of orange, geranium, and musk, creating a scent that exudes elegance and charm.
They offer a more affordable option for those who appreciate the craftsmanship of Jo Malone fragrances but prefer a more budget-friendly price point.
When considering the worth of Zara Seoul Men Perfume, it's essential to consider it's individual qualities. The Seoul Men perfume offers a unique blend of notes, specifically crafted to capture the essence of the cosmopolitan city. With it's captivating combination of cardamom, violet leaves, and tonka bean, this fragrance provides an invigorating and alluring experience.
However, considering the brands reputation for creating high-quality fragrances and the unique blend of notes in this particular scent, it's likely to be worth a try for those seeking a distinctive and cosmopolitan fragrance experience.
The Process of Creating Perfumes for Zara
The process of creating perfumes for Zara involves a careful blend of art and science. Zara works with experienced perfumers and fragrance experts to develop unique scents that cater to different preferences and trends.
The process typically begins with market research and trend analysis to identify popular fragrance profiles. Perfumers then use their expertise to create fragrance formulas by combining various aromatic ingredients such as essential oils, synthetic compounds, and aroma chemicals.
Zara pays attention to both the quality and affordability of their perfumes. Once the fragrance formula is finalized, it goes through rigorous testing to ensure it's longevity, sillage (the trail left by the fragrance), and overall performance.
After successful testing, the perfumes are manufactured and packaged for distribution. Zara focuses on ensuring that their perfumes are easily accessible to a wide range of consumers, offering them at affordable prices without compromising on quality.
Ultimately, whether a Zara perfume is worth it comes down to personal preference and individual experience with the fragrance. It's always recommended to try a perfume before purchasing to determine if the scent aligns with your tastes and if it performs well on your skin.
Zara, the popular fashion brand, has been making waves in the fragrance industry with their affordable yet high-quality perfumes. While they're well-known for their range of women's fragrances, Zara also has a collection of captivating scents for men. These male perfumes, much like their female counterparts, are inspired by high-end fragrances, making them an excellent choice for those looking to smell sophisticated without breaking the bank. One standout fragrance that deserves attention is Vibrant Leather, which bears a striking resemblance to Aventus by Creed but comes at a fraction of the price. Let's explore more about Zara's enticing range of men's perfumes.
Does Zara Have Male Perfumes?
Zara does indeed have a range of male perfumes that are worth exploring. Known for their ability to create fragrances inspired by high-end brands, Zara has captured the attention of fragrance enthusiasts who're on the hunt for affordable alternatives. One of the best things about Zara colognes is that they offer a remarkable resemblance to their designer counterparts, often reaching around 90% similarity. This means that you can experience the luxury of high-end fragrances without having to break the bank.
One particular fragrance that stands out from the Zara collection is Vibrant Leather. This scent bears a striking resemblance to Aventus by Creed, an iconic and highly sought-after fragrance. However, the price of Vibrant Leather is only a fraction of what you'd pay for Aventus. This makes it an appealing option for those who want to enjoy the similar notes and experience the same essence without the hefty price tag.
They manage to capture the essence of sought-after fragrances, as well as providing longevity and good projection. This makes their male perfumes a great option for those looking to expand their fragrance collection without spending a fortune.
From fresh and citrusy notes to woody and oriental accords, Zara has something for everyone. With such a diverse range to choose from, it's easy to find a fragrance that aligns with your tastes and personality.
Offering high-quality alternatives to high-end fragrances at a fraction of the price, they provide a budget-friendly way to explore and enjoy a variety of scents. Whether youre a fragrance enthusiast or someone looking to invest in their signature scent, Zaras collection is definitely worth exploring.
Zara's Approach to Creating Affordable Alternatives to High-End Colognes
Zara's use of affordable ingredients
Zara's emphasis on quality at a lower price point
Zara's innovative scent combinations
Zara's commitment to offering affordable alternatives to high-end colognes
Zara's ability to capture the essence of luxury fragrances at a fraction of the cost
Zara's dedication to making high-quality scents accessible to a wider audience
Zara's success in creating affordable colognes that rival high-end brands
Zara's dedication to producing fragrances that are both affordable and long-lasting
Zara's reputation for offering affordable alternatives without compromising on quality or scent
Zara's ability to cater to diverse consumer preferences by offering a wide range of affordable colognes
Watch this video on YouTube:
Zara's Navy Black is known to be a dupe for Chanel's Bleu De Chanel fragrance. Bleu De Chanel has a woody aromatic scent with aromatic herbs combined with an opulent center and base. It contains notes of lemon, mint, pink pepper, grapefruit, ginger, Iso E Super, nutmeg, jasmine, and labdanum.
Which Zara Perfume Smells Like Chanel Men?
If youre on the hunt for a fragrance that rivals the scent of Chanel mens perfumes, look no further than Zaras Navy Black. This Zara perfume is known for it's similarity to Chanels popular scent, Bleu De Chanel. Bleu De Chanel is a woody aromatic fragrance that features a combination of aromatic herbs and an opulent center and base. It starts off with refreshing top notes of lemon, mint, pink pepper, and grapefruit, which give it a zesty and invigorating kick. The heart of the fragrance consists of notes like ginger, Iso E Super, nutmeg, and jasmine, adding depth and complexity to the scent. And finally, the base notes of labdanum and incense give it a smooth and elegant finish.
If youre a fan of Bleu De Chanel but want a more budget-friendly option, Navy Black is definitely worth a try. It's similar notes and overall composition make it a great dupe for the Chanel scent, allowing you to enjoy a high-quality fragrance without the high price tag. Whether youre gifting it to someone special or treating yourself, Zaras Navy Black is a worthy choice that offers sophistication and style at an affordable price.
Conclusion
In conclusion, the question of whether Zara Seoul Men Perfume is worth it can't be easily answered. However, the overall quality and longevity of the fragrance may vary from person to person, making it difficult to determine it's true value. Ultimately, the decision to purchase Zara Seoul Men Perfume depends on individual preferences and experiences with the fragrance. It may be worthwhile for those who appreciate a distinct and charismatic scent, while others may find it falls short of their expectations. As with any fragrance, it's recommended to sample it before making a purchase to ensure it aligns with your personal tastes and desires.