Perfume has been a staple of many people's daily routines to encapsulate and enhance their identities and personalities. The right scent can evoke emotions and memories, subconsciously affecting how others perceive us. From floral to musky, the scent becomes a signature and leaves an impression. Carolina Herrera's Good Girl line has gained popularity for it's bold mix of scents that embody a confident and empowered woman. The Very Good Girl Eau de Parfum, a flanker to the original, is a perfect option for those who love the Good Girl scent but want something with a twist. This fragrance boasts a combination of litchi, rose, vetiver, and vanilla notes, reminiscent of the popular Delina perfume. With such a beautiful blend of floral and earthy scents, Very Good Girl is a top contender for those in search of elegance and sophistication.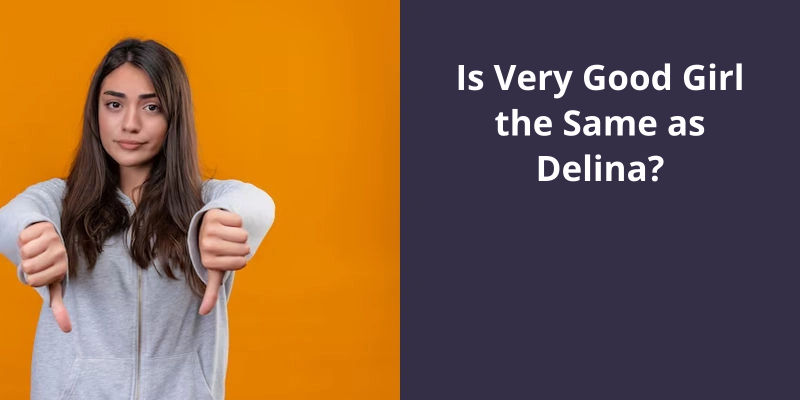 What Does Delina Smell Like?
These floral notes combine to create a soft, feminine aroma that's reminiscent of a warm summer breeze. Delina has a certain depth to it that makes it stand out in a crowd of other floral fragrances. It isn't overly sweet or overpowering, but rather subtle and understated.
It's perfect for a romantic evening out or a special occasion, making the wearer feel confident and irresistible.
The fragrance is housed in a delicate and ornate bottle, which embodies the feminine charm of the scent. The bottle itself is a work of art, with it's intricate design and carefully crafted details. It's a beautiful addition to any vanity or dressing table, serving as a reminder of the alluring scent within.
How Does Delina Compare to Other Fragrances With Similar Floral Notes?
Chanel No. 5: Delina has a similar powdery floral note as Chanel No. 5, but Delina has a stronger fruity note.
Gucci Bloom: Delina has a sweeter and fruitier scent while Gucci Bloom has a more earthy, floral scent.
Jo Malone Peony and Blush Suede: Delina has a stronger fruity note while Peony and Blush Suede has a more muted floral scent.
Dior J'adore: Delina has a similar powdery floral note as J'adore, but J'adore has a more white floral scent.
Yves Saint Laurent Mon Paris: Delina has a stronger fruity note while Mon Paris has a more intense floral scent.
When it comes to choosing between fragrances, one must consider the occasion and the type of scent they prefer. Good Girl and Very Good Girl are two options that offer distinct characteristics. While Good Girl leans towards a sensual nighttime fragrance, Very Good Girl is versatile enough for a day or night wear. Let's dive deeper into the details of each scent and decide which one is better.
Which Is Better Good Girl or Very Good Girl?
Both fragrances, Good Girl and Very Good Girl, are created by Carolina Herrera, a well-known perfume brand. These scents have their unique features and appeals that make them stand out. Good Girl is somewhat a seductive and alluring fragrance, and it's perfect for night wear or formal events that require a touch of sophistication. The scent projects a bold and daring vibe that emanates confidence and empowerment. It balances the sweetness of floral notes with the strong, woody whiff of roasted coffee.
This scent features fruity and floral notes that give off a more delicate and charming scent. The fragrance is perfect for those who wish to smell elegant, refreshing and sweet. It's a fragrance that will complement a womans natural aura and confidence, without overwhelming them.
The Good Girl fragrance is ideal for those nights when you want to let your hair down and indulge in a bit of sensuality.
Ultimately, choosing between Good Girl and Very Good Girl boils down to personal preference and the occasion you're planning to wear the fragrance. If you want a scent thats perfect for a night out or a formal event, then Good Girl may be the perfect fit.
Source: Good Girl vs Very Good Girl Perfume Comparison
Conclusion
In conclusion, the Very Good Girl Eau de Parfum is an excellent choice for those who're fans of Delina. With it's assortment of overlapping notes, this fragrance manages to capture the essence of Delina while still holding it's own unique appeal. Overall, this perfume is a must-try for anyone who wants to experience a fragrance that's both familiar and fresh at the same time. So, go ahead and add this to your collection, and be prepared for some serious compliments.