Spicebomb Extreme is a designer fragrance that's perfect for those cold and crisp clubbing nights. This scent was created in 2015 as a more intense and captivating flanker to the original Spicebomb fragrance. It's warm and inviting nature makes it perfect for romantic dates or any occasion where you want to feel confident and charming.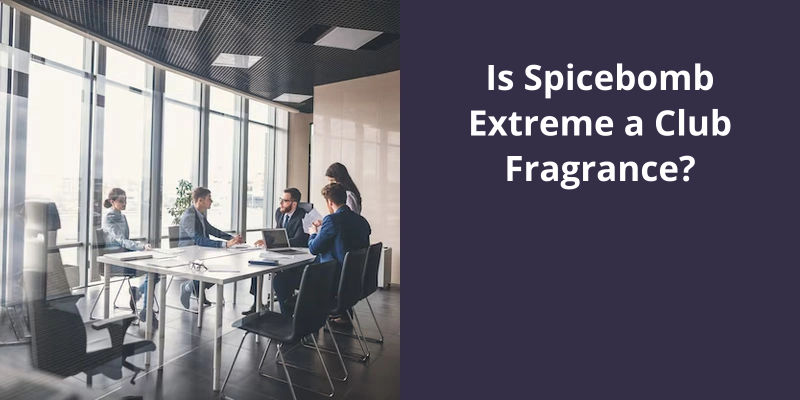 How Long Does Spicebomb Extreme Last?
Spicebomb extreme is a fragrance that was created for those who want to make a statement with their scent. This fragrance is one of the most popular cold-weather designer clubbing fragrances on the market today. It was created in 2015 as a flanker to the original Spicebomb fragrance, which was released in 20The extreme version of Spicebomb takes the original scent and adds a spicy, woody twist that's perfect for colder weather.
When it comes to wearing Spicebomb extreme, it's best to wear it during the colder months. This fragrance is perfect for clubbing and dating, as it's designed to be noticed. The spicy notes in the fragrance give it a unique warmth that's perfect for chilly nights out. The fragrance is also great for those who want to leave a lasting impression, as it lasts around 6 – 8 hours with great projection.
The spicy notes in the fragrance can be overpowering if too much is used, which can actually detract from the scent. A small amount of the fragrance is all that's needed to achieve the perfect balance of scent and projection, making sure that the fragrance lasts for as long as possible.
If you're looking for a fragrance that's sure to turn heads and leave a strong impression, then Spicebomb extreme is definitely worth checking out.
How to Properly Apply Spicebomb Extreme to Ensure It Lasts as Long as Possible
Apply Spicebomb Extreme after showering or bathing, when your skin is clean and ready to absorb the fragrance.
Start by spraying a small amount of Spicebomb Extreme onto your wrists, chest, and neck. These are the pulse points where your skin naturally generates heat, which helps to spread the fragrance throughout the day.
Avoid spraying Spicebomb Extreme directly onto your clothes, as this can cause the fragrance to fade faster and leave stains on your clothing.
Consider layering Spicebomb Extreme with a matching deodorant or body wash to extend the life of the fragrance. This can help to prevent the scent from fading too quickly and make it last longer throughout the day.
If you want to freshen up the scent of Spicebomb Extreme throughout the day, carry a small travel-sized spray bottle with you. This will allow you to refresh the fragrance as needed without over-applying it and making it too strong.
Store your Spicebomb Extreme fragrance in a cool, dark place away from direct sunlight and heat. This will help to preserve the quality and longevity of the scent over time.
However, receiving compliments isn't the only factor to consider when choosing a perfume. The longevity, sillage, and personal preference are also essential aspects to take into account. So, is the Spicebomb Extreme worth the buy? Let's find out.
Does Spicebomb Extreme Get Compliments?
The intense and bold masculine fragrance has become quite popular among men and women, exhibiting notes of tobacco, black pepper, and vanilla, among others. With it's warm and spicy aroma, it's perfect for cooler months, especially for a night out. You'll be sure to stand out from the crowd, as it's quite distinctive and a real attention-grabber.
The signature scent of the Spicebomb Extreme is it's powerful vanilla note, which lingers on the skin and leaves a warm, oriental aroma behind. Combined with the tobacco note, the composition is a heady mix that's sure to leave an impact on others. The fragrance has exceptional longevity, lasting for hours on end, ensuring that you emanate a luxurious aroma throughout the day.
The uniqueness of the scent stems from the seamless blending of the high-quality ingredients, which create a potent composition that cant go unnoticed. What stands out is it's versatility, and it can easily work for any age group. You won't have to worry about it coming off as too strong or too sweet – it's the perfect balance between the two.
It's a luxurious and premium fragrance that's sure to satisfy the most discerning tastes, and you're guaranteed to get compliments wearing it. It's warmth and intensity make it a true standout and a definitely attention-grabber.
Comparison of Spicebomb Extreme to Other Popular Men's Fragrances
This article discusses the unique characteristics of Spicebomb Extreme and how it differs from other popular men's fragrances available in the market.
Ralph's Club cologne has already made it's mark with it's captivating woody, aromatic, and soft scent that was introduced in 202This scent features an exciting blend of clary sage, lavender, virginia cedar, and vetiver that captures the attention of every man who wants to stand out. But, there's more to this fragrance than just it's alluring scent – read on to find out!
What Is Ralph's Club Cologne?
Ralphs Club cologne is a fragrance that's designed for men who want to make an impression. The woody, aromatic and soft scent makes this cologne perfect for those who want to stay fresh and lively all day long. This fragrance is one of the latest additions to the Ralph Lauren line of fragrances. It's perfect for those men who want to project an air of confidence and sophistication.
The fragrance features a combination of notes that work together to create an exciting and complex aroma. One of the main notes in this fragrance is clary sage. This herb has a woody, musky scent that gives the fragrance a masculine edge. The other top note is lavender, which provides a floral freshness that's refreshing and invigorating.
The heart of the fragrance is made up of Virginia cedar, which gives the cologne a warm and cozy feel. This wood note is a staple in many mens fragrances and is known for it's spicy, earthy scent. It's often used in perfumes to create a feeling of warmth and comfort.
The base notes of Ralphs Club cologne are vetiver. This root provides a smoky, earthy base to the fragrance that evokes a sense of mystery and sensuality. Vetiver is often used in masculine fragrances to add depth and complexity.
This scent is perfect for those who want to stay fresh and lively throughout the day while projecting an air of confidence and sophistication. The combination of notes is well-balanced and harmonious, creating a complex aroma that's sure to turn heads. Whether you're going to work or a night out, this fragrance is sure to impress.
The Process of Creating a Men's Fragrance and the Role of Specific Ingredients in the Formula
Bergamot
Lemon
Lavender
Juniper
Geranium
Clary Sage
Cardamom
Black Pepper
Cedarwood
Vetiver
Tonka Bean
Musk
Now that we know what Beverly Hills Polo Club Classic smells like, let's explore more about this prestigious fragrance and why it's loved by so many men around the world.
What Does Polo Club Cologne Smell Like?
The Polo Club cologne by Beverly Hills Polo Club has gained immense popularity for it's distinct and captivating smell. It's the perfect fragrance for men who want to impress and turn heads wherever they go. The scent is a combination of classic and contemporary notes that blend seamlessly to create a unique aroma that stands out from the rest. One of the most notable aspects of this cologne is it's longevity. It lasts for hours on end, making it perfect for all-day wear.
The first notes that hit you when you smell the Polo Club cologne are a blend of cedar and vetiver. These woody and earthy aromas introduce the fragrance and create a sense of calm and comfort. The middle notes are a combination of ambergris and patchouli. These notes add a touch of sweetness to the scent and make it more inviting. Finally, the base notes are musk, which adds a touch of sensuality and masculinity that will leave you feeling confident and powerful.
It's unique blend of ingredients creates a complex and intriguing scent that can be enjoyed by men of all ages. The scent is perfect for both casual and formal occasions and is versatile enough to be worn all year round.
It's blend of woody and earthy notes creates a sense of calmness and comfort, while the ambergris, patchouli, and musk add a touch of sweetness, sensuality, and masculinity. Whether you're going to the office or out on a date, this fragrance will leave you feeling confident, powerful, and ready to conquer the world. So, go ahead and give it a try, and you won't be disappointed!
How to Choose a Cologne Scent That Complements One's Personality and Style
When choosing a cologne scent, it's important to consider your personality and style. This can help you find a scent that complements your unique characteristics. To do this, start by analyzing your personal preferences and the type of clothes you wear. Consider the occasion for which you'll be wearing the cologne, and the impression you want to make. Finally, try different scents before making a decision to find the one that best suits you.
The fragrance world is filled with many options, but few have the same alluring qualities as Colonia Club. This Eau de Cologne has a unique scent profile that captures the essence of lightheartedness and invigorating freshness. It's combination of bergamot, lemon, pink and black pepper, shiso, and rosemary provides a burst of energy that livens up any room. But what does Colonia Club smell like exactly? Let's take a closer look and find out.
What Does Colonia Club Smell Like?
As the scent settles on the skin, the warm and woody base notes of vetiver and cedarwood provide a comforting and grounding effect. It's a refreshing fragrance that's both versatile and sophisticated, perfect for any occasion.
The bergamot and lemon notes contribute a zesty and fresh vibe to the overall scent, giving it a perfect balance of citrus and floral. The pink and black pepper notes add an unexpected twist of spiciness to the fragrance, enhancing the aromatic shiso and rosemary. It's these unexpected elements that make Colonia C.L.U.B. stand out amongst other Eau de Colognes.
The heart of the fragrance is where the magic happens, as the aromatic shiso and rosemary come together to create a captivating and energizing aroma. The shiso adds a green and slightly minty aspect to the fragrance, while the rosemary provides a warm and herbaceous scent. These two notes together create an alluring and addictive aroma that keeps you wanting more.
These two notes together create a perfect base for the fragrance, allowing it to settle beautifully on the skin and last throughout the day.
Overall, Colonia C.L.U.B. is a fresh, invigorating, and sophisticated fragrance that captures the essence of lightheartedness in a bottle. It's balanced blend of citrus, floral, and spicy notes make it a versatile fragrance suitable for any occasion, while it's warm and woody base notes provide a comforting and grounding effect.
The Benefits of Using a Fragrance With Natural Ingredients
Using a fragrance with natural ingredients can help to reduce the risk of skin irritation and allergic reactions.
Natural fragrances tend to have a softer, more subtle scent that's less overpowering than synthetic fragrances.
Natural fragrances are often made using sustainable and eco-friendly ingredients, which can be better for the environment.
Fragrances with natural ingredients can provide aromatherapy benefits, such as calming, energizing, and uplifting effects.
Natural fragrances are free from many of the harmful chemicals found in synthetic fragrances, which can be damaging to both your health and the environment.
Using fragrances with natural ingredients can help to support local farmers and businesses who produce and supply these ingredients.
In the world of fragrances, finding a scent that not only smells fantastic but also receives compliments can be quite a challenge. However, with the right fragrance, you can quickly become the center of attention. One such fragrance that's garnered quite a lot of attention since it's release is Spicebomb. People often wonder whether this intense, spicy scent lives up to it's name and gets compliments.
Does Spicebomb Get Compliments?
Spicebomb is a popular mens fragrance that's been known to draw compliments from others. This scent is strong and noticeable, but not overpowering. Youll find that the fragrance is well-balanced, making it a great choice for any occasion.
The scent is unique and stands out from other fragrances on the market. With notes of bergamot, grapefruit, and pink pepper, Spicebomb is a spicy scent that's perfect for evening wear.
One thing to keep in mind when wearing Spicebomb is to avoid over-spraying. A little of this fragrance goes a long way, so it's best to use it sparingly. When applied properly, youll find that the fragrance lasts for several hours, making it a great choice for a night out.
It's strong enough to be noticed, but not overpowering, and the unique combination of notes is sure to draw compliments from others. If youre looking for a spicy scent that's both masculine and refined, Spicebomb is definitely worth a try.
What Are the Different Occasions That Spicebomb Is Appropriate For?
Spicebomb is a versatile fragrance that can be worn on a variety of occasions, including daytime outings, evening dates, and special events. The spicy and sweet notes make it perfect for winter wear, while the fresh and floral undertones make it appropriate for summer outings. It's suitable for casual occasions as well as more formal events like business meetings or weddings.
Conclusion
It's warm and spicy notes make it perfect for colder seasons, making it a great option for any winter night out. The fragrance is a perfect balance of strength and appeal, with it's unique scent profile offering a significant projection that can last for hours. It is, without a doubt, a top contender in the category of clubbing fragrances and is a perfect choice for anyone looking to make an unforgettable impression once they step onto the dance floor.