The Italian fashion designer who founded his eponymous label in the early 1970s has had a lasting impact on the industry with his distinct and flamboyant style. Cavalli's use of bold prints, exotic skins, and sensual silhouettes have made him a favorite among the glitterati and his creations have graced many a red carpet and runway. But as with all things, time marches on, and it's natural to wonder – is Roberto Cavalli still around? Despite some setbacks and changes in ownership, the brand continues to thrive, innovating and evolving while staying true to it's roots. This article will explore the history of the Roberto Cavalli brand, it's current state, and it's future prospects.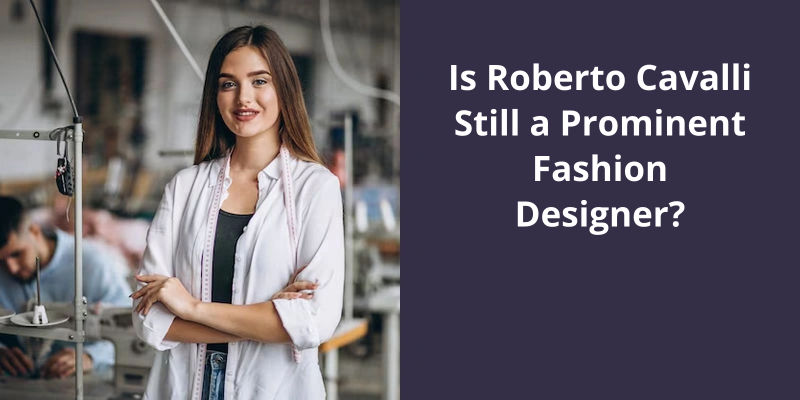 Which Company Owns Roberto Cavalli?
The company was founded in the early 1970s by Roberto Cavalli himself, and it quickly gained worldwide recognition for it's innovative and glamorous designs. Roberto Cavalli is known for it's trademark animal prints, which have become a staple in the fashion industry. The companys collections also feature bold colors, intricate detailing, and luxurious fabrics, making them a favorite among celebrities and fashionistas alike.
In recent years, the Roberto Cavalli Group has expanded beyond it's original focus on fashion and accessories, with the launch of a home collection and a line of luxury yachts. The companys ongoing success can be attributed to it's commitment to quality craftsmanship and bold innovation, which have helped it stay ahead of the curve in a highly competitive industry.
Despite it's success, however, the Roberto Cavalli Group has faced some challenges in recent years, including financial difficulties and changing consumer preferences. In 2019, the company was acquired by VISION INVESTMENT CO LLC, a Dubai-based investment firm with a focus on luxury brands and lifestyle businesses. This acquisition has brought new resources and expertise to the Roberto Cavalli Group, helping to ensure it's continued success in the years to come.
Recent news has surfaced that there will be some changes occurring within the fashion industry. The iconic Italian designer, Roberto Cavalli, appears to have hit a financial roadblock within his company. Sources state that the brand's Tuscan headquarters in Osmannoro will be closing, with all employees being relocated to Milan. This news has led many to question whether or not the brand is on it's way out of business.
Is Roberto Cavalli Out of Business?
There's been much speculation surrounding the future of the Roberto Cavalli brand in recent years. With stories of financial difficulties and talk of being taken over by new investors, many people have been left wondering whether the iconic fashion label is on the brink of collapse.
Despite this uncertain climate, the company has continued to produce it's signature designs, with a focus on high-end luxury clothing, leather goods and fragrances. But the closure of the Tuscan headquarters in Osmannoro has added fuel to the fire, with some observers suggesting that this move could signal the final nail in the coffin for the brand.
Others, however, see the closure as a strategic decision aimed at streamlining operations and cutting costs. By relocating to Milan, the company may be able to tap into a larger market and attract new customers, while also benefiting from the citys thriving fashion scene and cutting-edge design culture.
Regardless of what the future holds for Roberto Cavalli, there's no denying the impact that the brand has had on the fashion world over the past few decades. From the iconic animal prints to the sand-blasted jeans, Cavallis innovative designs have won him legions of fans across the globe.
Only time will tell whether the brand will continue to thrive, or whether it will fade into obscurity.
The Rise of Fast Fashion and It's Impact on Luxury Fashion Brands Like Roberto Cavalli
Fast fashion is the increasing trend of producing fast and affordable fashion that imitates luxury brands. This rise in fast fashion has had a significant impact on luxury brands like Roberto Cavalli, as consumers are now opting for more affordable and fast-changing fashion options rather than investing in high-end luxury pieces. This has forced luxury brands to adapt by increasing their production speed and offering more affordable collections.
Source: Roberto Cavalli
Moving into the world of luxury watches, one brand stands out as a true icon of Italian style and sophistication: Roberto Cavalli. Together with the Franck Muller Group, known for their unparalleled expertise in creating luxury timepieces, they've launched a new line of Swiss Hand Made watches that set the standard for high-end watches in terms of quality, design, and craftsmanship. The partnership has resulted in the creation of a co-brand, "Roberto Cavalli by Franck Muller," which is already turning heads in the world of fashion and luxury watches. But is Roberto Cavalli watch a luxury brand? Let's explore further.
Is Roberto Cavalli Watch a Luxury Brand?
Roberto Cavalli, the renowned Italian fashion designer, has established himself as one of the leading names in the fashion industry. Known for his bold and unique designs in clothing, accessories, and lifestyle products, Cavalli has carved a niche for himself in the world of luxury fashion. With his signature flamboyant prints, animal motifs, and exotic patterns, he's created a distinctive style that's recognisable all over the world.
In recent years, Roberto Cavalli has expanded into the watch manufacturing industry. Working in collaboration with the Franck Muller Group, a leading Swiss luxury watch brand, Cavalli has launched a line of exquisite Swiss Hand Made watches. These luxury timepieces cater to both men and women and come equipped with the highest standards of quality and craftsmanship that one would expect from a Roberto Cavalli product.
The co-brand offers a variety of materials, from stainless steel to gold, and features a range of styles that cater to different tastes and preferences. Each watch is a testament to the partnership between two iconic brands, both renowned for their commitment to quality and excellence.
Conclusion
In conclusion, the legacy of Roberto Cavalli continues to inspire a new generation of fashion designers and enthusiasts around the world. With a rich history dating back to the 1970s, the brand's commitment to excellence and creativity is as strong as ever.