In the world of fashion, certain names will always evoke a sense of glamour and elegance. Christian Dior is one such name, renowned for having transformed the way women dressed in the post-war era. His iconic designs, with their nipped waists, flowing skirts, and romantic florals, continue to inspire contemporary aesthetics. However, little is known about the man behind the brand, and the circumstances that led to his success. Perhaps one of the lesser-known details is how old Dior was when he made his debut in the industry. It turns out that he was 42 years old when he presented his first collection in 1947. This may come as a surprise to some, given the incredible impact he'd on fashion in a relatively short amount of time. Nevertheless, it serves as a testament to the fact that age is just a number, and that talent and passion can flourish at any stage of life.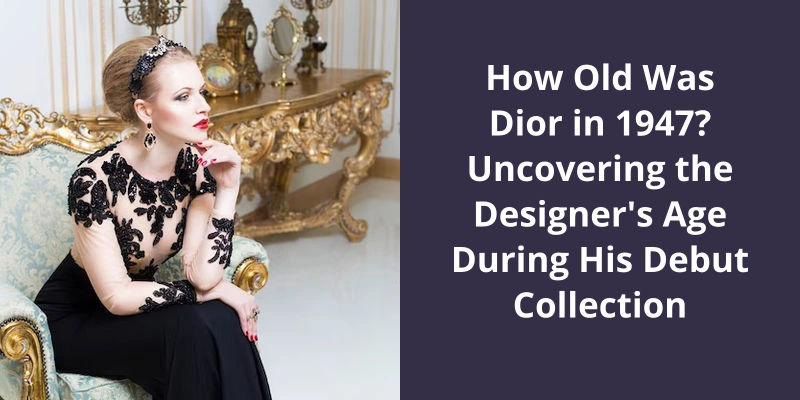 When Did Dior First Come Out?
Christian Diors debut collection was revolutionary in it's use of fabric and silhouette. Dubbed the "New Look" by Harpers Bazaar editor-in-chief, Carmel Snow, it reintroduced a feminine, hourglass figure with cinched waists and full skirts after the boxy styles of the wartime era. The collection was an instant success, catapulting Dior and his label into the global fashion limelight.
Following the success of his first collection, Dior continued to push boundaries and create innovative designs. He was known for his use of luxurious, high-quality fabrics and intricate embroidery, and often drew inspiration from art, nature, and his travels. He also expanded his brand into other areas, such as perfume, makeup, and accessories.
Over the years, many notable designers have taken the reins at Dior, including Yves Saint Laurent, Gianfranco Ferré, John Galliano, and Raf Simons. Each brought their own unique vision and style to the brand, pushing it in new directions while staying true to Diors original aesthetic.
Today, Dior is one of the worlds leading fashion brands, known for it's iconic designs and sophisticated sensibility. It's headquarters are still located at 30 Avenue Montaigne in Paris, where it continues to create stunning collections that inspire and delight fashion lovers around the globe.
It's commitment to creativity, craftsmanship, and innovation ensures that it will continue to shape the future of fashion for many years to come.
The Impact of Dior's "New Look" on Fashion in the Post-War Era
In the years after World War II, Christian Dior's "New Look" collection revolutionized fashion with it's feminine and extravagant silhouettes. The collection presented a new, stylish image that contrasted with the austerity of the wartime fashions. It had a significant impact on the fashion industry, bringing back a sense of glamour and inspiring new trends.
But behind the successful expansion of Dior lies a rich history of innovation, artistry, and strategic business decisions. From it's beginnings in post-war Paris to it's current position as a global luxury fashion powerhouse, Dior has maintained a consistent commitment to excellence and innovation. So, what exactly made Dior so successful? Let's take a closer look.
What Made Dior Successful?
Diors road to success was not an easy one. The brand was founded by Christian Dior in 1946, right after World War II when France was still recovering from the devastation. However, Dior was ahead of his time and his designs were a sharp contrast to the utilitarian clothing that was popular during that time. The New Look, as it was called, featured cinched waists, full skirts, and padded hips. Women all over the world were enamored by Diors designs as they represented a new form of glamour and femininity.
But Diors success wasnt just due to his innovative designs. He also had a keen understanding of the importance of branding and marketing. Diors first collection in 1947 was an instant success, and his brand was quickly catapulted to fame. He used a variety of marketing techniques to promote his brand, from hiring famous models to showcasing his collections in fashion shows all over the world. Dior also worked with celebrities to ensure that his designs were seen by as many people as possible.
Another factor that contributed to Diors success was his attention to detail. From the fabrics used to the construction of the garments, every aspect of Diors designs was meticulously planned and executed. And this attention to detail continued even after Diors death in 195The brand has always maintained a high level of quality and craftsmanship, ensuring that every garment that bears the Dior name is the best that it can be.
As the years passed, Dior expanded their product line to include everything from accessories to cosmetics. The brand also opened boutiques in major cities around the world, ensuring that their designs were accessible to people all over the globe. And while the designs may have evolved over the years, the core elements of femininity, delicacy, and sophistication have remained constant. This has helped the brand build a loyal customer base that's continued to support them for decades.
Conclusion
Through his impeccable talent, Christian Dior forever transformed the world of fashion with his iconic and groundbreaking collections. Despite being 42 years old at the time of his historic debut in 1947, Dior proved that age is merely a number, as his unmatched creativity and innovation continue to inspire future generations of designers. His first collection at 30 Avenue Montaigne marked the beginning of a legacy that would have a lasting impact on the fashion industry, setting a new standard of elegance and sophistication. In many ways, Dior's debut represented the birth of a new era in fashion, where boldness and individuality were celebrated, and tradition was challenged. Today, over 70 years later, the name Christian Dior remains synonymous with style, grace, and timeless innovation.