The art of perfumery is a delicate symphony of scents, a dance of molecules that intertwine to create captivating fragrances. Behind the magic lies the undeniable power of chemistry, a realm where compounds and reactions take center stage. In the realm of scent creation, a perfumer's arsenal includes a myriad of chemical ingredients, meticulously crafted to evoke emotions, memories, and desires. From the ancient alchemists to the modern fragrance designers, the knowledge of chemistry has been an indispensable tool in their quest to capture elusive aromas. Organic chemistry, in particular, has revolutionized the perfume industry, allowing perfumers to create fragrance ingredients more efficiently and with greater precision. One such example is the molecule hedione, originally isolated from jasmine oil. This incredible compound possesses the ability to blend, fix, and enhance the scent of other components in perfumes, making it an essential addition to almost all man-made fragrances. As we delve into the fascinating world of fragrance creation, we uncover the intricate ways in which perfumers utilize the power of chemistry to create olfactory wonders that enchant our senses.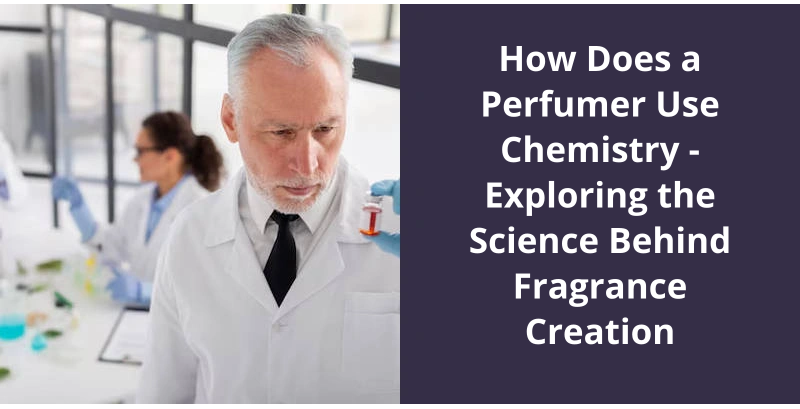 Do Perfumers Need to Know Chemistry?
Perfumers are artists who create unique and captivating scents that delight our senses. Behind their creative process lies a deep understanding of the chemistry involved in fragrance creation. Chemistry plays a crucial role in every step of a perfumers journey, making it essential for them to have a solid foundation in this field.
Fragrance manufacturers are responsible for not only designing and blending scents but also for producing the synthetic chemicals that form the basis of these fragrances. This intricate process requires extensive knowledge of chemistry to ensure that the chemicals used are safe, stable, and capable of evoking the desired olfactory experience.
Many perfumers begin their careers as lab technicians, where they gather valuable firsthand experience in analyzing fragrances and familiarizing themselves with the properties and smells of various chemicals. This hands-on approach allows them to develop a keen sense of smell and an understanding of how different chemicals interact to create specific scents.
Understanding the chemical composition of fragrance ingredients also helps perfumers make informed decisions about the stability, volatility, and longevity of the scent they're creating. This knowledge is crucial for ensuring that the fragrance performs consistently over time and interacts harmoniously with the wearers body chemistry.
The role of chemistry in perfume creation is undeniable.
The Role of Organic Chemistry in Perfume Creation: Explore the Specific Chemical Reactions and Processes Involved in Creating Fragrances, Including the Extraction and Synthesis of Natural and Synthetic Fragrance Ingredients.
Organic chemistry plays a crucial role in perfume creation. Perfumers use specific chemical reactions and processes to create unique fragrances. One important aspect is the extraction of natural fragrance ingredients from plants and flowers. This involves techniques like steam distillation and solvent extraction. Additionally, perfumers also utilize organic chemistry to synthesize synthetic fragrance ingredients in a laboratory setting. Through these processes, perfumers can blend different aromatic compounds and create complex, long-lasting fragrances that captivate our senses.
Perfumes are complex mixtures crafted in the world of chemistry, where intricate formulas are combined to create captivating scents. These intricate concoctions are carefully composed of various components, including denatured ethanol, essence or fragrance, fixative, propylene glycol, and distilled water. Each ingredient plays a crucial role in the overall composition, resulting in a mesmerizing fragrance. Furthermore, the fragrance itself can be derived from either synthetic or natural sources, adding another layer of diversity and artistry to the creation of perfumes.
What Is a Perfume in Chemistry?
A perfume in chemistry refers to a complex mixture of various chemicals and compounds that are carefully blended together to create a unique and pleasing scent. Perfumes aren't just about smelling good; they're also a work of art that involves the perfect balance of chemistry and creativity. The chemistry behind perfumes is fascinating, as it delves into the molecular structure of different compounds and how they interact with our sense of smell.
The production of a perfume involves several key components. Firstly, denatured ethanol (C2H6O) is used as a base ingredient. This alcohol serves as a solvent for the other chemicals and helps to disperse the fragrance molecules. It also evaporates quickly, allowing the fragrance to be released into the air. Essence or fragrance is the heart of a perfume. It can be composed of a wide range of natural or synthetic compounds, each with their own distinct odor profile. These fragrance molecules interact with the receptors in our nose, giving us the perception of a particular scent.
To improve the longevity and stability of a perfume, a fixative is added. This compound helps to slow down the evaporation rate of the fragrance molecules, ensuring that the scent lingers on the skin for a longer time. Propylene glycol (C3H8O2) is another component commonly used in perfumes. It acts as a humectant, helping to retain moisture and prevent the perfume from drying out.
Lastly, distilled water (H2O) is added to the perfume formulation. This helps to dilute the fragrance and ensure that it isn't overpowering. Water also acts as a carrier for the fragrance molecules, allowing them to be dispersed evenly when the perfume is sprayed or applied.
In terms of the fragrance itself, perfumers have the option of using either natural or synthetic compounds. Natural fragrances are derived from plant materials, such as flowers, fruits, and spices. These ingredients are extracted through various methods such as steam distillation or solvent extraction. Synthetic fragrances, on the other hand, are created in a laboratory using a combination of chemical reactions and processes. These synthetic compounds can mimic the scent of natural ingredients or even create entirely new and unique smells.
Perfumers carefully select and blend various chemicals and compounds to create a harmonious and pleasing scent. By understanding the molecular structure and properties of different fragrance molecules, perfumers are able to unlock the artistry and science behind fragrance creation.
The History of Perfumes: How Have Perfumes Evolved Over Time and What Were Some of the Earliest Forms of Perfume?
The history of perfumes can be traced back thousands of years to ancient civilizations. Egyptians were among the first to use fragrances, using botanical ingredients such as myrrh, frankincense, and cinnamon. They believed that these scents had religious and healing properties. Perfumes were also popular in ancient Mesopotamia and Greece, with aromatic oils and resins being used for both cosmetic and medicinal purposes.
During the Middle Ages, perfumes became more widespread in Europe. However, they were primarily used to mask unpleasant odors due to the lack of hygiene practices. It was during the Renaissance period that perfumery started to evolve into an art form, with perfumers experimenting with different ingredients and techniques.
In the 19th century, synthetic chemistry revolutionized the perfume industry. Perfumers began to create new scents by isolating and reproducing individual aroma compounds. This led to the development of modern perfumes as we know them today.
Throughout history, perfume has been a reflection of society's tastes and values. From ancient rituals to modern luxury, perfumes continue to captivate our senses and evoke emotions.
Conclusion
Hedione, a molecule derived from jasmine oil, exemplifies the use of chemistry in perfumery, as it not only adds it's own unique scent but also helps to harmonize and enhance the overall fragrance composition.