When it comes to discovering new beauty products, nothing beats the excitement of receiving free samples. And when it comes to free samples, Sephora is a go-to destination for many beauty enthusiasts. But just how big are these Sephora free samples? Well, the answer varies depending on the product, but on average, you can expect sample sizes between 0.03 ounces and 0.10 ounces. While this may not seem like much, these sizes are actually quite generous and can provide you with one to two uses of the product. What's even better is that you can typically take home up to three samples per "world" at Sephora, whether it be fragrance, skincare, or hair care.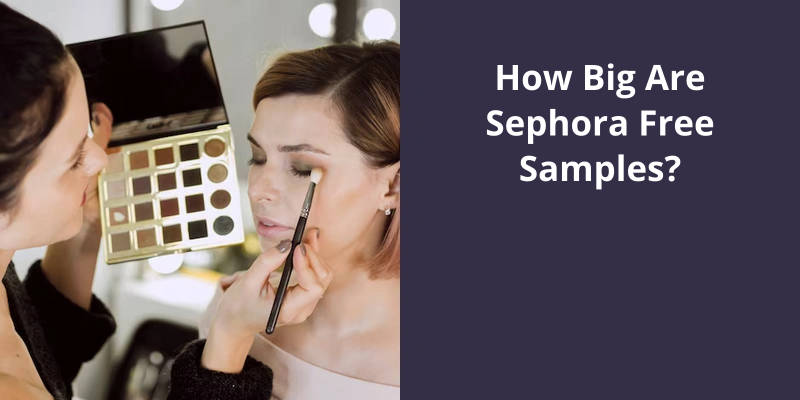 Is There a Limit on Samples in Sephora?
When it comes to Sephora free samples, you may be wondering if there are any limits in place. Typically, the limit is three samples per world or department. This includes categories like skincare, color, fragrance, and hair.
However, Sephora has a customer-first policy, which means they aim to say yes to their customers requests. Just keep in mind that it's important to be practical and polite when asking for more samples.
It's also worth noting that the availability of samples may vary depending on the Sephora location you visit. Some stores may have a larger selection of samples to choose from, while others may have a more limited range.
So, don't be afraid to ask for additional samples if youre interested in trying out more products. Just be respectful and understanding of the stores guidelines and limitations.
Tips for Politely Asking for More Samples at Sephora
Start by expressing your appreciation for the service you received at Sephora.
State that you're interested in exploring other product options.
Mention specific samples or brands you'd like to try.
Politely ask if more samples are available for those products.
Explain that sampling helps you make informed purchasing decisions.
Thank them for their assistance and understanding.
End with a friendly closing remark.
There are several beauty stores that are known for giving out free samples to their customers. Some of these include popular retailers like Sephora, Nordstrom, Ulta, Kiehl's, The Body Shop, and Aveda.
What Beauty Stores Give Out Free Samples?
When it comes to beauty stores that generously give out free samples, Sephora is at the top of the list. From skincare to makeup, Sephora is always willing to give their customers a taste of their high-quality products. Whether youre looking for a new foundation or a facial cleanser, you can count on Sephora to provide you with free samples to try before you buy.
Nordstrom offers a range of beauty products, including makeup, skincare, and fragrance. They often have promotions where customers can receive deluxe samples of popular products from high-end brands. These samples are a great way to try out new products and see if they're a good fit for your beauty routine.
Ulta is another beauty store that's known for it's generous free sample offerings. Whether youre looking for a new mascara or a moisturizer, Ulta is a great place to go to get free samples and try out new products.
Kiehls, a skincare brand known for it's high-quality products, also offers free samples to it's customers. Kiehls prides itself on using natural ingredients and delivering results, and they want their customers to experience the benefits of their products first hand.
The Body Shop is another beauty store that gives out free samples. Known for their ethical and sustainable approach to beauty, The Body Shop offers a range of skincare, body care, and makeup products.
Lastly, Aveda, a brand known for it's natural haircare and skincare products, also offers free samples to their customers. Aveda believes in the power of botanical ingredients and wants their customers to experience the benefits for themselves.
When it comes to getting free samples at Sephora, there's no limit to how many you can request. Whether it's perfume, eye cream, or any other product in store, you can ask for samples even if you're not a Sephora Beauty Insider. However, being a Beauty Insider does come with it's perks, such as achieving VIB (Very Important Beauty Insider) status by spending $350 within a year, or Rouge status with a minimum spend of $1,000. But are the benefits really worth it? Let's do the math.
How Many Free Samples Can I Get at Sephora?
When it comes to snagging free samples at Sephora, youll be pleasantly surprised to know that you can request samples of almost any product in the store. Yes, even those luxurious perfumes and eye creams that catch your eye. Whether youre a Sephora Beauty Insider or not, the opportunity to try out different products is available to everyone.
Now, lets talk about the Sephora VIB status, also known as the "Very Important Beauty Insider" status. To achieve this esteemed status, you need to spend a minimum of $350 within a year. For Rouge, the minimum spend shoots up to $1,000. While the title might sound appealing, it's essential to evaluate the benefits against the required spending.
In reality, you don't really need to be a Sephora VIB or Rouge Beauty Insider to experience the perks of sampling. Sephora associates are usually generous in allowing you to take home up to three samples per "world.". These worlds encompass fragrance, skincare, and hair care. So, even without the VIB status, you can explore a range of products before committing to a full-sized purchase.
By simply engaging with the knowledgeable associates and expressing your interest, you can venture into the vast world of sampling. This allows you to get a taste of different products without breaking the bank or signing up for exclusive memberships. So, next time you visit Sephora, don't hesitate to ask for a few samples to try out at home.
Recommendations for Must-Have Sephora Samples to Try
Drunk Elephant Protini Polypeptide Cream
Tatcha The Water Cream
Glow Recipe Watermelon Sleeping Mask
Fresh Soy Face Cleanser
Laneige Lip Sleeping Mask
Sunday Riley Good Genes All-In-One Lactic Acid Treatment
Ole Henriksen Truth Serum
Fenty Beauty Gloss Bomb Universal Lip Luminizer
Anastasia Beverly Hills Brow Wiz
NARS Radiant Creamy Concealer
If you're looking to snag some free makeup samples online without having to make a purchase, we've got you covered. In this article, we'll share twelve sneaky ways to score those coveted samples from top retailers like Sephora, Ulta, Nordstrom, and more. Whether it's signing up as a beauty product tester, joining online survey sites, or taking advantage of brand launches, you'll discover plenty of strategies to help you get your hands on free makeup samples delivered right to your door. So, let's dive in and explore these exciting opportunities!
How to Get Free Makeup Samples Online Without Purchase?
If youre looking to get free makeup samples online without making a purchase, there are several sneaky ways to do so. One option is to become a makeup and beauty product tester. Many cosmetic companies are constantly looking for feedback on their products, and they often send out free samples to testers in exchange for their thoughts and opinions. You can sign up to become a tester on the websites of popular beauty brands like Sephora, Ulta, and Nordstrom.
Another option is to join online survey sites like Branded Surveys and other similar platforms. These sites often offer free makeup samples as rewards for completing surveys or other tasks. By participating in these surveys, you can earn points that can be redeemed for cosmetics and skincare products.
You can also try collecting free Sephora gift cards. Many beauty bloggers and influencers often host giveaways where they give out these gift cards as prizes.
Additionally, whenever there are brand launches or product debuts, companies often give out free samples to promote their new items. Keep an eye on social media and beauty websites for any announcements about these launches, and be quick to sign up for any available samples.
Lastly, don't forget to check for free makeup samples inside gift sets. Many brands offer gift sets that include smaller-sized versions of their popular products. These sets can be purchased or received as gifts, and they often come with a variety of samples for you to try.
Trying Out Sample Websites That Offer Free Makeup Samples for Testing and Reviewing Purposes
Sample website 1
Sample website 2
Sample website 3
Sample website 4
Sample website 5
Sample website 6
Sample website 7
Sample website 8
Sample website 9
Sample website 10
Conclusion
Associates understand the importance of being able to test out products before committing to a purchase, and therefore allow customers to take home up to three samples per "world" at Sephora. This allows customers to truly experience the product and make an informed decision about it's effectiveness before investing in the full-size version. Sephora's commitment to providing these samples demonstrates their dedication to customer satisfaction and their understanding of the value of sampling in the beauty industry.