Azzaro Pour Homme is one of the most beloved fragrances in the world of perfume. However, there have been rumors circulating in recent years that the scent has been reformulated, leading many devotees to wonder whether the beloved fragrance they know and love is truly the same as it used to be. This article will explore the truth behind these rumors, shedding light on the history of Azzaro Pour Homme and examining the evidence surrounding whether or not it's indeed been reformulated.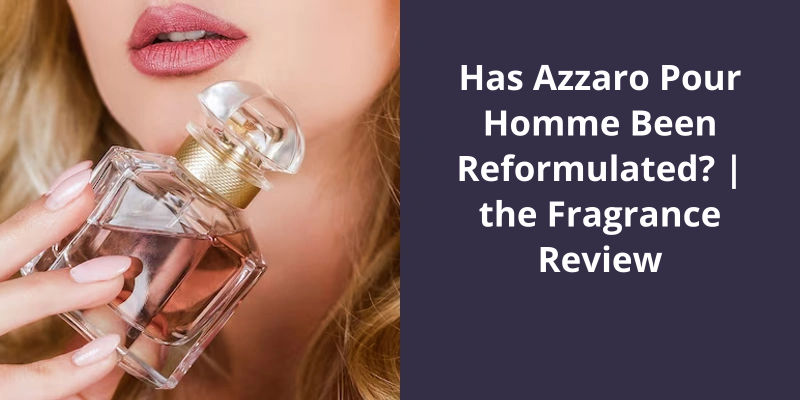 When Did Azzaro Pour Homme Come Out?
The fragrance Azzaro pour Homme has a deep sense of masculinity in it's scent. The complex layers of notes are carefully crafted to evoke sensations of ruggedness and confidence. It's hints of lavender, basil, and lemon, blended with spices like cardamom, cumin, and coriander. The base notes are warm and woody with patchouli, sandalwood, and oakmoss.
It's been embraced by generations of men since it launched in 197This scent transcends trends and time, and thats what makes it so special. It's become a timeless mens fragrance, always in style and always sophisticated.
Over the years, Azzaro pour Homme has seen a few updates to the original formula. New variations have been introduced, like Azzaro pour Homme Intense and Azzaro pour Homme Elixir. These new versions build upon the foundation of the original fragrance while adding their own unique twist.
The launch of Azzaro Couture in 1975 marked the beginning of an iconic fragrance line that would come to be known for it's lasting appeal and sophistication.
When Did Azzaro Cologne Come Out?
Azzaro has become a well-known and respected name in the fashion and fragrance industries. With a focus on glamour, flamboyance, and elegance, Azzaro has risen to prominence due to the vision of it's founder, Loris Azzaro. Born in Tunisia in 1933, Azzaro moved to Paris in the 1960s and began designing elegant and eye-catching dresses that quickly gained popularity amongst the jet set.
By the mid-1970s, Azzaro realized that fashion was not the only way to complete a personality, and so he decided to create a fragrance to accompany his designs. The first fragrance was released in 1975, known as Azzaro Couture. Designed with the same attention to detail as his dresses, Azzaro Couture quickly gained a reputation for it's luxurious and elegant scent.
Just a few years later, in 1978, Azzaro released what would become one of the brands most iconic fragrances: Azzaro Pour Homme. The fragrance was created with a blend of various essential oils, including lavender and basil, to give it a unique and unforgettable scent that was perfect for any occasion.
What Are the Different Fragrances Azzaro Has Released Since It's Founding?
Azzaro has released multiple fragrances since it's founding, each with a unique scent and character.
Source: Azzaro – The Perfume Society
Since it's original release in 1994, Dolce & Gabbana Pour Homme has become a classic in the world of men's fragrances. The scent has evolved over the years, with a newer version released in 2012 that brings a fresh twist to the iconic scent. In this article, we'll be taking a closer look at the re-released version of Dolce & Gabbana Pour Homme and exploring what makes it so special.
When Did Pour Homme Come Out?
The original Pour Homme was a fresh and clean scent, with notes of bergamot, orange, and lemon at it's top, followed by lavender, sage, and tarragon in it's heart, and a base of sandalwood, cedarwood, and tobacco. It was a scent that was both elegant and masculine, and it quickly became popular among men who wanted a sophisticated fragrance that wasnt too overpowering.
Despite the differences between the two versions of Pour Homme, they both share the same DNA of sophistication and masculinity that's typical of Dolce & Gabbana fragrances. Whether you prefer the fresh and clean scent of the original or the warmer and more sensual fragrance of the 2012 version, both are timeless classics that will never go out of style.
History of Dolce & Gabbana as a Fashion and Fragrance Brand
1985: The birth of Dolce & Gabbana as a fashion brand
1989: D&G launches it's first fragrance, Dolce & Gabbana Pour Femme
1992: Madonna wears a custom-made D&G outfit for her "Erotica" music video
1994: D&G releases it's first men's fragrance, Dolce & Gabbana Pour Homme
1997: The brand unveils it's first couture line, Alta Moda
2003: D&G launches it's successful fragrance, Light Blue
2013: The brand faces controversy for it's "Blackamoor" earrings
2018: D&G faces backlash for racist remarks made on social media
2019: The brand releases a limited-edition fragrance, K by Dolce & Gabbana, featuring brand ambassador, Game of Thrones actor Kit Harington
Conclusion
While some sources indicate that the fragrance has undergone changes over the years, others argue that it remains largely the same as it was when it was first released in 1978. As with many fragrances, there may be subtle differences in batches produced at different times, and individual perceptions of scent can vary widely.