Discover the Best Victoria's Secret Body Mist: A Comparative Guide. From fruity and floral to warm and spicy, each fragrance offers a unique olfactory experience that enhances your natural allure. However, determining which body mist is the best can be subjective, as personal preferences play a significant role.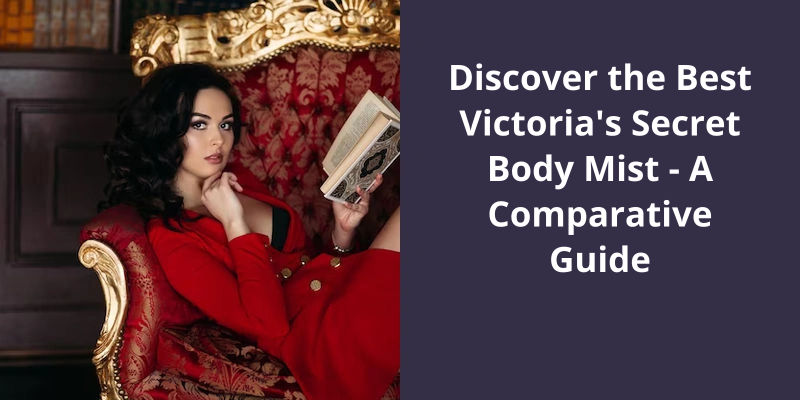 What Is the Number One Victoria Secret Mist?
The fragrance is further enhanced with hints of exotic passionfruit and floral peony, giving it a sensual and feminine touch. The longevity of the scent is impressive, with just a few spritzes lasting throughout the day without overwhelming the senses. It's the perfect mist to wear for a night out, leaving a trail of confident elegance wherever you go.
Another popular option is the Victorias Secret Love Spell Fragrance Mist. As the name suggests, this mist is all about love and romance. The scent is a mesmerizing blend of cherry blossom, peach, and white jasmine, creating a delicate and enchanting fragrance that captivates the senses. It's a mist that instantly transports you to a whimsical garden, evoking feelings of love and affection. The light and airy mist is perfect for everyday wear, adding a touch of romance to any outfit.
For those who prefer a more refreshing and invigorating scent, the Victorias Secret Aqua Kiss Fragrance Mist is an excellent choice. This mist captures the crisp and clean scent of ocean air, with notes of fresh rain, freesia, and drenched daisies. It's like taking a stroll along the beach, with a gentle breeze caressing your skin. The mist is cool and uplifting, making it ideal for a summer day or anytime you want a burst of freshness.
This mist blends the enchanting notes of black vanilla, frozen pear, and blooming gardenia, creating a seductive and luxurious scent. It's perfect for those special occasions when you want to make a lasting impression. The mist leaves a trail of elegance and allure, making you feel like a true seductress.
Last but not least, the Victorias Secret Coconut Passion Fragrance Mist is a favorite among those who crave a tropical escape. This mist is a delicious blend of coconut and vanilla, creating a warm and inviting scent that instantly transports you to a sunny beach. The mist is creamy and indulgent, like a tropical cocktail for the senses.
Overall, Victorias Secret offers a wide range of body mists, each with it's own unique scent and appeal. Whether you prefer fruity, floral, fresh, or exotic fragrances, theres a mist for everyone.
The Benefits and Uses of Victoria's Secret Body Mists
A refreshing and light scent that can be used daily
Can be used as a body spray to freshen up throughout the day
Great for layering with other Victoria's Secret fragrances
Provides a subtle, long-lasting scent on the skin
Comes in a variety of scents to suit individual preferences
Can be used as a hair mist for a subtle fragrance
Perfect for gifting or treating yourself
Travel-friendly size for on-the-go touch-ups
Provides a confidence boost with it's pleasant scent
Can be used to freshen up linens or create a relaxing atmosphere at home
Victoria's Secret is known for it's wide range of alluring fragrances, each with their own unique scent profile. From floral and fruity to seductive and spicy, there's a scent to suit every woman's personal preference. Some of the best-smelling perfumes from Victoria's Secret include the iconic Bombshell Eau de Parfum, the elegant Heavenly Eau de Parfum, and the seductive Pure Seduction Body Mist. For those who prefer a floral scent, the Tease Rebel fragrance is a top choice, while the Very Sexy Night perfume is perfect for on-the-go freshness. And if you're a fan of spicy fragrances, the Rapture Eau de Cologne is a must-try. With such a diverse selection, it's no wonder that Victoria's Secret remains a go-to brand for women seeking the perfect scent.
What Is the Best Smell in Victoria Secret?
When it comes to Victorias Secret, one can't help but think of their iconic collection of body mists. With an array of scents to choose from, determining the best smell in Victorias Secret can be quite subjective. However, there are a few standout fragrances that have garnered widespread acclaim.
One of the top contenders is the Bombshell Eau de Parfum. This signature scent is a favorite among many due to it's alluring blend of purple passion fruit, Shangri-la peony, and vanilla orchid. It exudes confidence and femininity, making it a perfect choice for any occasion.
For those with a more mature taste, the Heavenly Eau de Parfum is a popular choice. This fragrance is known for it's soft and romantic notes of white musk, sandalwood, and vanilla. It's a timeless appeal that appeals to women of all ages.
If youre looking for something more seductive, the Pure Seduction Body Mist is a must-try. With it's intoxicating blend of red plum and freesia, this scent is both sweet and provocative. It's the perfect choice for a night out or a special date.
For those who prefer floral fragrances, the Tease Rebel from Victorias Secret is a top contender. This captivating scent combines notes of violet leaf, wild rose, and praline, creating a bold and tantalizing aroma. It's sure to leave a lasting impression.
For those on the go, the Very Sexy Night is a travel-friendly option. This fragrance is a sensual blend of black plum, velvet woods, and Victorias Secrets exclusive night blooming orchid. It comes in a convenient spray bottle, making it perfect for a quick touch-up throughout the day.
Lastly, for lovers of spicy fragrances, the Rapture Eau de Cologne is a standout choice. This scent boasts a captivating mix of Bulgarian rose, amber, and musk, creating a warm and enticing aroma. It's the perfect fragrance for those who want to make a bold statement.
How to Choose the Right Fragrance for Different Occasions
Choosing the right fragrance for different occasions can enhance your overall presence and leave a lasting impression. Consider the following tips to make the right choice:
1. Casual Daytime: opt for light, fresh, and citrusy scents that are suitable for everyday wear. They provide a clean and energizing feel.
2. Formal Events: select elegant and sophisticated fragrances such as florals, musks, or woody scents. These can add a touch of glamour to your attire.
3. Romantic Evenings: go for sensual and seductive fragrances like oriental or fruity scents. These can evoke feelings of romance and passion.
4. Professional Settings: choose subtle and understated scents that aren't overpowering. Stick to mild and clean fragrances that won't distract others.
5. Outdoor Activities: opt for fresh and invigorating scents, like sporty or aquatic fragrances. These can complement your active lifestyle.
Ultimately, the right fragrance should make you feel confident, comfortable, and match the ambiance of the occasion. Experiment with different scents to find your perfect match!
Source: The 20 Best Victoria's Secret Perfumes For Women of 2023
Victoria's Secret has recently introduced a delightful fragrance called Bare Rose, perfect for those who appreciate the scent of roses. This warm and floral perfume is a spin-off from their previous release, Bare. With it's combination of exclusive musks and an ability to blend with your body chemistry, Bare Rose Eau De Parfum creates a one-of-a-kind and personal aroma that's truly captivating.
Which Victoria Secret Perfume Smells Like Rose?
Which Victoria Secret perfume smells like rose? Victorias Secret has launched Bare Rose, a new warm floral fragrance for women. Bare Rose is a flanker to 2022s Bare. This bloom becomes you. A floral extension of it's original, Bare Rose Eau De Parfum borrows Bares blend of proprietary musks to mix with your body chemistry for a unique signature scent.
Bare Rose captures the essence of a beautiful bouquet of roses, offering a sophisticated and feminine fragrance. The scent is warm and inviting, with a delicate blend of rose petals and musk. This combination creates a sensual and romantic aroma that's perfect for any occasion.
As with all Victorias Secret body mists, Bare Rose comes in a convenient spray bottle, making it easy to apply and reapply whenever desired. The mist is lightweight and non-greasy, ensuring a comfortable and refreshing experience.
When it comes to choosing between body mist and body spray, it ultimately depends on your preference and needs. Body mists have a higher concentration of essential fragrant oils, ensuring a longer-lasting effect on your skin. On the other hand, body sprays can be reapplied multiple times on clothes, making them more versatile and cost-effective.
Which Is Better Body Mist or Body Spray?
When it comes to body care products, there are various options available in the market to choose from. One of the common dilemmas faced by consumers is the choice between body mists and body sprays. Both serve the purpose of providing a refreshing fragrance, but there are some key differences to consider.
Body mists generally have a higher concentration of essential fragrant oils compared to body sprays. This means that the scent of a body mist will last longer on your skin before it starts to fade away. The higher concentration of oils also gives body mists a more luxurious and sophisticated fragrance that can enhance your overall sense of well-being.
On the other hand, body sprays are more versatile in terms of application. They can be sprayed multiple times on your clothes, making them ideal for refreshing your scent throughout the day. This makes body sprays a more practical choice for those who prefer to reapply their fragrance multiple times without worrying about using too much product.
Comparison of Ingredients in Body Mists and Body Sprays
When comparing ingredients in body mists and body sprays, it's important to carefully examine the product labels. Body mists typically contain a higher concentration of oils, which give them a longer-lasting scent. They also often include moisturizing ingredients like glycerin or aloe vera. On the other hand, body sprays usually have a lower oil concentration and tend to contain more alcohol, making them lighter and refreshing. They may also have added ingredients like vitamins or herbal extracts for additional benefits. Ultimately, it's a personal preference based on the desired scent intensity and skincare benefits.
However, there are a few tips and tricks you can use to make your body mist last longer on your skin.
Does Body Mist Last Longer Than Perfume?
Body mists are a popular choice for those who want a subtle and refreshing scent. They're great for everyday use, especially during the hot summer months, when heavy fragrances can be overwhelming.
One of the reasons why body mists don't last as long as perfume is because they've a lower concentration of fragrance oils. Perfume contains a higher percentage of these oils, which allows it to cling to the skin and slowly release it's scent over time. In contrast, body mists have a higher proportion of water and alcohol, which evaporate more quickly, resulting in a shorter duration of scent.
To make your body mist last longer, you can try layering it with other scented products. For example, using a matching body lotion or shower gel can help to enhance and prolong the scent. Additionally, you can try spritzing your hair or clothes instead of just your body, as fragrance tends to last longer on these surfaces.
Ultimately, the choice between body mist and perfume depends on personal preference and your desired level of scent intensity and longevity. However, if you prefer a stronger and longer-lasting scent, then perfume may be the better choice for you.
Conclusion
While some may gravitate toward the sweet and fruity scents of the PINK collection, others may prefer the sophisticated and seductive aromas of the Bombshell line. The Heavenly collection offers a more delicate and romantic scent, perfect for those who enjoy a subtle and feminine fragrance.