Winter is a season characterized by biting cold winds, snow-covered landscapes, and cozy layers of clothing to keep oneself warm. As the temperature drops, many individuals often find themselves altering their skincare routines to combat the harsh effects of the winter weather. While the brand's products indeed capture the essence of Brazilian beauty and the vibrant spirit of summer, one might wonder if they can be successfully incorporated into a winter skincare regimen. In the quest for soft, hydrated, and glowing skin throughout the year, delving into the compatibility of Sol de Janeiro's offerings with winter conditions becomes paramount. From their luscious body creams to nourishing lip balms, let's explore the versatility and efficacy of Sol de Janeiro in winter, discovering how these summer-inspired treasures can transform and elevate one's seasonal skincare routine.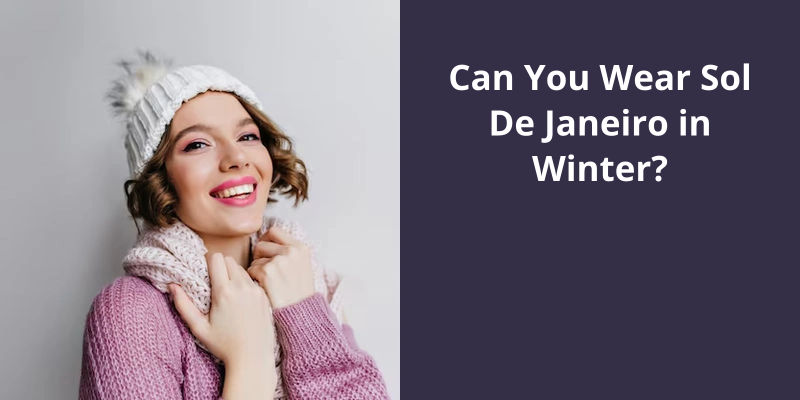 Is Sol De Janeiro Luxury?
Sol de Janeiro is a brand that exudes luxury and quality in every product they offer. From their iconic Brazilian Bum Bum Cream to their nourishing hair care and fragrant body mists, each item is crafted with the utmost care and attention to detail. The brands commitment to celebrating and enhancing natural beauty is evident in the high-quality ingredients they use, sourced directly from Brazil.
When it comes to winter skincare, Sol de Janeiro has you covered. While their products are often associated with summer and tropical vibes, they're equally suitable for the colder months. In fact, the rich formulations of their body creams and oils provide intense hydration and nourishment, ideal for combating dry and chapped skin during winter.
One of the brands standout products is their Bum Bum Cream, famed for it's deliciously addictive scent and skin-smoothing properties. This luxurious cream contains a combination of nourishing cupuaçu butter, coconut oil, and acai oil, which work together to deeply moisturize and firm the skin.
Aside from the Bum Bum Cream, Sol de Janeiro also offers a range of other winter must-haves. Their Coco Cabana Cream is formulated with coconut oil and cupuaçu butter and provides long-lasting hydration, perfect for combating winter dryness. Additionally, their Brazilian Joia Strengthening + Smoothing Shampoo and Conditioner can help revive and nourish hair that's been exposed to harsh winter weather.
The Significance of Scent in Luxury Beauty Products
The significance of scent in luxury beauty products is often underestimated. Besides providing a pleasing and indulgent sensory experience, fragrance plays a crucial role in enhancing the allure and luxuriousness of a skincare or makeup product.
In the case of Sol De Janeiro, their signature scent, the "Bum Bum Cream," has become iconic and synonymous with the brand. The warm and inviting fragrance, inspired by the beaches of Brazil, not only lingers on the skin but also leaves a lasting impression.
During the winter months, wearing Sol De Janeiro products can evoke nostalgic feelings of summer and transport you to sun-drenched shores even in the cold. The rich and moisturizing textures of their products, combined with the captivating scent, can create a sense of comfort, well-being, and escapism.
So, while using Sol De Janeiro in winter may not be a traditional choice, the joy it brings and the memories it evokes make it a delightful and uplifting addition to your beauty routine, no matter the season.
Sol de Janeiro offers more than just traditional perfume sprays. Founder Heela Yang was inspired by Brazil's paradise-on-Earth vibe to create a line of irresistible scents that transport you to a tropical vacation. These perfume sprays aren't only sensual but also deeply connected to nature, making them unique and desirable.
Is Sol De Janeiro Considered a Perfume?
Sol de Janeiro isn't considered a perfume in the traditional sense. While they do offer a range of irresistible perfume sprays, the brand is primarily known for it's luxurious body care products inspired by Brazils paradise-on-Earth vibe. These perfume sprays aren't only transportive, but they also evoke the aesthetic of a tropical vacation.
While some may consider Sol de Janeiros perfume sprays to be suitable for warmer months, there's no reason why they cant be worn during winter as well. In fact, wearing these scents during the colder months can help bring a sense of warmth and joy to your day. Plus, the moisturizing properties of the sprays can help combat dry winter skin, leaving you feeling refreshed and rejuvenated.
How Are Sol De Janeiro's Perfume Sprays Different From Traditional Perfumes?
Sol de Janeiro's perfume sprays are different from traditional perfumes in a few ways. Firstly, they're specifically formulated to evoke the feelings of warmth, joy, and sensuality associated with the Brazilian sun. Their fragrances are inspired by the vibrant and tropical scents of Brazil, creating a unique olfactory experience.
Secondly, Sol de Janeiro's perfume sprays are designed to be versatile and multi-purpose. They can be worn on the body, hair, and even clothes, allowing you to enjoy the fragrance in various ways. This makes them perfect for layering or refreshing your scent throughout the day.
Lastly, Sol de Janeiro's perfume sprays are designed to be long-lasting. The brand uses high-quality ingredients and innovative fragrance technology to ensure that the scent lingers on your skin for hours. This is particularly important during winter when our skin tends to be drier, as the fragrance is less likely to evaporate quickly.
Source: We Tried All 4 Sol de Janeiro Cheirosa Perfume Mists – Byrdie
Conclusion
While some may find the rich and nourishing formulas of Sol de Janeiro products beneficial during the colder months, others might prefer lighter options. Ultimately, it's essential to prioritize your skin's needs and adjust your skincare routine accordingly to ensure hydration and protection are maintained throughout the winter season. So, whether you choose to indulge in the tropical delights of Sol de Janeiro or opt for alternatives, remember that winter skincare is a balance between embracing self-care and adapting to your skin's requirements.