It embodies the essence of a relaxing weekend getaway, evoking a sense of freedom, vitality, and carefree joy. This exquisite scent is balanced, elegant, and versatile, making it perfect for both casual daytime wear and special evening occasions. With it's invigorating blend of fresh citrus notes, delicate floral accords, and a warm, comforting base, Burberry Weekend leaves a lasting impression that's both comforting and uplifting. This fragrance truly encapsulates the essence of a carefree weekend escape, allowing you to experience a moment of blissful serenity with every spritz.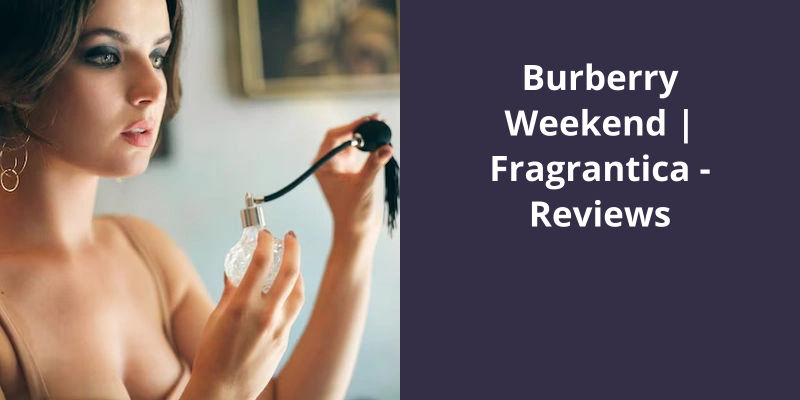 What Does Burberry Weekend Smell Like?
Burberry Weekend is a delightful fragrance that captures the essence of a carefree and relaxing weekend getaway. With it's sheer and light composition, it's perfect for those who appreciate a subtler scent that still leaves a lasting impression. The fragrance opens with an invigorating burst of tangerine, tree sap, and Reseda plant, creating a refreshing and citrusy top note that instantly uplifts your spirits.
As the scent settles, the delicate floral heart notes take center stage, enveloping you in a bouquet of fragrance. Wild rose, peach blossom, iris, and hyacinth blend harmoniously, creating a beautiful and feminine accord that's both elegant and uplifting. These floral notes bring a touch of softness and romance to the fragrance, making it ideal for any occasion.
The base notes of sandalwood add depth and warmth to Burberry Weekend, creating a perfect balance between freshness and sensuality. This woody note enhances the overall composition and adds a touch of relaxation and comfort. The scent evokes a sense of tranquility and peacefulness, much like the feeling of a quiet weekend spent in nature.
It's an ideal choice for those who crave a light and refreshing scent that can be worn all year round. Whether you wear it for a casual day out or a special event, this fragrance will leave a lasting impression, making it a true gem in any perfume collection.
How to Wear Burberry Weekend: Tips and Tricks for Getting the Best Out of This Fragrance.
When it comes to wearing Burberry Weekend, there are a few tips and tricks that can help you get the most out of this fragrance. Firstly, it's important to apply it to clean, moisturized skin. This will help the scent to last longer and project better. You can also try layering the fragrance by using matching body products such as a scented lotion or shower gel. This will help to enhance the scent and make it more long-lasting. Additionally, remember to apply the fragrance to pulse points such as wrists, neck, and behind the ears, as these areas generate heat and will intensify the scent. Lastly, don't be afraid to experiment with different application techniques and usage amounts to find your perfect balance. Enjoy the fresh and invigorating scent of Burberry Weekend!
The longevity of Burberry Weekend perfume is a commendable trait, particularly for those who appreciate floral fragrances. The powdery and sweet scent notes gracefully endure for up to eight hours, allowing wearers to enjoy the captivating essence throughout their day.
Does Burberry Weekend Last?
Burberry Weekend perfume has gained quite the reputation for it's excellent longevity among floral fragrances. This fragrance exudes a powdery and sweet scent that will linger on your skin for up to eight hours.
It's powdery and sweet notes envelop you in a cloud of femininity and sophistication. You can trust that this fragrance will leave a lasting impression, as it's longevity allows it to evolve on your skin throughout the day, revealing new facets and maintaining it's captivating allure.
It's longevity is a testament to the quality and craftsmanship behind this perfume.
Source: Weekend Perfume By Burberry for Women – FragranceX.com
Conclusion
With it's fresh and vibrant notes of citrus, greenery, and soft woods, it provides a much-needed break from the everyday hustle and bustle. It's versatile and sophisticated character makes it perfect for any occasion, whether it be a day spent in nature or a night out on the town. The positive reviews and descriptions found on Fragrantica highlight the timeless appeal and remarkable blend of this fragrance. Burberry Weekend truly captures the spirit of leisure and adventure, evoking a sense of freedom and joy with every spritz. It's longevity and sillage ensure that you'll feel invigorated and uplifted throughout the day.